What the heck's happened to Michael Hector?
Written by Sean Guest on 26th October 2020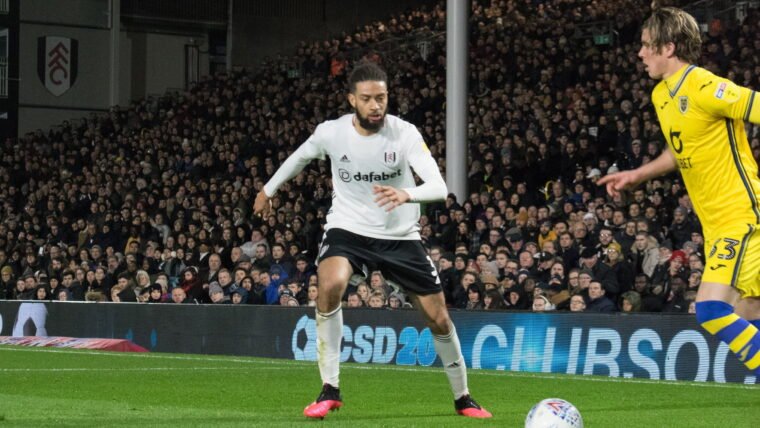 Sean Guest looks into the fall of Big Hec and asks what he needs to do to force his way back into Scott Parker's plans.
Let's face it, Fulham have become synonymous with bad defending in recent years. Those of us who were there in 2018/19 need no reminding that we conceded 81 goals. This season, meanwhile, the Whites shipped an embarrassing 10 goals in their first three games (four conceded in our next three, while better, won't keep us up).
It seemed as if the acquisition of Michael Hector might change all that. His long-awaited addition to the back four halfway through last season played a huge part in our push for promotion and offered a glimmer of optimism for the Premier League campaign ahead.
In a cruel twist of fate, he's actually been one of the team's most-error prone defenders so far this season, struggling to anchor a backline that Jamie Carragher claimed he and Roy Keane were "laughing" at during a recent episode of Monday Night Football.
Embed from Getty Images
Since then, the club has signed Joachim Andersen on loan and Tosin Adarabioyo and Terence Kongolo on permanent deals. All three are much-needed new additions that should fortify the back four, providing competition and depth as the team prepares to battle relegation.
Andersen and Kongolo are on the treatment table, but Adarabioyo immediately showed he'd be more than just depth, when he impressed during his debut at Bramall Lane against Sheffield United. He followed it up by looking more than comfortable against Palace at the Cottage this weekend, despite us conceding twice.
And Hector's been absent from not only the starting XI, but the squad, in both games.
So, what the Hec's happened?
Virgil van Mike
When he eventually became eligible to play last season, 'Virgil van Mike' contributed to three consecutive clean sheets in his first three appearances. His presence at the heart of the defence instantly made us more resilient, helping us survive late onslaughts in closely fought games against Hull and Middlesbrough that likely would have cost us points earlier in the season.
Building on that foundation, the Whites won six out of 11 before the season was put on hold, losing only once and conceding just eight goals during that stretch. Post lockdown, we then overcame a two-game slide to win five of our remaining seven league games, conceding just five goals (three of which came in that eight-goal thriller against Sheffield Wednesday) in that stretch.
Overall, Fulham's defensive record was fourth best in the Championship last season as we averaged 1.04 goals conceded per game, while keeping 17 clean sheets. As the numbers attest, Michael Hector was key to that; the Whites conceded 21 goals and kept 11 clean sheets in the 23 games he played, while without him we conceded 31 goals and kept just six clean sheets in 26 games.
Put simply, we were a far better team with Hector on the pitch. He averaged 1.3 tackles, 4.7 clearances and 3.9 aerial duels won per 90 minutes, while his presence, strength and ability to read the game gave the Whites a platform upon which to mount our promotion push. His role in the playoffs is not to be overlooked either. His improbable block in the early stages of the first leg of the play-off semi-final against Cardiff was almost as valuable as a goal, and his vital aerial intervention to deny Mbeumo early and his inch-perfect tackle to deny Watkins late helped us seal our famous victory in the final against Brentford.
Embed from Getty Images
Virgil van Yikes
With so little turnaround time between last season and this, Tony Kahn and his recruitment team had a ready-made excuse for not addressing Fulham's greatest weakness during the break.
In the absence of a new centre-back or two, Scott Parker opted to stick with the duo that had served him so well in the Championship, turning to Hector and Tim Ream for the opening game against Arsenal. While no one would have been particularly surprised to see Ream's error after eight minutes gift the Gunners their opener, Hector's decision not to challenge Gabriel as he leapt to head home their second from a corner shortly after half time was highly uncharacteristic. While he wasn't exactly at fault for the third goal, his clumsy attempt to win the ball from Alexandre Lacazette on the halfway line certainly didn't help.
Embed from Getty Images
After the game, Bic Hec turned to Instagram, writing: "I'm proud to finally make my debut in the premier league I know it wasn't the performance I wanted or the team wanted, but can promise we can and will play a lot better."
Prior to the international break, neither he nor Fulham delivered on that promise. Unofficially (the Premier League's official website disagrees), Hector was at least partly at fault for goals in both of Fulham's defeats at the hands of Leeds and Aston Villa, before being left out of the team for the game against Wolves.
We conceded just one goal without him, pairing Ream with Maxime Le Marchand in his absence.
Out of the blue, Big Hec's future with the club was thrown into doubt a few days later when he was linked with a loan move to QPR. On "Transfer Deadline Day II: EFL edition" another rumour surfaced linking him to a permanent move to Sheffield Wednesday. He was seemingly spared by the ankle injury sustained by newbie Joachim Anderson though, as announced by Scott Parker last Friday.
Still, things went from bad to worse on Sunday when Hector was left out of the side for the trip to Bramall Lane. To compound matters, Adarabioyo then started the game and played extremely well, striking up what has the makings of a solid partnership with the veteran Ream, after a slightly nervy start.
Hector was included in Parker's 25-man squad, announced on Tuesday, but the exact nature of his role at this stage is anyone's guess.
What the Hec happens now?
Unless Parker has decided to use particular defensive combinations against particular opponents, it seems likely that Hector has fallen out of favour. This is still vaguely surprising, given our current lack of depth at centre-back and the fact we know how good he can be, despite his nightmare start to Premier League football.
Thanks to last season's heroics, he'd earned the right to kick off the campaign in a starting role. But he failed to live up to expectation in those first three games, and gave Parker little choice but to mix things up. The fact that we looked so much better without him against Wolves and Sheffield United has raised questions about his future at the club. It'd be easy to label him the scapegoat in all this, citing the fact that he's spent the majority of his career bouncing around the lower leagues and concluding that he simply isn't good enough to make it at this level.
But if there's one thing we learned about Big Hec last season it's that he has a great attitude, and it seems highly likely that he'll be at Motspur Park day in day out, fighting for his place. If he can iron out the mistakes and get his head right, he's a genuine option to partner either Anderson, Kongolo or Adarabioyo in the long term. But at the moment, the training pitch at Motspur Park is the only place he can show what he's made of. And if he can't show it there, he may find himself embarking on a sixteenth career loan spell come January.