Catch 22: Parker's Impossible Problem
Written by Tim Clarke on 5th September 2020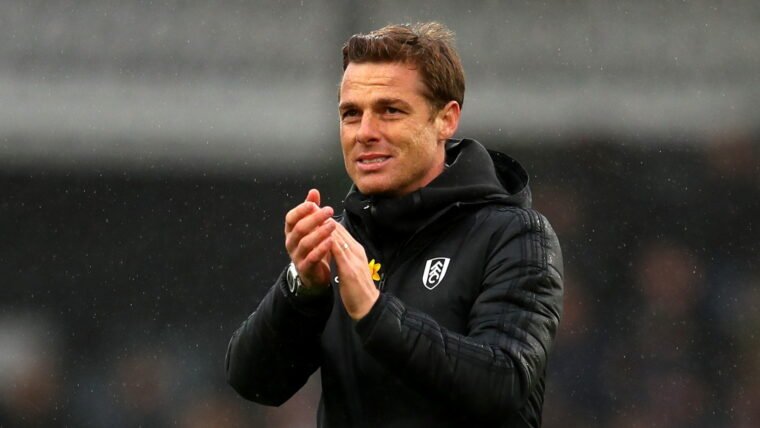 Scott Parker must feel some solidarity with Yossarian, the protagonist of Joseph Heller's Catch 22. You might know the bind of the novel: Any WW2 pilot who wanted to fly a mission must be insane, and was therefore prohibited from flying. Paradoxically, any man who recognised the danger and tried to opt out, must be of sound mind and was required to fly. "That's some catch, that Catch 22…"
What is Scott Parker's Catch 22? Simple. On one hand, he faces pressure to avoid the mistakes of last promotion, avoid bringing in eleven new players, and to show faith in the team who defeated Bren(t)ford at Wembley. All the while, he has a thin squad, which needs reinforcements across the park. Can you spot the paradox here? Damned if you do, damned if you don't…
Too many signings spoils the broth.
The transfer window of 2018 was euphoric. Need I remind you of the fanfare of signing Seri, a man once described by Xavi as having 'Barca DNA'? Or perhaps the jubilation of bringing in both Fabri and Sergio Rico? Yet when our fanciful dreams of Europa League football began to deteriorate, and it became evident we were in a relegation scrap, many of us began to wonder whether the transplanting of eleven new players had ruined whatever identity we had created the previous season. The grumblings became more pronounced; "why aren't we playing KMac, Stef Jo?" "Why aren't we rewarding the players who got us here?" Whether this would have made a difference is anyone's guess. But what is certain is that Scott needs to avoid repeating that same mistake. Given that 2018/19 is still fresh in the mind of pundits and commentators alike, he will be lambasted for going through the same motions that saw a swashbuckling Fulham side become the league punching bag. Too many signings spoil the broth, as they say.
A squad in need of many signings.
There is something romantic about keeping the core of the team the same and giving them the shot in the prem which they have deserved. However, stop and consider Fulham's squad depth for just a second:
GK: Rodak, Fabri, Betts, Archer,
RB: Odoi, Christie, Sess
CB: Hector, Mawson, Ream, MLM
LB: Bryan, Robinson, Odoi
I've got no complaints about our plethora of keeping options, but the right back position is looking suspect. I love Denis Odoi more than a grown man should love a footballer, but for Fulham to stop shipping cheap goals, we need to bring in someone who is going to steady the defence against the likes of Aguero, Kane or (God help us) Messi. Similarly, we only have one centre back who inspires confidence, and three who have been exposed in the league before (presuming MLM still exists somewhere in a cupboard at Motspur Park). Reinforcements are sorely needed across the backline.
CDM: Anguissa, KMac, and Reed
CM: Cairney, Onomah, Stef Jo, Decordova-Reid, Lemina
Probably good here.
Wingers: Cav, Knockaert, Kebano
Strikers: Mitrovic, AK
Ignoring what an injury to Mitro would mean, these wingers are largely toothless. Knockaert scored one goal for every thousand minutes (and this in the Championship) and Neeskens won hearts after three strong performances, but it comes after years of being somewhat unremarkable.
Parker cannot afford to 'strengthen' this Fulham squad by looking for players who are content to sit on the bench behind the likes of Christie or Knockers. It must be players who will start. But we are talking about at least four to five new starters. This is beginning to sound dangerously like 2018…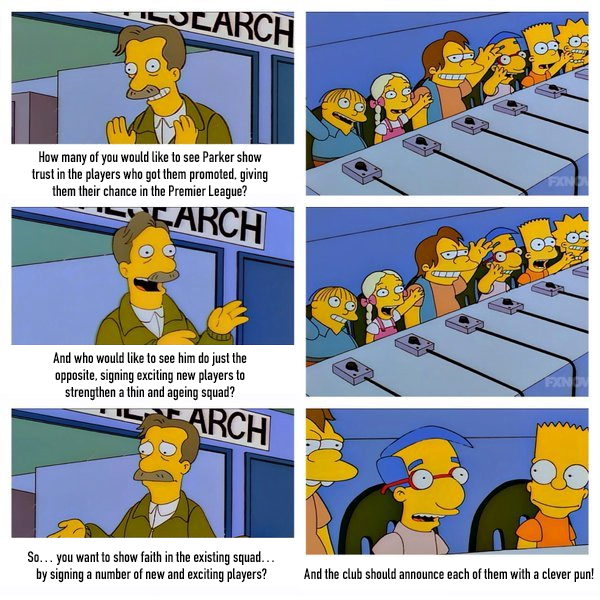 Scott's Catch 22
So, Scott has an impossible task: honour the team that got us promoted, and at the same time reinforce a dangerously thin squad. If he does the former, questions will be asked as to why we didn't reinforce those areas your Da was complaining about in the pub. If he does the latter, your Da will lament that 'we didn't learn our lesson from last time!'
Scott either goes down with his ship, or sits on the deck of the radically refurbished HMS Piss Our Way To 17th.
"That's some catch, that Catch 22."