We are Premier League: Fulhamish Roundtable
5th August 2020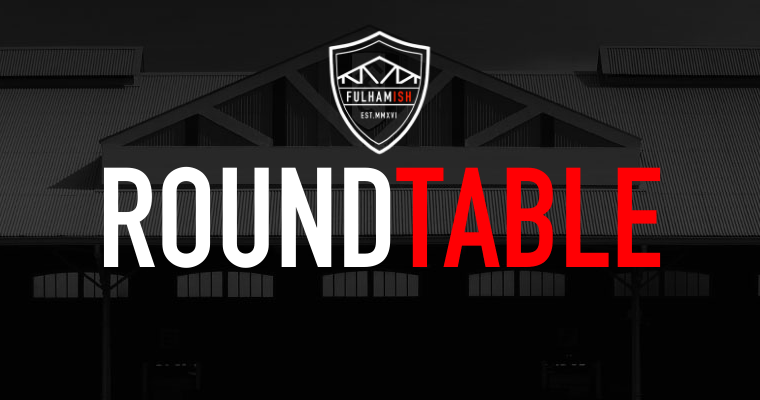 Have you come down yet? We asked our extended team to try and sum up their feelings after last night's Wembley win.
Jack Collins
If we thought 90 minutes of a play-off final was stress enough back in 2018, try 120 against your local rivals in a nail-biter. My poor heart. My poor liver as well, to be fair.
I got a phone call from a mate saying "we are going up" after Joey's second goal, and I was still petrified it was too early to celebrate, even at 117 minutes. By the time they nodded in a consolation though, I figured the race was run. Pure relief. And then scenes in the Collins household. Bottles popped. Fireworks sparked. We were back.
We're Fulham FC. London's Original. We're the boys from by the river.
Farrell Monk
Adams, Keegan, Tigana, Jokanović, and now you can add Parker to the list of managers who have guided Fulham to promotions in my lifetime. Each one of those managers have a special place in Fulham's history with their own brand of football – and our current gaffer is no different. You have to have a heart of stone not to be moved by Scott's post-match interviews, as emotional as I was watching it. It was a complete vindication of the hard work he and his team have put in the past year, silencing many of the doubters. A tactical masterclass that was not just formed by accident last night, but a showing of how brilliant the coaching staff have moulded this talented squad. It will take some time to digest as I'm still a bit euphoric after watching Fulham pulling off a remarkable victory but right now it feels even better than two years ago. Just.
Ben Jarman
How many times has this squad picked itself up off the canvas? Been written off by the media, by outsiders and by the fans. Tactics questioned and answers posed. Once again Scott Parker's boys got the job done when nobody backed them to, a composed performance that stopped the BMW dead in its tracks. Somewhere in West London Tim Ream and Michael Hector are emptying their pockets of the famed Brentford front line. Since lockdown there have been tales of redemption; Neeskens Kebano and Josh Onomah in particular. But last night belonged to Joe Bryan. So often on the end of criticism, our left-back scored two wonderful goals to propel us skywards.
The elation in the roads of Putney, the bars of West London and homes across the UK and beyond was something to behold as Fulham proved all the doubters wrong. It's not a Cinderella story, but my God doesn't it feel so good to beat those noisy neighbours from down the road in their biggest game in history. Fear? We aren't scared of anyone, Emiliano mate.
The big bad Premier League awaits, and while there are flaws in the squad and an increasingly short amount of time to tend to those key positions (RB, CB, attackers) Fulham approach it knowing that they must take heed from our ill-advised spending spree of two years ago and with a steady head to survive next year.
Dom Betts
Super Scotty Parker. He's got us back to the Premier League at the first time of asking. And what a way to do it.
I was always confident going into this game. Yes, we may have only beaten them once in the league since 2014. Yes, they may have done the league double over us. But I know we'd step up to the big occasion and Brentford would choke – and that's what we saw. Every man put in the performance required last night. As Joe Bryan said, yes he scored the goals but this was a team effort.
We're Fulham FC. West London's finest. We don't need to brag and chat breeze like Brentford because we know when it comes to it we're the better side and team. Keep it black and white like always. UTF. Roll on next season.
Drew Heatley
It might not have been the day we imagined, but boy, was it still special. There were huge 'England in a big game at a major tournament' vibes for me yesterday, as I wheeled my TV into the back garden. And then those vibes were heightened by 120 minutes of nerves and stress. The difference though, of course, was the happy ending. We're back in the big time – and Scotty's led us there. I for one am ready to back him and see where this journey takes us.
Adam Farquharson
Last night felt like 120 minutes of chess; it was clear from the beginning that one team was up for the win and prepared to wait for their chances, while the other snatched at opportunities and rushed their play.
Then extra time comes. I'm in hell. This might actually happen for us? An uninviting free kick miles out proves to be the biggest unexpected turning point I've ever witnessed. Up steps Joe Bryan, then I'm in heaven.
Scott Parker's Fulham this season have been expert in defending one-goal leads, with Parker's classic five at the back switch, but last night felt different. Arise again, Sir Joe, who makes a run into the box and slots it in for 2-0. It wouldn't be the Fulham we love without a twist of drama in the last minute, too little too late from the Bees.
I think all Fulham fans would agree that Parker has learned a lot from his full first season in football management – and that was evident last night. Premier League here we come, and Parker can continue to learn each game he manages our wonderful football club.
George Cooper
How different things could have been. When I look back to the childish ignorance of us coining this campaign "HMS Piss-the-League" it makes me realise that this season I have been through every conceivable emotion available to a football supporter. There's been frustration, disdain but thankfully last night, elation. It was one of those games that we'll think back to and smile to ourselves about for decades to come.
It'll come in the form of an out-of-place chuckle when thinking of Emiliano Marcondes's now infamous "Fulham fear us" speech. A tiny fist pump when recalling David Raya's flailing super-man dive, seemingly in a different time/space continuum to Joe Bryan's stealthy free-kick. An ear-to-ear grin at the thought of getting Bees in the cup, when we'll meet them again, in the (hopefully) distant future.
Who knows what the Premier League holds for Fulham. Right now, I'm just happy! I bloody love this club.
Cam Ramsay
Nothing could prepare me for the emotional eruptions once the final whistle sounded. These moments are golden and we should take nothing for granted. The Premier League is our club's rightful home and now, at Brentford's expense, we can revel in the fact West London is well and truly black and white. It always has been and last night's tenacious performance rubber stamps our superior credentials, a team beyond compare. The top flight is for glitz, glamour and proven class, not knock-off pretenders – as you were, Thomas Frank, that mouth of yours has made you look very silly indeed.
Jack Kelly
All the noises in the build-up were that of the dazzling style of Brentford. Their final season at Griffin Park, their time. But we did it. I am delighted. Honestly it's a 'pinch yourself' moment. Joe Bryan the unlikely hero with the most unlikely of goals. Let's learn from our previous mistakes, be sensible, keep the core and we will take on a very competitive Premier League. I'm so, so happy for our supporters, the players and for Scott Parker.
Marco De Novellis
Many foolish men have criticised Scott Parker's tactical depravity this season. Not last night.
The modest man charged with getting a rag-tag bunch of journeymen professionals, expensive foreign imports, and a sprinkling of certified Fulham legends promoted, actually pulled it off.
This was 120 minutes of pure, defensive masterclass. This was Parkerball at its finest. Michael Hector imperious; AK47 transformed; Onomah leading the line; Joe Bryan brilliant.
Next season won't be easy, but for now we can enjoy this famous victory. Brentford still haven't won a playoff final. Brentford are forever in our shadow. Thomas Frank, Emiliano Marcondes, Pontus Jansson, Dean Smith, Phil Collins, Cameron Diaz, the entire British media—your boys took a hell of a beating.
Frankie Taylor
A day filled with nerves and tension was eased by two moments of magic from Joe Bryan in a game of absolutely perfect tactical execution. Tom Cairney put in a captain's performance in the middle helped Fulham recover the ball and was always looking to keep it moving. Michael Hector was imperious against Ollie Watkins, while Josh Dasilva and Mathias Jensen – so good all season for Brentford – were anonymous when it mattered most.
Scott Parker has had his critics, and at times I've been one of them, but for giving us this night and that result, I'll be eternally grateful. I hope the players and staff enjoy the time off because things will go from nought to a hundred very quickly with a week or so break before we get back into it. This Parker led team has more grit and a desire to not concede compared to our last Premier League campaign, which might make all the difference.
Joe Samson
I feel emotional and in disbelief that we've done it when it seemed everything was against us. The performance we pulled out of the bag was incredible and I've never been happier to eat my words regarding Parker and Bryan in particular. We are back and hopefully there to stay this time!
Nathan Martin
I was composing the eulogy for Fulham's 2019-2020 Championship Season for most of the Playoff Final last night. It's not that I didn't think we could win, it just felt like a season like ours couldn't end in the Premier League. I remember Barnsley on the opening weekend, patting Scott on his back at Kings Cross as we came home, telling him that we all had his back. But we didn't always. We doubted him, doubted our players, and doubted that we had what it took. We didn't feel like a Premier League side.
But I was wrong. There's some parts of football that can't be fixed with a sleep coach or measured in xG. Scott may have some maturing to do, the club still feels like a skittish show pony, but Scott knows his players and he knows how to get the best out of each one of them. They never doubted Scott, not for one minute, and each one did the job they were asked to do.
Rhys Daly
Watching Fulham prove the doubters wrong made the win over Brentford so incredibly satisfying. Although it wasn't quite a trip to Wembley, watching the game at home with close family featuring a miniature white wall was just as memorable. Scott Parker has proved his worth as a manager by bringing the club back to where we belong, let's hope that this time it lasts a while longer.
Eamon Levin
I found myself going to bed the night of the final looking at a picture of Marek Rodak on Twitter, holding the Play-Off Final trophy above his head with a look of pure relief and ecstasy. This more-than-a-year-long slog finally came to an end and while the result was absolutely wonderful, as I looked at the picture I found myself upset that I wouldn't be able to watch Fulham this Saturday; it really is about the journey – and this year's journey has been fantastic. As an oversees fan in the US, I'm excited to be able to talk to regular people about the club without having to explain how relegation and promotion works. I'm ready to see the boys play in HD on a regular TV channel and I'm especially ready to be the only Fulham supporter in bar with 100 people, who only a year ago had heard of Manchester City for the first time!