Championship Play-Off Final Five Thoughts: Brentford 1-2 Fulham (AET)
Written by Cameron Ramsey on 5th August 2020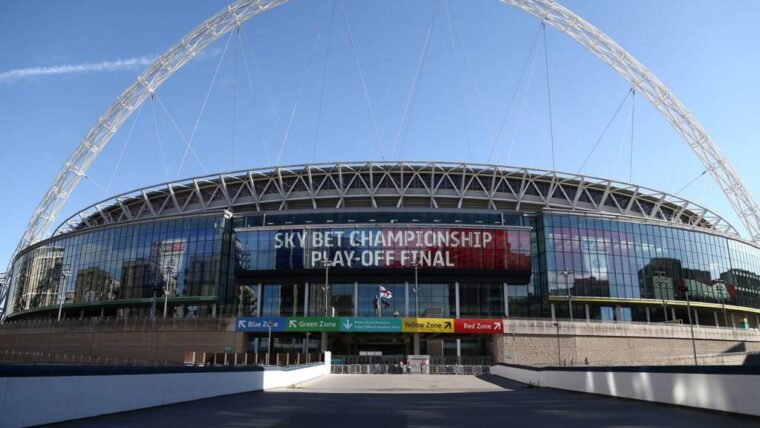 We are Premier League. Hangovers aplenty across the breadth of the capital and beyond, we witnessed a remarkable encounter between two great rivals in the richest game of football on the planet. The stakes were as high as our blood pressures but crumbling? That's not us, it's much more of Brentford thing.

I dislike Thomas Frank, I detest Brentford's second-rate club ethos but I am besotted by Fulham's newly-formed resistance. The biggest West London derby will be archived as a Fulham victory at Wembley, a meeting with no fans in attendance but the fandom, the festivities, they'll live on for the rest of time itself.
We venture into the top-flight with fresh zeal and zest, an appetite for restitution amongst the game's cream. I may repeat myself numerously throughout this article, the closing Five Thoughts of the season, but I just like the sound of it. I love this club, I love this game, I love winning under the arch against foes of old. The Whites are going up, you're never gonna believe us, but the shagging Whites are going up!
What It Means
That, that is how you respond to Brentford's gloating pre-game trash talk. This goes out to you, Frank and Emiliano Marcondes, you've well and truly stitched yourselves up with your empty, baseless complacency. Talk is cheap, you can't buy class and humility, but £160m will go a very long way in widening the gap between us, the rightful kings of West London and them, the tinpot impostors that bit off more than they could chew at the home of English football.
The 2018-19 Premier League campaign was torrid, there were and still are wounds to lick although redemption, warm, gratifying atonement, has been served. This club could have capitulated, we could've wandered astray from our aspirations but the heart still beats and the pride is stronger than ever. We are back in the big-time, the top-flight is where this beautiful assortment of grace and tradition belongs and it became clear at Wembley that the Bees are not within our esteemed bracket and they never will be, regardless of where their future lies. They may have beaten us twice, but the bragging rights will remain in SW6 for eternity after humbling them in the only game that truly mattered in the end.
The atmosphere surrounding 2020's Championship Play-Off Final differed greatly from 2018's but the emotions coursing through our veins, they're familiar. Watching from our living rooms, gardens, locals, the customary ups and downs emerged in equal measure and that infectious belief we, as a fan base, are renowned for bled through in torrents. A multitude of affections adorned the evening, pulses racing at fever pitch and when it comes down to raw, bare substance, Fulham were made of hardier stuff. Our fate has finally been sealed and the footballing elders are smiling upon Parker's triumphant cohort because now, after defying the odds and dashing opinions, we have a spot in the world's most illustrious division.
Embed from Getty Images
Scott Parker's Appraisal
I've some grovelling to do an I'll start by dedicating a lengthy section of this article to the man that made promotion possible. Scott Parker's faced up to criticism, he's weathered adversity and though I've dashed mud upon his name, I stand corrected. How could we seriously discount his ability as a manager in his first full season as a senior leader? Questions have been answered and those ugly teething problems have been straightened and I, on behalf of many others out there, apologise sincerely for scoffing at his presiding credentials. Banishing that crippling defeatist mindset, Parker's sculpted a convincing Fulham outfit that's worthy of loftier heights and challenges.
Glassy eyed, choked with honour, Parker's post-match interview was all you'd want to hear from your club's head honcho. A dedicated representative, the former England international divulged just how hard he's grafted to make this team tick, along with the sacrifices he's made along the way. He may be inexperienced, naive to the strains and pressures his position holds, but he will invest everything for the good of our club. We're entitled to change our perceptions and I'm genuinely grateful to have Parker on board in the technical area, he's evolved his strategical inclinations and underneath the tie pin, the brogues, there's an astute mastermind.
Parker conducted himself gallantly and set his side up to engulf Brentford. A battle of wits, minds and policies ensued on the touchline between Scotty and Frank and whilst proceedings seemed fairly touch and go for 100+ minutes, our man had the methods, the minerals, to squash the best selection of players Brentford have seen for decades. Next season, Parker will be placed under the microscope and his blueprints will be examined scrupulously however his formula, the project he's stuck to religiously from the start, certainly has significance. He will learn the hard way, he will triumph, he will fall short of the mark but his program, which is still a fledgling prototype in comparison to those in the Premier League, has a winning stamp of approval.
Our Unlikely Hero
It's official, Joe Bryan has turned his back on his old self and is now Fulham's goal scoring supremo. A suspect left-back masquerading as a deadly striker, there's a welcome plot twist. Since arriving from Bristol City two summers ago, Bryan's reputation has been run through the mill, his inadequate defensive abilities have been made a spectacle of but going forward, advancing with a purpose, that's where the fullback really comes to life and he ignited Tuesday evening's showdown in extra time with two ingenious strokes of invention and impulse.
Waiting until the very last available moment to triple his season's goal tally, Bryan delivered jubilation by means of his left and right boot. Stood behind the ball in the doldrums of Wembley's vast midfield section, the 26-year-old prepared to whip a free-kick into Brentford's 18, but he was scheming something of audacious proportions. The look on his face said it all, he was going to take aim from an outrageous range and he was going to blast the game's opener. Apparently, Fulham had been working on set-pieces in training with this outcome in mind, but I can't imagine they'd envisioned Bryan's sniper strike, it was preposterous. incidentally, we hear David Raya is still tumbling somewhere in North London.
Saying that, once he returns from his delayed flight, Raya will need counselling. All he'll be able to see at night is the whites of Bryan's eyes because his evening was shredded by the marauding auxiliary marksman. In the 117th minute, Bryan surged forward with the ball and initiated a smart give and go combination with Aleksandar Mitrovic on the parameter of the penalty area. A seamless transaction, Bryan darted into a prime position, one on one with Brentford's Spanish *ahem* stopper and stroked our second with his weaker foot. Dispatched like a verified hitman, Bryan sparked inspiration and other than his otherworldly brace, his overall application was distinct. You don't need a cape to be a superhero, a pair of red sharply calibrated Nike Mercurial Vapours carries the same effect.
Embed from Getty Images
Midfield Battle Navigated
Wembley's a massive pitch, arguably the broadest a professional could hope to play upon and with acres of space to cover, our midfield department had to be primed and ready for an exceedingly strenuous shift. Starting proceedings with Harrison Reed, Tom Cairney and Joshua Onomah, Fulham's engine room ticked over consistently and resisted Brentford's equivalent machine because on the night our interchangeable trio clamoured and conquered. Winning the battle centrally was key, if we drove our flag down first in that respect, we'd prosper and to our shimmering credit, we negated the Bees' equipped midfield expertly.
A relentless collective work-rate dampened Brentford's impression and as they aimed to construct patterns, Reed infiltrated their rhythm. The Southampton loanee was lucky to be on the pitch, but his unwavering commitment to his duties allowed TC and Onomah to pull strings further up the park. Once possession had been turned over, Fulham broke with enthusiasm and took risks, and they're traits you don't usually associate with Parker's calculated brand. With the license to build and destruct, Fulham operated with resolve and design and, barring the odd rash lunge, we were the principle force. Our midfield components offered ammunition, steadied the tempo and interrupted Brentford's staggered flow. We were compact, we were versatile, we were superior.
The game was won by Bryan, of course, but our success wouldn't have been possible without Fulham's vigilance in that gigantic midfield third. Cooperating in perfect harmony, Cairney, "Tek like" and the ginger assassin enabled the Whites to remain relevant and threatening throughout. I'm not discrediting our defence's exploits, our attacker's accomplishments but a well drilled, well oiled midfield composition was essential to our profit and progress. If we kept our discipline, our eagerness in the middle, the whole squad would follow suit and thankfully, with spirit and energy, we got the job done efficiently.
Never Give Up
Fight 'til the death. Some teams have that quality ingrained into their DNA and Fulham are one of those outfits that never give up. Blips happen, sometimes we may lose sight of our ambitions but once the end is in reach, once we know that all isn't lost, we flick a switch and our mentality alters accordingly. The magnitude of Tuesday's clash was sickeningly monumental, one single lapse could undo all that we rallied so valiantly for but not one foot stepped out of line.
To a man, across the entire pitch, Fulham bettered Brentford in virtually every aspect. Chins were up, eyes were fixed firmly on the prize and we deflected negativity in order to bask in the positives. Tuesday evening was our time, we had a score to settle, unfinished business in the Premier League to confront and if we bring that assurance to the party next season, I believe we'll survive. The fortitude on show against Brentford mimicked that of Slavisa Jokanovic's side, although I recognise a bravery like no other in Parker's contingent.
This team is unified, it's aware of the dangers top-flight football beholds and with that admission at the forefront of our judgement, we will develop into a highly proficient side that's alive and adjusted to the obstacles that lay before us. The Bees swore this was there time to advance, to enter a realm they really have no right to even dream of and we put a stop to their desire because, ultimately, we wanted the glory more. We didn't submit, we swatted off the Bees' overstated competencies and under a weighty expectancy, we rose above the occasion. Marek Rodak, Micheal Hector, Tim Ream, Denis Odoi, Bryan, Reed, Cairney, Onomah, Neeskens Kebano, Aboubakar Kamara, Bobby Decordova-Reid, Ivan Cavaleiro, Anthony Knockaert, Mitrovic and all the names in between, you've immortalised yourself within Fulham folklore and you will be remembered as the squad that squashed the Bees at Wembley. Come on you rip-roaring Whites!