Five Thoughts: Nottingham Forest 0-1 Fulham
Written by Cameron Ramsey on 8th July 2020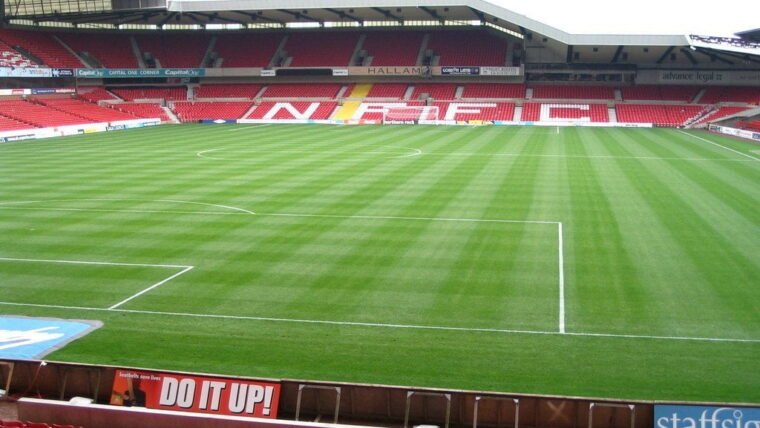 Prior to kick-off, Sabri Lamouchi's Nottingham Forest hadn't lost after returning to Championship action and Scott Parker's Fulham were slowly picking up the pace, having claimed victories in their previous two meetings. 4th vs 5th, a contest between two differing strategic minds, we were gearing up for a cagey, heedful confrontation on Tuesday afternoon and it delivered precisely that.

The Whites still can't widen that pesky 1-goal margin and we'll certainly bear the brunt of this if we can't activate our free-scoring form before long, although I'm not entirely disturbed by this. Maximum points matter, and though we've been passably unconvincing, the top two spots are still mathematically in sight.
The games are coming thick and fast and with a very small window of time to relax, recover and prepare, Fulham have to take advantage of the momentum they're riding on, as there's no time to rest on our laurels. Parker's reputation, before it had even been properly conceived, has taken a vigorous pummelling and I'm guilty as charged but against the Garibaldis, critics baying in the stalls, he nailed his lines under the spotlight.
Doin' Gritty Bits
Similar to practically every game in recent memory, it wasn't necessarily a vintage, awe-inspiring Fulham display on the banks of the Trent, but a third consecutive victory and second clean sheet on the bounce, against a very stubborn Forest side, suggests that Parker's gradually (dare I speak) grooming his men into a reasonably fortified outfit themselves, capable of wading through the gritty strains and pressures Championship football wields so violently. Tactically, we're still clutching at straws in many chastising ways, but that wasn't an occasion for squeaky-clean football and it certainly proved to be the case.
Nottingham always carried a purpose in their sporadic attacks and rather than plunging into panic mode, the back four operated harmoniously with our midfield, squeezing space and hounding Nottingham's ball carriers. The hosts, as a result, were goaded into snap shots and over-compensated through balls, which whistled and trickled out of play respectively. With an ounce of patience and a smidgen of composure whilst shielding Marek Rodak's target, the Whites were firm, robust and decently equipped, which is an inspiriting change from the usual dross we're sadly accustomed to snarling at.
Harrison Reed patrolled ruthlessly as per, Tim Ream and Micheal Hector communicated exactly how a central pairing dripping with experience should and with Anthony Knockaert launching himself at both man and ball, I'm thrilled to acknowledge a sudden, if not compulsory, upturn in attitude from all involved. The key tasks at hand were gaining three points, obviously, and keeping a trigger-happy Lewis Grabban quiet for as long as humanly possible. We managed those duties with total professionalism and we also muzzled Joe Lolley, Tiago Silva and Samba Sow, who's without question the biggest helmet we've faced this term. Stop me if I'm wrong, but that smells just like team spirit to me, and that's all I'm here for.
Embed from Getty Images
Harry's Instant Smash
What do you do with a player like Harry Arter? He can't pass a ball in a straight line for toffee, although he certainly knows how to spank 'em top bins. I've not got a terrible amount of time for Arter, he's insufferable, but who am I to complain when he's supplying that good-good? Tom Cairney's absence spared him a definite spot on the bench and the erratic, somewhat clumsy Republic of Ireland international divided and unified opinion, all in the space of 71 minutes.
Arter's evening wouldn't be complete without a string of ropy touches, misplaced nudges and, as it's becoming the norm, a daredevilish net buster. the pattern of play leading up to the eventual winner was characteristically artless. a blind run closely followed by a laboured dab at the ball sums the midfielder up perfectly, although the improvised pirouette, the instant smash, they're also part of his mystifying makeup.
Expertly timed challenges walked in tandem with illogical lunges, screwed facial expressions complimented wry smiles and winning margins, starved of materialisation, were nourished by Arter's hit and hope code of conduct. It doesn't matter if you're man or sphere, the puzzling 30-year-old will lace you with full intent, and whilst he irritates every fibre within my nerve-ridden body, I'll take the good, with the atrociously bad, if it promises 3 points. Man of the Match, put that on the mantle.
Onomah's Hot Helpings
We were calling for Joshua Onomah to start after a strong performance from the dugout on Saturday and our demands were duly met, and what a superb inclusion in the first-team proper it was, too. Onomah has well and truly flourished into a versatile box-to-box midfielder, moving like the fast train from Woking to Waterloo. Direct, physical under close contention, the 23-year-old fronted the midfield cavalry on the charge and retread with a raised blade to preserve the Whites' slender lead.
Reed and Onomah were sharp and clearly functioning on the same wave length in the middle. Slick one-twos initiated potential opportunities to pounce, but it's tough to construct when there's next to no presence centrally to appropriate. Bobby Decordova-Reid hared after Forest's defensive line as the point to our attack and Onomah supported, a bounty hunter with an unshakeable motive and devotion to our taxing game plan.
Onomah has to remain a starter, that still stands, and though Arter's doing his bit, he's not as dynamic as his younger colleague. Sure, there are fleeting moments where his legs resemble overcooked spaghetti but the sauce, the wonderfully deceptive ragu he fixes in those surging bursts and intricately fashioned sequences masks the watered-down factors of his burgeoning skill set. I've found my appetite, so keep them hot helpings coming, Josh!
Embed from Getty Images
Reed the Firewall
It appears we have a full house where our midfield department's concerned. I could've squished all three of our starting representatives into one condensed section, but it wouldn't have done them credible justice. I'm slightly besotted by Reed, not obsessed, however I am always writing about his exquisite services at the base of our central trio, so perhaps it is a fairly unhealthy habit.
What does it matter? If a player's churning out 10/10 performances every single time they take to the turf, I'm obliged to purr about it, so I will. They simply don't manufacture holding midfielders like Reed anymore, that's a fact. Installed ahead of our uncertain back four, the 25-year-old emulated that impenetrable proxy firewall the school's IT department put in place, in order to prevent harmful viruses and Monkey Snowball Fight on Miniclip.
He wasn't resisting pixelated primates, but he did rebuff Lolley's hopeful through balls at the click of a button and as for loose balls and 50/50s, he was first on site to intercept the threat. You best be certified and you better carry your driving license with you because if Reed catches you in his district without a permit, you'll be taking a passenger's seat back to Chumpsville. It's a real place, and many would-be hotshots have ended up there under lock and key.
Better Without Them?
No Aleksandar Mitrovic, Cairney out with a suspected knock, before kick-off I wasn't overly optimistic of our chances of claiming any glory at Forest but then, after 20 minutes or so, it struck me – are we better without them? They're two of our most influential members, the figures don't lie, although I detected a quicker tempo, an alternative edge to our build up play, so surely there has to be some plausible correlation between them not being involved and the players we had at hand trying something new to counteract their exclusions?
Mitro' was serving the last of a 3-game ban and his goal-scoring prowess has been sorely missed but, as he's the Championship's joint-leading marksman, he's routinely marked out of proceedings and it's been a chore for him to find his domineering groove since the season resumed. Without him being a massive distraction to inroads and outlets we could appropriate, Fulham were probing in areas that are indeed ignored otherwise, and a new-found impetus formed in our approach centrally, even if we didn't really benefit from it. Arter would never have gotten the space to score if Mitro' was hunkered between two sitting centre-halves, after all.
TC. All that's progressive channels through his supervision and his creativity is unmatched when his confidence is high, however our skipper's form has taken a worrying nose-dive in recent outings and he's also been culprit to basic mistakes with the ball under his custody. Marginally improved against Birmingham, the 29-year-old was pulling strings, but at a lesser rate and capacity. His decision making was sedate and that, in turn, reduced the intensity within our languid attacks. Onomah got his head down and galloped into the final third, Reed located our channels without having to frequent Cairney's toll booth and in general, we just looked a little more free and easy in patches. This is all pish in reality but maybe, in an alternate universe that's already been foreseen, we have stronger foundations as a collective in their non-attendances.