Keeping Up With The Khans
20th May 2020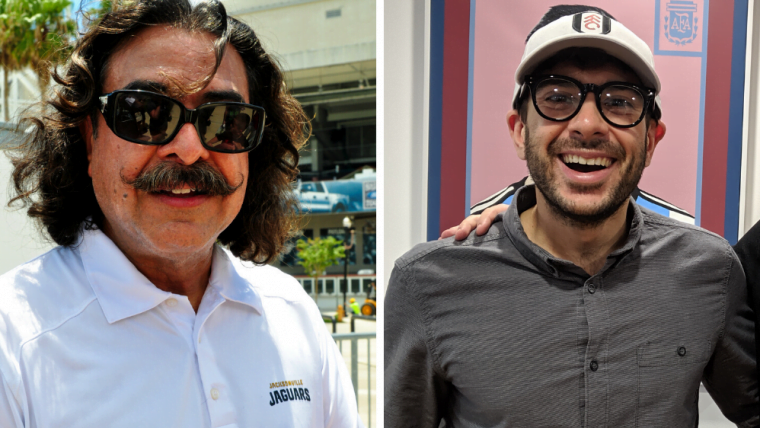 As owners of Fulham FC, the Jacksonville Jaguars and most recently All Elite Wrestling, it's fair to say that the Khan family are currently spinning a lot of sporting plates. Matt Hancock-Bruce evaluates how their three ventures are performing.
Tony and Shahid Khan are living the dream of every sports fan as owners of three very large sporting franchises. I'm realistic and I know there's only so far the Khan's can be held responsible for the success or failures of these ventures, but with Tony playing an increasingly hands-on role at every one of them, it seems reasonable to assess their impact so far.
Fulham Football Club 
Embed from Getty Images
As a lifelong Fulham fan, I must confess to a certain bias when evaluating the club's ownership. After the unexpected Europa League run of 2010, I think it's fair to say that the atmosphere at Craven Cottage had gone a bit stale and so it was almost unsurprising when we were relegated less than 12 months after the sale of the club in 2013. Three managers and arguably the most ill-informed signing in Fulham's history in this time didn't provide a promising start for the Khans. In preparation for life in the championship Shahid broke the bank, shelling out a Championship record fee for Ross McCormack alongside a host of experienced European talent. This didn't turn out quite as planned as Fulham finished 17th in the second tier.
Despite the form of attacking pair McCormack and Moussa Dembélé, Fulham amazingly finished even lower in their second season in the Championship, falling to 20th, narrowly avoiding a second relegation in three years. Having worked their way through five managers, the Khans made the decision to keep faith in Slaviša Jokanović – and what a decision that turned out to be. In his first full season in charge Fulham made the playoffs despite a streak of penalty mishaps and the lack of a striker to call their own. A disgruntled Chris Martin can only carry you so far and Fulham were knocked out of the playoffs, but the signs were there, and hopes were high for 17/18 season. A shaky start was worrying but Christmas came early as Fulham's unprecedented 23 game unbeaten streak began on the 23rd of December 2017. 
Something was still missing though, and on the last day of the January transfer window the final piece of the puzzle was found. Perhaps the most important moment for Fulham under the Khans, and a shrewd piece of business too, Aleksandar Mitrović arrived in SW6. In the second half of the 17/18 season Fulham played some of the best football seen on Stevenage road since a certain Roy Hodgson was in charge. Fulham flew up the table, narrowly missing out on automatic promotion but making short work of Derby County and Aston Villa in the playoffs. Fulham were back in the Premier League. 
Embed from Getty Images
By now Fulham fans were all aware of the financial might of the Khan's but with skyrocketing transfer fees it was uncertain how we would be able to compete with the top tier giants. What took place in the summer of 2018 was anything but dull. Tony Khan, in his new role as director of footballing operations, spent a whopping £104 million (Transfermarkt) on new recruits – the third most in the league and the most ever by a newly recruited team. Tony would learn a harsh lesson however as despite breaking the clubs transfer record three times Fulham were relegated, ten points adrift. 
This season has perhaps been the most confident I have felt in Fulham's management for a while. While I would prefer an experienced coach like Jokanović back at the helm, but Scott will do for now. What has been most impressive this year is the clear advances made by Tony in terms of recruitment. Instead of misjudged European signings we saw shrewd signings of proven championship stars. Anthony Knockaert, Harrison Reed and Bobby Reid are just some of the new loan recruits who have impressed so far, with the latter having been made permanent in January alongside attacking companion Ivan Cavaleiro. Equally impressive has been the club's ability to hold onto stars like Tom Cairney and Mitrovic, who in the past would have been snapped up by mid-table premier league sides. Unfortunately, the season was brought to a halt but with Fulham 3rd in the league and huge developments being made to the Riverside Stand it is certainly a time to be optimistic. I for one am pleased with life under the Khans, even if it does mean having to take home a new clapper every weekend. 
Embed from Getty Images
But those are just the thoughts of one cautiously optimistic fan. For a second opinion I spoke with the Daily Mail's Rory Tingle, a lifelong Fulham fan, and it seems I'm not alone in this view. "I think they've shown they're willing to invest in the club with money for transfers and by developing the stadium. That latter point is particularly important I think because it shows they understand the importance of the Cottage to the club's identity. Overall, I'm pretty satisfied with them especially when compared to the potential alternatives." 
Not everyone shares this rose-tinted view and so, for a final opinion, I spoke with Fulhamish's George Singer. George commended the Khan's investment in the stadium and the squad but was concerned by the fluctuating success of the club's higher profile transfers, "Success hasn't correlated with money spent… it's the more expensive signings who have failed to fully translate their skills at the Cottage." Some of these transfer failings can be traced back to the clubs Director of Football, Tony Khan, "There's a bit of disconnect between him and the coaching staff. Spats between him and Slavisa were common, and often the players he brings in don't always seem to be the ones that the head coach wants." Mr Singer also questioned whether Khan can continue to fulfil his commitments to Fulham alongside his roles at the other sporting companies, "He's balancing major roles in Fulham, the Jacksonville Jaguars and his new Wrestling company. He has hired ex-coach Javier Pereira to fill the gap somewhat, but we're all unconvinced that he can actually give the role the attention it needs." It's not just in the boardroom that Tony has been hit or miss, George noted one Twitter confrontation that left a sour taste in the mouths of  the Fulham faithful, "The worst moment culminated in Tony telling a fellow fan to 'go to hell' following some criticism… a director of football simply cannot act that way!" Despite all the flaws, George believes there is reason to trust in the young Khan, "Tony is clearly very passionate about the club he runs, and he is more than happy to give fans little snippets of insight that we love to see," before adding, "I love that he's applying both stats and traditional scouting in his recruitment, and he seems to be a fair hand at negotiating."
Jacksonville Jaguars
Embed from Getty Images
Before the Khan's arrived in London they had already made a name for themselves across the pond when they purchased the Jacksonville Jaguars in January of 2012, becoming the NFL's first ethnic minority owner in the process. Much as we have begun to see at Craven Cottage, Shahid Khan has invested millions into the infrastructure of the Jags home – TIAA Bank Field. A dog park, swimming pools, an amphitheatre and the largest HD screens in the world are just some of the features that have been added to the 67,000-seater arena. Unfortunately, the similarities to Fulham continue in terms of on-pitch performance. In Eight seasons as owner, and with Tony currently in the role of Vice President of Football Technology & Analytics, the Jaguars have reached the playoffs only once where they were beaten by the New England Patriots in the AFC Championship game. 
Perhaps what has been the most defining feature of Khans reign, at least from a British perspective, is the team's strong links with London. Since they took control the Jaguars have played a regular season game in London every year and, before the Coronavirus pandemic resulted in the cancellation of all international fixtures, were scheduled to play two in the 2020 season – a significant number considering the comparatively short, 16 game, NFL season.  Rumours of a permanent move to the big smoke continue to circulate and when reports of Shahid purchasing Wembley Stadium came about in 2018, it seemed like the speculation would finally become reality but alas the Jags remain in sunshine state.
Embed from Getty Images
To determine whether the Khans tenure of Jacksonville has been a success what truly matters is the view of the fan. I contacted the good people of Duval Pride, a Jags fan forum, to get an insight into life in Florida. What was made immediately clear is that there is a growing distain for head coach, Doug Marrone. Marrone has been a coach at the Jags in some capacity since 2015, becoming head coach in 2016. Fans feel that his dismissal is long overdue, but it is Khan who appears afraid to take that risk. "He's yet to have a full on clean cut or break from any regime," said one fan, adding "He's a smart business mogul that's not very smart nor bold when it comes to taking chances in professional sports." Another fan contended, "There are certain owners who are constantly hiring and firing coaches and GMs, with the result that their teams wallow in mediocrity or worse.  The Khans seem to be taking the opposite approach to a fault, seeming to value stability and patience, with much the same result." This idea of disengagement was repeated by many, with one fan stating, "I personally feel that he's not involved enough while his son has pretty much treated it like a toy." When reflecting on Tony's role, one fan put it bluntly, "Tony Khan is not qualified to make business decisions for Fulham FC or the Jags." Despite these comments there was an overriding sense that Shahid's heart is in the right place, "Shad Khan means well and has great visions for the city of Jacksonville and the Jaguars," exclaimed one fan, another adding "I have hope that, since they are smart people, they will figure things out and our results will improve."
For a final opinion on the situation in Florida I spoke with James from Gridiron Hub, a British based American Football news site. His view largely echoed that of the US fan perspective, highlighting the inept coach and general manager. "I think they need to be a little more urgent as they've allowed Dave Caldwell to misfire on so many high first round picks and he's still around. The same goes for coach Marrone, he's clearly not liked by players and he's not winning so why is he still there?" For James, the Khan's greatest achievement has been their increased British fan base, "While they aren't exactly doing much for their football team, they are doing a lot for the UK. From Jags camp, to sacrificing more home games and I'm sure many other initiatives. The Jags moving to London is almost definitely in the pipeline you would've thought." Reflecting on last week's draft, with a view to the future, James believes "This is a complete rebuild year for the Jags unless (Gardner) Minshew comes out and lights things up. The only way I see them with the No. 1 pick is if Minshew does suck and if that's the case then either Caldwell is gone or he has an easy pick of Trevor Lawrence". Clearly the best is yet to come for Shahid and Tony's Jaguars but with optimism high a Vince Lombardi trophy could one day be on the cards, the question is will they be taking it back to Jacksonville or London?
All Elite Wrestling
Embed from Getty Images
The latest sporting venture of the Khan's is All Elite Wrestling, with its inaugural event Double or Nothing taking place less than a year ago. With Shahid as lead investor and Tony serving as CEO and President, the company has acted quickly to build an impressive roster featuring some of the sport's most iconic stars including current world champion Jon Moxley, Chris Jericho and Cody Rhodes, who also serves as Executive Vice President. Assessing the success of Professional Wrestling is not quite the same as football and its American counterpart. Speaking with Aaron, of the Everything Elite podcast, one undeniable success is the viewing figures, "Khan secured an unprecedented national television deal for a brand-new wrestling company run by people with no history of successfully guiding wrestling or television properties." A similar deal was struck here in the U.K with ITV and in October 2019 AEW's weekly show Dynamite premiered, reaching US viewing figures of over 1.4 million, some half a million more than its competitor, WWE's NXT, achieved on the same night (WhatCulture). "That success is a credit to Khan, his apparent willingness to grant the wrestlers creative freedom" said Aaron. 
Fellow podcast host Kyle Masters, of All Elite podcast & the No Holds Barred Network, shared this positive view of the company's owner. "I think Tony Khan is without a shout of a doubt, the best president and CEO a wrestling company could have! This man puts so much passion into his work that you can see it on TV when AEW is on" said Kyle, adding "The best thing about him is he is a wrestling fan first and a business man second, and so far that has shown that it can work and be successful". Clearly excitement and optimism is high within the AEW fanbase. The only glaring critique of the company was regarding Tony's reaction to the current pandemic. Aaron explained, "Khan has continued to hold tapings and is taking the show live again starting May 6. Those actions put the wrestlers, staff, their families and anyone they come in contact with at risk unnecessarily". 
Embed from Getty Images
The past decade has certainly been a busy one at the Khan household. Poor results and a lack of engagement at Jacksonville has seen them come under scrutiny from the Jaguars fandom, yet there is still an appreciation for their investment in both the team and the city. Their latest venture, AEW, is perhaps the most promising yet but only time will tell if they are able to overcome their more glamorous competitor. The jury is still out amongst the Fulham faithful, but I for one believe the Khans will lead us to Premier League security soon enough.