Five Thoughts: Fulham 1-0 Swansea
Written by George Singer on 27th February 2020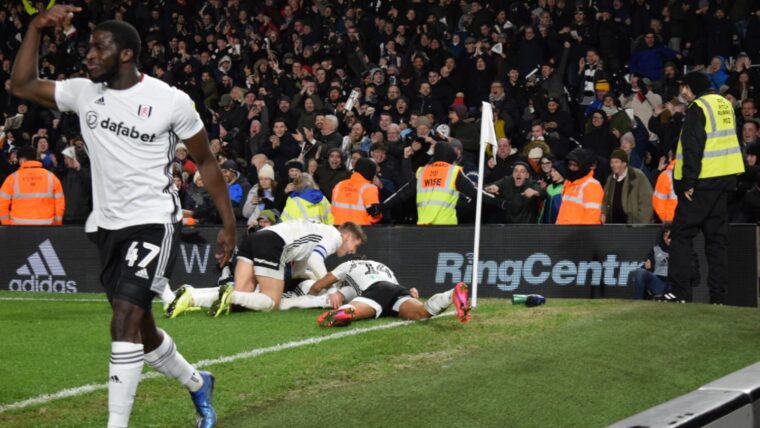 Football. Bloody hell. At the 89th minute of Wednesday evening's clash, I had this article mostly written out in my head. A story of frustration, tactical obscurity, and 2 points dropped. However, these plans were thrown up in the air (along with the Hammy End's clappers), as a certain super Serb headed home a 90+4th minute winner. Let's take a look at the 5 main talking points.
Mitro Makes Amends
It's almost become a cliché in itself to say "The word legend is overused these days". However, Aleksandar Mitrovic is already well on his way to becoming a club legend in South West London.
When some players have extraordinary ability, and a certain X Factor (especially at a young age) this can so often go to their heads. They can become arrogant, lazy, and believe others are beneath them. It's therefore so refreshing to see players like Mitrovic who are none of these things.
Time and time again, the Serb just refuses to lie down. He just refuses to walk off the pitch without scoring, a mindset which transfers to the players and fans around him.
We saw this again last night, with Kamara's pinpoint cross meeting Mitro deep into the box, even deeper into injury time. Let's be honest, there was no way he was going to miss, was there?
Now the Championship's top scorer, with 24 goals, he's undoubtedly the most valuable player in the League. God knows what we'd do without him, but whilst he continues to single-handedly win us points, does it really matter?
Embed from Getty Images
Penalty Pressure Proved
As Fulham cranked the handle, and increased the pressure on the Swan's defense in the dying minutes of the match, some kind of mistake from the visitors was inevitable.
In the end, it was forgotten man Neeskens Kebano who drew the mistake – going down in the box under a challenge from Connor Roberts.
There was no way that Mitro would let a repeat of Huddersfield last season happen, where Abou famously defied orders to take (and miss) a last minute penalty. Mitro held the ball tightly to his chest, and it seemed certain he was ready to right those wrongs and slot home.
In the end, Woodman guessed correctly, diving to his right to push the tame penalty away, and the Swans reacted quickly to block the rebounded shot.
Is Fulham's penalty jinx continuing?
Defence holds firm
Whilst no Fulham fan will be happy with how our defence has been playing this season (we concede 2 more shots per game than Leeds), we shouldn't ignore how unlucky we've been with injuries this season. Reed, Sessegnon, Mawson and Kongolo have all been affected with long term injuries, and therefore creating a settled back line is not a luxury we've been afforded this season.
Therefore it's so pleasing that Rodak, Ream and Hector are starting to build a great relationship between themselves.
The attacking brand of football we play is going to leave holes at the back, an inevitability we have to accept, however the composure the trio showed with last ditch tackles to deny the Swans in the box was a joy to watch.
Both Odoi and Bryan need to be praised for this too, with the latter's tackle being crucial to set up the chance for Mitro's winner. Hopefully this is the catalyst for more clean sheets in the future!
Embed from Getty Images
Awesome atmosphere
There's something about watching football at the Cottage under the lights which is truly special. We're not the loudest of fans, but when the floodlights are on the crowd create the kind of energy the players can feed off. It's therefore no wonder that some of our best recent & historic performances have come under the lights.
In the previous game at the Cottage, the 3nil loss to Barnsley, the atmosphere quickly turned very toxic. Fans got on the players backs, with understandable frustration, which only bred further nerves and mistakes – particularly at the back. Somehow we never tend to see this kind of atmosphere at night games.
Whilst fans do get frustrated whenever matches are rescheduled, and moved from 3 O'clock to midweek evenings, perhaps next time we should be more grateful!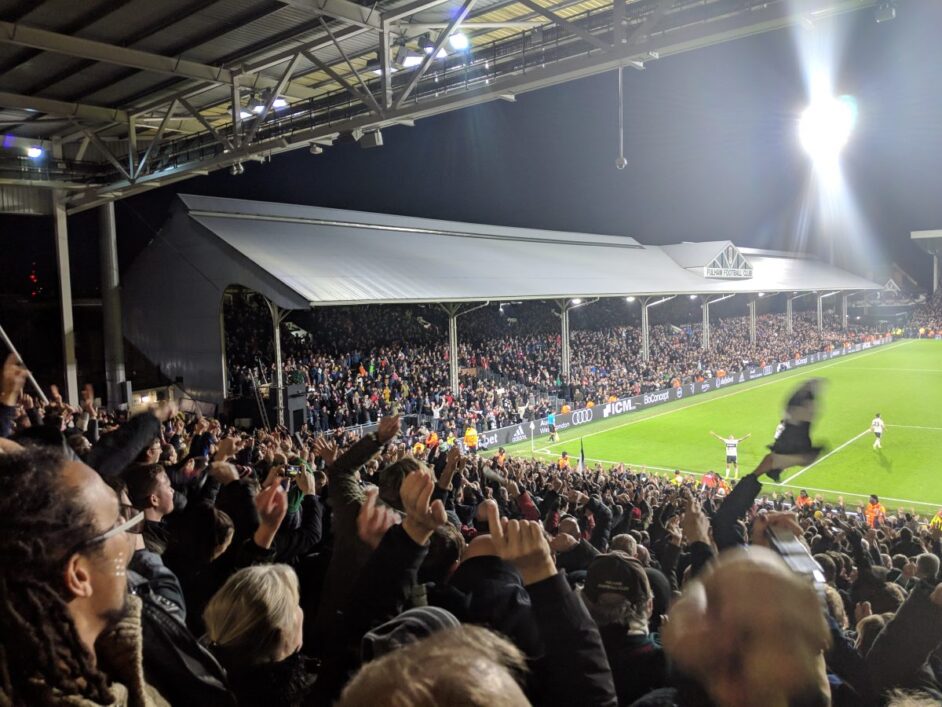 Tactical Trepidation
Whilst as fans should enjoy the highs, we also need to realise where certain events paper over underlying cracks. There's an element of this with yesterday's result.
Wednesday was not the first time this season we've seen Fulham dominate possession, yet really struggle to create good chances. So many of our attacks result in poor percentage shots from outside the box, and our attacks seem fully reliant on just expecting our star men to create some magic with their individual brilliance.
In this regard, I'd like to see more of an emphasis of a clear plan of how we'd like to attack, and players moving according to this plan. So often our attackers become static, something which can be simply stopped by a well organised deep block.
If Scott can improve in this area, there's no reason we can't catch up in the race for automatic promotion.
COWY!!
Featured image provided by Dara Curran.