Top 5 French players to play for Fulham
19th February 2020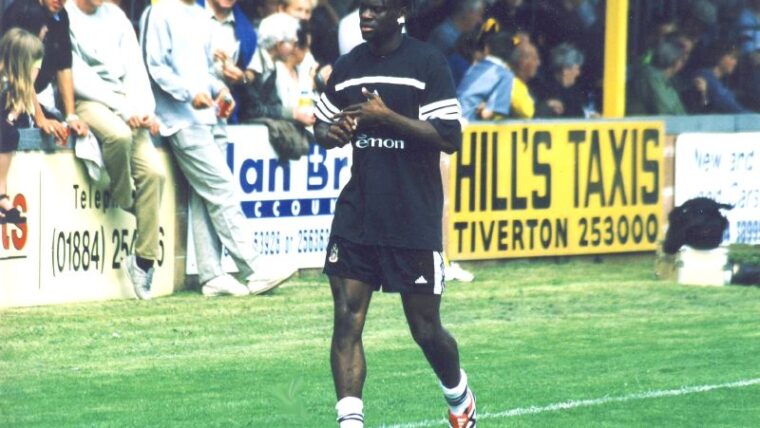 Throughout the years, many Frenchmen have displayed superb performances in the white shirt (many of them were also really bad, but let's leave that for another article). This article celebrates them, by presenting the five best Frenchmen to ever represent Fulham – a must read if you remember the early 2000's fondly.
5. Alain Goma
Embed from Getty Images
Alain Goma was signed by Jean Tigana in 2001, when Fulham were cruising through the First Division. He was, at the time, the club's record transfer fee; 4 million pounds – about an eighth of Zambo-Anguissa. A solid and tough centre-back, Goma became a very important player in Fulham's first season back in the Premier League. He played more than 100 games for the club, but his first two seasons were by far his best, as his game time started to decline under Chris Coleman. Goma left the world of football after retirement, and now works in real-estate, but is still based in London, and, apparently still has a season ticket at Craven Cottage.
4. Sylvain Legwinski.
Embed from Getty Images
Legwiniski is another of Tigana's signings, having played for him at Monaco previously. A cult hero, he scored some mythical goals, especially his strike against Newcastle. It was the type of strike where everyone thought "don't shoot!" seconds before the ball hit the back of the net. Legwinski was a complete midfielder, good on the ball and ever industrious. He always tried to build a rapport with the crowd, which made him a fan favourite at the time. He was not your usual footballer – he likes the Pixies and electro, rock and jazz, for a start. He loved London and the club, and said that he would love to come back and coach at Craven Cottage – he embraced coaching after his career with Monaco's youth teams.
3. Louis Saha
Embed from Getty Images
Petit Louis became great at Fulham. The French striker was welcomed with some scepticism in South West London, due to his disappointing spell with Newcastle, but it's fair to say that it did not last long. He was a key part of the successful promotion season to the Premier League in 2001, scoring 27 goals in the second-tier of English Football. Saha, however, was much more than goals: he was an all-round beautiful left-footed player, a combination of strength and finesse, of pace and technique, someone who should have been a legend of French football if not for the injuries that plagued his career. Although he did not score as often in his first two-seasons in the Premier League, he showed his talent on several occasions, not least during the 3-2 loss at Old Trafford in 2002, where his two goals and performance that day allegedly convinced Sir Alex to sign him. This eventually happened in the middle of the 2003-2004 season, despite Fulham's reluctance to sell a striker who had scored 15 times already that season. His departure saddened Fulham fans, but it turned out they had seen the very best of Louis Saha: despite the enduring love of Sir Alex, and some successful times at Man U, injuries prevented him from consistently reaching again the level he showed at the Cottage. He is remembered in France as a talented striker who did not have the career he deserved, playing at a time where the likes of Henry or Trezeguet made it hard for any strikers to find a spot in the national team.
2. Steed Malbranque
Embed from Getty Images
When "Malbranque" is mentioned to Fulham fans, the reaction is unanimous: "STEEEEEEEED". In fact, he is much more famous in London than in his home country, where he is mostly known for his rather unique first name, and for being Tony Blair's favourite player. Malbranque's high energy game, technical qualities, in addition to a couple of goals scored each season, made him a huge fan favourite. He especially flourished under Tigana's free-flowing, attacking football, but unlike some of his compatriots who struggled when Chris Coleman took charge, he remained a key player under the Welshman. After spells at Spurs and Sunderland, Malbranque came back to French Ligue 1, playing more than 100 games for his first club, Olympique Lyonnais, where he displayed the same professionalism that we had seen at the Cottage. He came close to playing for the French national team but never made it, in a decade where the side had many high-quality players, especially in midfield.
1. Jean Tigana
Embed from Getty Images
Number 1 is a manager. Yes, things ended acrimoniously for Tigana, who was fired in 2003 when the team was in danger of relegation. He also was sued by Al-Fayed for supposedly dodgy transfer fees (although charges were later dropped). Granted, some of his transfer choices ended-up being massive flops (looking at you, Steve Marlet), but Jean Tigana brought some of the best football Craven Cottage has ever seen, and some of the best footballers in Fulham fans' memories – it is no coincidence that all the players mentioned in this piece date back to the early 2000's. He absolutely walked the First Division, his team winning the league with 101 points, led by a front three made of Saha, Boa Morte and Hayles. Under Tigana, Fulham stayed up comfortably in their first season back in the Premier League, reached the FA Cup semi-finals, and got through to the UEFA Cup by winning the highly coveted Intertoto Cup. Jean Tigana had various manager spells after leaving South West London, but never reached the status he achieved at Craven Cottage again. He now lives retired from the world of football and refuses most press enquiries. He is number 1 on this list because most of the aforementioned players would probably not have played for Fulham had he not signed them. He brought the club back at the top level, and even in Europe, and his time is associated with the hope and the optimism surrounding the club in the early Al-Fayed years.
---
Many other players the early 2000s could have reasonably been thought of, like Martin Djetou, the man who played the most games for Fulham without ever playing at Craven Cottage during the Loftus Road era. it is harder to think of French players of more recent times who would compare to people mentioned in this list. Moussa Dembélé had a good season in the championship but barely represented the club in the top tier, and, much more importantly never became an icon like some of the players described here did. Most of the recent French players ranged from decent (Seko Fofana, Aboubakar Kamara) to complete flops (anyone remembers Yohan Mollo?). Where will Anthony Knockaert finish up on the list? Will we remember him as high energy winger who scored screamers which helped Fulham back to the Premier League? Or will he be a one season wonder, a passion merchant whose inconsistency made him largely forgettable? Only time will tell…
All in all, remembering great French players at Fulham is mostly about remembering the early 2000's, an era that most FFC fans look back on fondly.