Then & Now: Forward Thinking
Written by Rhys Daly on 11th February 2020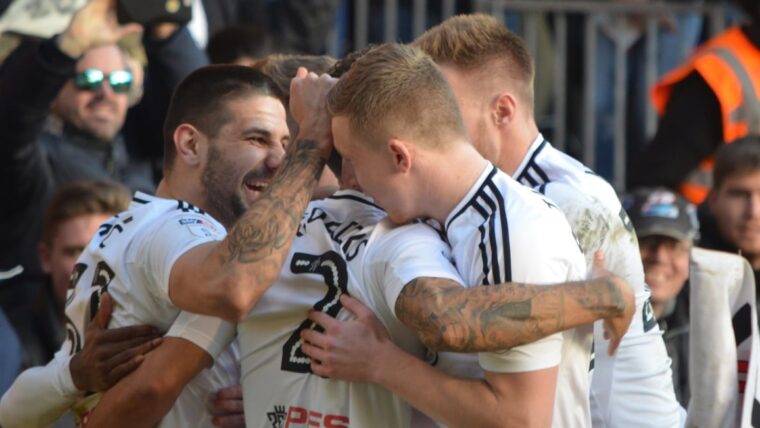 As Fulham fans enjoy the return of Aleksandar Mitrovic after his recent injury, Rhys Daly takes a look at how strikers have fared for the Whites since their relegation from the Premier League in 2014
Despite the dismal streak of performances that handed our beloved Fulham their first relegation in 20 seasons back in 2014, Whites fans such as myself found a sense of excitement in the prospect of a fresh new squad of hungry players.
The position of striker comes with particular pressure and expectation that can make new signings a hero or a villain almost immediately. 
With Ross McCormack the first in a long list of forwards to grace the pitch at Craven Cottage in the following six seasons, I've dipped into the record books to judge how a select few have fared.
Ross McCormack
Embed from Getty Images
Time at Fulham: 2014-2016
Cost: £10.62m
Appearances: 100
Goals: 42
Assists: 22
Ranking: 7/10
The expectation placed on the shoulders of the former Leeds striker was nothing short of unrealistic after his big money move in July of 2014.
The Scot came in off the back of a 29-goal season at Elland Road and was tasked with firing Fulham straight back into the Premier League.
Despite the torrid run of results that saw Felix Magath lose his job, McCormack provided a useful senior guide to the array of flapping youngsters, going on the captain the club five times in his debut season.
His 17 league goals (19 total) helped Fulham finish 17th to avoid what would have been a rather embarrassing return to the third tier of English football.
The versatile forward improved his numbers in what would turn out to be his final season at the club in 2015/16, netting 21 league goals (23 total), having been skipper until the final stages of the campaign.
Fulham then managed to make a profit by selling him on to Aston Villa for a fee of more than £12m, in which he went on to score three times in 24 games for the club before finally leaving after their promotion last summer.
Moussa Dembele
Embed from Getty Images
Time at Fulham: 2012-2016
Cost: £324k
Appearances: 64
Goals: 19
Assists: 9
Ranking: 7/10
Moussa Dembele's was off to a flyer at Fulham as soon as he joined from PSG back in 2012. The Frenchman's ability to score goals at every level coupled with his favourable name at the Cottage gave him the perfect platform to flourish in the first-team.
The powerful striker was handed his Premier League debut for the club before finding working his way up to being a regular started in 2015/16.
His partnership with McCormack helped him score 15 Championship goals in 45 outings, but his promise didn't go unnoticed abroad and he decided not to extend his stay at the club that gave him his first opportunity to impress.
An impressive 51 goals and six trophies later Dembele left Celtic to join Lyon for just under £20m, with a return to the Premier League now seemingly only a matter of time.
Cauley Woodrow
Embed from Getty Images
Time at Fulham: 2011-2019
Cost: £450k
Appearances: 66
Goals: 12
Assists: 4
Ranking: 5/10
There probably isn't anyone Fulham fans wanted to see succeed at the club more than academy graduate Cauley Woodrow. The Englishman joined from Luton as a teen and made his first-team debut in 2014.
The forward scored his first goal for the club in the 2-2 draw with Crystal Palace on the last day of the Premier League season, but didn't quite kick on in the second tier.
Woodrow scored five goals in 34 outings that season which would turn out to be his most prolific in a Fulham shirt, adding a further six goals amid a string of loan exits before joining Barnsley on a permanent deal a year ago this month.
Aleksander Mitrovic
Embed from Getty Images
Time at Fulham: 2018-present
Cost: £540k (loan) £22m (permanent)
Appearances: 87
Goals: 43
Assists: 5
Ranking: 9/10
Aleksander Mitrovic's undying love for Fulham coupled with his unrelenting form in front of goal have made him quite simply a modern day legend of the club.
The Serbian hitman made an immediate impact after joining on loan from Newcastle during the 2017/18 season, firing Fulham to promotion with 12 goals in 17 league outings.
Although he failed to stand out in what was a difficult season back in the top flight, 11 goals in 37 games isn't terrible by any stretch.
The former Partizan man stands at the top of the rankings this season with 20 goals in 28 outings, with his fitness crucial to our chances of promotion in either form.
With the 25-year-old now back from injury problems, Scott Parker needs to be careful to not cause any long-term damage which would effectively end his team's chances of automatic promotion
Notable mentions:
Matt Smith
Embed from Getty Images
Time at Fulham: 2014-2017
Cost: £567k
Appearances: 53
Goals: 9
Assists: 4
Ranking: 6/10
Chris Martin
Embed from Getty Images
Time at Fulham: 2016-2017
Cost: £1.60m (loan)
Appearances: 34
Goals: 11
Assists: 4
Ranking: 5/10
Aboubakar Kamara
Embed from Getty Images
Time at Fulham: 2017-present
Cost: £5.4m
Appearances: 67
Goals: 15
Assists: 4
Ranking: 7/10