Five Thoughts: Fulham 3-2 Huddersfield
Written by Drew Heatley on 3rd February 2020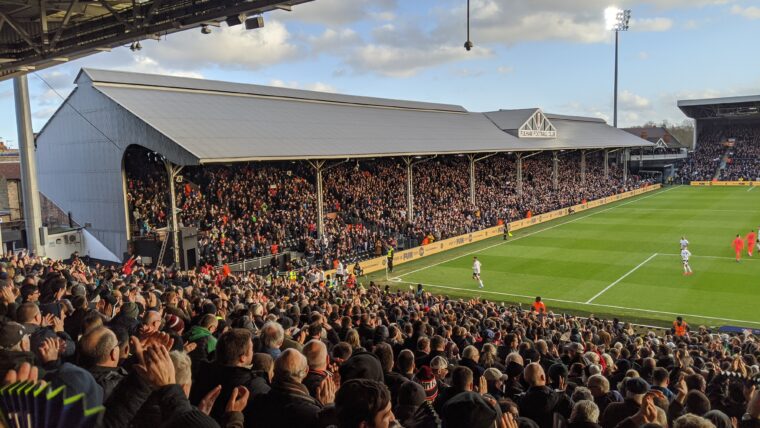 As Cam Ramsey takes the weekend off to head to a talk on Shakespeare's soliloquys, Drew Heatley slips into the shoes of Fulhamish's resident bard to give five thoughts on our win over the Terriers.
It's never a dull game against Huddersfield. And with Brentford winning convincingly in the lunchtime kick-off, the pressure was on to find our shooting boots against a side we typically enjoy netting against. And score we did. I just don't think we expected the second half we got when we were three up after half an hour. Still, a win's a win, and with Leeds faltering once again, the game can only be seen as a positive, with points once again on the board.
Secret squirrel success
Embed from Getty Images
Fulham Football Club has never been known for good communication. It's been the same ever since I became a fan in 1995. But the club's stepped the secrecy up a gear in recent months.
The wall of silence on player injuries has irritated some and baffled many this season, with rumours of Stevie Sess unrest and Harry Arter aggro abounding in their absence. But when Mitro was felled at the KCOM Stadium last month, we thought there was no way the North Korean-style comms could continue.
But when the Whites unveiled the Serb's name in the starting line-up on Saturday after just three weeks on the shelf, it all became clear. Did Huddersfield have a plan B should Mitro make an unexpected return? Maybe, but you've got to assume it wasn't their plan A. Bravo, Fulham – the big reveal certainly got a big cheer from us in the pub.
Brilliant Bobby bags
Embed from Getty Images
Rarely have loan players been taken into the warm bosom of the Fulham faithful as fast as Bobby Decordova-Reid. Even through a tough opening spell to his tenure in SW6, the affable forward quickly became a favourite at the Cottage.
But throughout, he was always talked about as nothing more than support to our main man Mitro, and in the Serb's suspension-unforced absence earlier on in the season, Kamara was chosen to lead the line against QPR (a decision quickly vindicated, of course). But the question was uttered, albeit quietly: "Does BDR have what it takes to take a game by the scruff of the neck?"
Fast-forward two months and Reid's put pen to paper on a permanent deal, much to our delight. And on Saturday he scrawled an exclamation mark by his signature with the opening goal. Picking the ball up on the right touchline (after a sublime ball from Hector), he drove into the box, Henry-style, wrong-footing at least two Huddersfield players in the process, and pinged the ball past a hapless Joel Coleman, showing us all he's much more than an energetic wide player with bags of potential.
Fantastic first thirty
Embed from Getty Images
What a start! When Fulham's in that kind of imperious mood, there's not a team in this division that can touch us. TC added to Reid's aforementioned stunner with our second. The Hammersmith End gasped in amazement when, after a ball in from Christie, our captain took the ball on his left and flicked it up to volley it in with his right! I'm not sure many were aware his right foot existed. And 15 minutes later, Mitro capped his return with another strike to bring him level at the top of the Championship's scorer charts. The striker flicked in a low ball from Bryan past Coleman in goal to make this football lark look easy.
At this point I think we were all expected a re-run of the 5-0 trouncing in 15/16 or the 4-1 win at the John Smith's in the same season. But it didn't turn out to be that straightforward.
Lamenting our lame left
Embed from Getty Images
It's been highlighted all season, but it really was a shame to concede both goals down our porous left side once again. Joe Bryan failed to clear a free-kick whipped into the box on 35 minutes, which was then pinged out to Arsenal loanee Emile Smith-Rowe, who beat BDR to the ball and fired past Rodak. Huddersfield's second came as Bacuna dispossessed Reid and charged down the pitch toward the Putney End, before finding Smith-Rowe who was miles ahead of Bryan. Smith-Rowe slots the ball into Mounié in the box and we suddenly had a nervous second half on the cards.
If Kongolo was brought in with a view to covering LB should Bryan's standards continue to falter, the rumoured season-ending injury to Mawson will have presumably put paid to that.
Marek the magnificent
Embed from Getty Images
It's no surprise Bettinelli's sat with splinters when Rodak puts in displays like he did Saturday. Simply put, we'd not have got a result if it wasn't for the young Slovak. His two saves at the start of the first half alone saved the game for us.
In my lifetime supporting the Whites, we've only had three 'keepers who were so good they'd be worth at least 10 points a season to you. First, there was Maik Taylor, then Van Der Sar, and finally Mark Schwarzer. The Aussie left SW6 in 2013, and we've had a fallow period since. (Kiraly, anyone?). But in Rodak, the signs indicate we've got an assured presence – and points contributor – back in the sticks once again.