Five Thoughts: Manchester City 4-0 Fulham
Written by Cameron Ramsey on 26th January 2020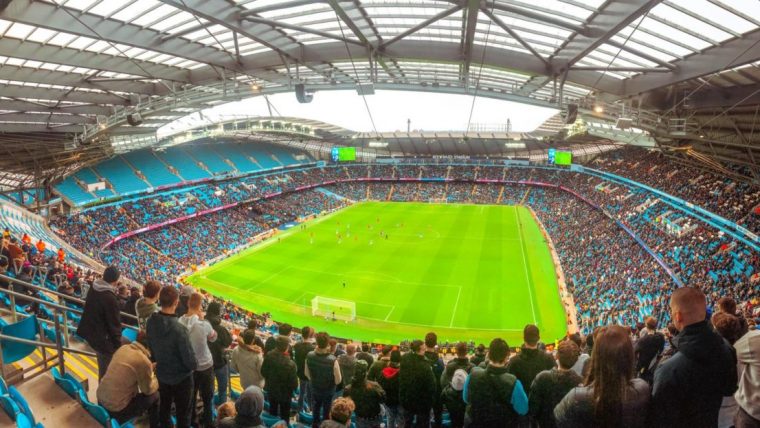 There's a good meme I'm thinking of with Bart Simpson holding a cake with 'at least you tried' piped on top. Basically, the cake eventually gets tipped into a bin, and that's more or less where our hopes of progressing in the FA Cup went, as Manchester City smashed four past Fulham without reply.

We weren't genuinely expecting much from our Sunday trip to the Etihad. Anything other than a loss was unfathomable and I could have sworn that I'd dreamt a 10-0 mauling the night before, but that doesn't make the comprehensive defeat any easier to swallow. Pep Guardiola showed respect to Scott Parker's squad and his opposite's favoured approach and the innovative Spaniard picked it apart. No shame in that.
It is a blessing in disguise, though. Now we can focus on our Championship campaign without distractions and it also enlightens us to where we are as a collective. Of course, we had notable faces missing, but we've a long way to go until we're ready to trial ourselves against the country's elite each week, but now we know precisely what to expect if and when we return to the top-flight.
Ream's Repulsive Red
Embed from Getty Images
I've no problem in letting Tim Ream know that he let his teammates and the travelling fans down, big time. Not a shred of sympathy for the apathetic American. Ream's experience is meant to safeguard Fulham in moments of insecurity but the 32-year-old's underlying deficiencies stole centre stage and he was only involved for 6 minutes. It's Man City, Premier League title holders, I get it, but this is exactly when your senses have to be sharp, awake and aware to the deadly threat Guardiola's men pose so naturally. One slight lapse, a single millisecond of doubt and you'll be gutted alive and Ream was victimised by his own dereliction of duty.
I don't predict that Ream intentionally meant to throw a massive spanner in the works because he always, without hesitation, gives everything he's got, but something got jammed in his rationale. Flat footed, Ream left the door wide open for Gabriel Jesus to spring through and in a shocking attempt to get goal side of the 22-year-old, the scrambling centre-half hauled the striker to the turf and was presented his marching orders by Kevin Friend. Maybe he was oblivious to the onrushing Marek Rodak, but Ream should have allowed Jesus to strike as the Slovakian 'keeper could well have prevented the opener. We'll just never know.
One of our more experienced, credible representatives blemished a perfectly competitive encounter with a singular instance of blind idiocy. Down to 10 men, Fulham's set-up was unbalanced and penetrable and damage limitation being the newfangled plan of action. Fulham were poised to give as good as they got at the Etihad but that required 11 men to take part. For 84 minutes, the visitors' progressive ambitions were cruelly dashed and Ream is undeniably to blame for decimating our optimistic pre-game blueprints. Well done for making a tough afternoon even more laborious and confidence sapping, Tim. I'd hate it to be, but maybe that was his last game for the club, given the personnel we've conveniently brought in recently.
Deliberating Dutchman's Debut
Embed from Getty Images
As far as competitive debuts go, Terence Kongolo couldn't have been handed a more perilous first glimpse to life in Fulham's defensive unit if he'd begged for it. Restraining City, even for the most decorated, disciplined of professionals is a ridiculously straining ordeal but I didn't think the Dutchman had a howler of an outing, not by a long shot. In many respects, the Huddersfield Town loanee was as prepared as you possibly could be and he showcased an observant defensive acumen that thwarted and suppressed the hosts, at least momentarily, anyway.
The 25-year-old began the encounter on the left of a back three but, after his irrational colleague was rightfully sent to the showers early doors, he shifted across to partner Michael Hector in the spine of the formation. City advanced with torrential devastation, but Kongolo held his nerve and wasn't necessarily swept away or overawed by the magnitude of the occasion. The Sky Blues sliced through our unbalanced shape with ease and if it wasn't for our temporary addition's vigilance within his own 18-yard box, we could have been smashed for 6 or 7 without reply.
Raheem Sterling rattled the bar in the 58th minute although the England international was offset by Kongolo's constriction. Gabriel Jesus was also threaded through in the 59th minute and a certain goal was toed away by Kongolo, who nicked the ball from the lethal Brazilian with a last-ditch lunge. City's third arose after the ball squirmed from Kongolo's studs, but I'm not going to blast him too substantially for that, as it's the only recognisable instance where he really strayed out of line and order in his defensive responsibilities. Mistakes were bound to occur and there were others – not naming any particular culprits – that spewed up gravely undignified performances in comparison. A sobering reality check for Kongolo, but there's definite positives to absorb from his introductory outing.
Steven's Sure Showing
Deployed in an alien position upon his long-awaited return to first-team football, Steven Sessegnon coped particularly well in the centre of the park against City's finely-tuned engine room, albeit their second contingent. Sess' had fellow U17 World Cup winner Phil Foden to contend with and the young defender equalled City's brightest prospect stride for stride and didn't appear out of place in a department that demands ungodly amounts of energy, enterprise and enthusiasm.
A right-back by trade, of course, Sess' had to adapt to congested pockets between attack and defence and whilst he could have wilted, he savoured the chance to exemplify his acute technical ability, which is often disregarded out on the channels, where uniformed, linear movement is paramount. The 19-year-old showed for his teammates, gave the ball sensibly and spun out of impending danger, unruffled by City's systematic probe and press.
Now a peripheral figure of Parker's Championship plans, Sess' has to take every given opportunity to reinstate himself upon the Whites weekly matchday selection with both hands, and I thought he gave a very positive account of himself. In City's superior company, you either thrive or you fail and Sess' was by no means an outfought bystander. Could he have closed the gap between Bernardo Silva on the edge of the 18 moments before the hosts' second? Perhaps, but the starlet stood by his unfamiliar midfield obligations, staying afloat when he could have drowned so easily. In summary, I really like the idea of Sess' featuring in the centre of the park more frequently, if fighting for his usual fullback spot is truly futile.
StefJo's Sh*thouse Specialities
Embed from Getty Images
He couldn't consistently keep up with the pace and tempo City established centrally, but Stefan Johansen also did was was employed to do for the vast majority of the game. Disrupt and antagonise his direct opponents as much as physically possible. In reality, the game was a lost cause and we had to stem City's flow in one way or another and the wily Norway international wasn't afraid to chuck a spanner in the works at the expense of a set-piece or four if necessary.
Guardiola's camp initiated sweeping counter attacks that left Fulham stranded, but we can always rely on the 29-year-old to rattle a few cages and clip a few heels. Bernardo, David Silva and Ilkay Gundogan all surged towards Fulham penalty area and the all felt the brisk flick of StefJo's pink boots somewhere along the line and, thankfully, the resulting free-kicks sailed harmlessly into the half-empty terraces. On the ball, Johansen had very little effect on the game but off it, he made himself a nuisance to City's innovative playmakers. No ankle was safe in his vicinity.
It's a little sad that StefJo's shithousing specialities made the cut, although his combative industry was an edge our midfield needed, if we were to derail the hosts from their clockwork groove and rhythm. StefJo snipped out sequences, he disturbed City's silverware-worthy assurance and, though he was outclassed in various aspects, he stayed true to himself with a performance of unrivalled, distinctive subjugation. City paraded a compelling panache, Johansen brandished a cynical indiscretion with an extended middle finger for good measure. Remarkably, he wasn't even cautioned for his toe-treading antics. Subtle sabotage at its finest.
Passing Poses Problems
Embed from Getty Images
Playing out from the back. It's a risky system that works at home to Millwall, but let's not take the piss away from home, with City as our opponents for 90 minutes. I commend Parker for trusting our possession-based strategy and pitting it against Guardiola's phenomenally domineering philosophy, tried, tested and verified in Spain and Germany as well as in Manchester, but our relatively inexperienced boss' naivety was systematically exposed on national television. Tough break.
Attempting to work our way out from Rodak contributed towards our own downfall and it's a mystery to how and why Parker didn't see that coming. City's entire fold is wired to chase and constrict the most minuet of margins and, as Fulham less-refined centre-halves have the first touch of a brick wall and the passing range of a toddler, we effectively gave the hosts a major boost in their quest to compound our plight, which wouldn't have taken much assistance anyway, let's be honest. We fashioned together a few thoughtfully designed patterns, but we got absolutely nowhere with it. Pretty on the eye, but utterly misleading.
There are times in football where you just have to hold your hands up and say "sod this". What's the harm in lumping it 60 yards to relieve pressure, especially against one of the best, well-drilled outfits in the European game? We've a recipe that we claim as our own but our finished product is more Hungry Horse than Michelin star cuisine, and City dine on that standard of service every single week. How is it even a thing that we thought, or even had the slightest belief, that we could outplay, out pass a heavyweight of the game, like we were even close to their peerless level? Let this be a lesson, Scott, do not take Premier League champions for mugs, particularly when they're actually bloody amazing at making a mockery of teams that do their own grave digging.