Five Thoughts: Hull City 0-1 Fulham
Written by Cameron Ramsey on 12th January 2020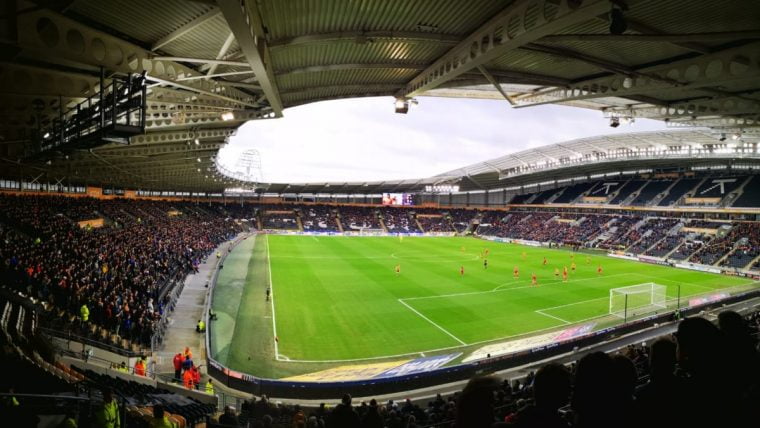 Can't really disregard the victory but that was dire. Winning ugly doesn't always make for great articles or overviews, so please bear with me through this. Fulham's travelling faithful began Saturday with a cautionary optimism, knowing that Hull City are a perilously unpredictable outfit, being both devastating and vulnerable, all at the same time. Sounds an awful lot like us, right?

Tanked on Waitrose own G&Ts, Fosters and the odd plastic cup of bubbly, the "Putney wannabe rowing boys", as that shabby-haired Villa prat so aptly put it, set off to Humberside to spur on Scott Parker's men the best they could. Win, draw or lose, the lengthy trip up to Hull on a bleak, dreary Saturday afternoon was seemingly worth it all the while.
Spectating from my desk at work, courtesy of a ropy stream, I was genuinely struggling for valid points to dissect but I've fleshed it out the best I could. Farrell Monk cracked open a bottle or two on the way back, Jack Kelly pondered a post-match curry and I disturbed sales pitches as Cav' arced home from a customary angle. "Mauled by the Fulham." What a bunch of marvellous tossers we are!
Scrappy, Scruffy Satisfaction
Embed from Getty Images
The KCOM Stadium is also home to Rugby League outfit Hull Kingston Rovers and Saturday's encounter harboured a similar narrative to a scrappy, scruffy spot of egg chasing. Both set-ups touched gloves and tried to pin each other down but neither contingent could sustain a significant amount of pressure. Possession would lead to very little fruition and the ball would be turned over consistently, staggering the narrative and stemming the flow of the game. Hull and Fulham advanced freely, trading counter attacks frequently, but their respective strangleholds were ultimately limp and futile. I hate myself a great deal for using common rugby terminology. Terrifying to think that the next step is literally slurping a pint of my teammate's piss, so I'll quit while I'm ahead.
The disjointed complexion enabled both sides to charge at one another with expedience but the final product wandered astray. Advantageous opportunities were few and far between. The hosts registered 9 shots in total compared to Fulham's 4, with neither 'keeper being regularly tested. The first explicit chance of the match took 22 minutes to arrive but Kamil Grosicki skewed his strike wide of Marek Rodak's right-hand post. Jarrod Bowen aspired to construct, but he couldn't connect with Tom Eaves up top, Anthony Knockaert aimed to harass Eric Lichaj, but the Frenchman was censored by the watchful American. Both collectives talked of a box-office showdown but it was definitely a game for empty threats.
Personal duels erupted under the frustration of falling short of the mark in certain aspects. Denis Odoi's vendetta with Josh Bowler sharpened proceedings in the closing stages. The Everton loanee – who was only involved for 12 minutes or so – failed to get the better of the versatile Belgian and both men, whenever they came into close proximity, leaving a little cynical spice in their ill-timed challenges. Remarkably, neither were cautioned, unlike Cyrus Christie, Kevin McDonald, Ivan Cavaleiro and Aleksandar Mitrovic, who were all jotted down in Matt Donohue's notepad. No game's complete without altercations, tit for tat, but that's seemingly all this particular Championship confrontation had to offer. Pulled from the travelled book of footballing cliches, those are the points that pay dividends come the end of the season, so we'll graciously accept the victory at the expense of a squeaky clean performance. 7 points off Leeds United, I'll have a bit of that.
Cav's Copyright Crackers
Embed from Getty Images
Signing a 4-and-a-half year deal midweek, Cavaleiro proved his worth (an estimated £15m) with a glittering performance against the Tigers. Applying himself to the challenge in blustery conditions, the Portuguese winger implanted a tireless ethic into the Whites' offensive phases, pestering Matthew Pennington and biting back in retreat. All it takes is one spark of genius, a single shimmer of brilliance to ignite a game as dull as the one on Humberside, and the 26-year-old conjured up another certified banger in the 29th minute. I'm not quite sure he knows how to score simple tap ins. He only bags worldies.
Cav's copyright crackers. A carbon copy of his goal against Huddersfield Town, the former Wolverhampton Wanderers attacker only needed a brief second to shift the ball out of his feet to dispatch the winner and surely, for all that we know about the sport, there simply isn't a better way to find the back of the net. Those impulsive flashes aren't actually seen often enough though. He's easily the best left winger in the division for me when he's working his magic and, whilst he likes to dip inside, he sometimes wastes prime opportunities to pull the trigger.
We've plenty of potent weapons to choose from and Cav' is an undisputed starter. Knockaert's spot in the starting XI is still up for grabs but Cav', he's obviously intended to be a pivotal first-team cog with his new permanent deal. For 86 minutes, the explosive flanker tackled his duties without hesitation, unifying gritty elements with the intricate. It may not always work out for him, but he always pulls his weight and, since the season's progressed, his defensive acumen has also evolved from haphazard to decisive. Impressed by his overall work-rate and determination on the day, Cav' distanced himself from a humdrum, ordinary outing with a lung-busting, net bulging performance that is certainly commonplace.
Scotsman Steadies System
Named in Parker's starting fold against Aston Villa in last week's FA Cup triumph, Kevin McDonald retained his place in the Whites' matchday selection in the North East. Even when KMac isn't even involved, his name cascades from the terraces, alongside his supposedly ostentatious member, so to witness him stampeding across the turf against Hull was an unbridled joy to behold, and I sincerely hope it's not just a passing visit to first-team action for him, too.
Fulham required a trusted physical presence in the centre to split and disrupt Hull's diverse midfield department. Stefan Johansen is an irritant, but isn't conserved enough to anchor alone. Harry Arter's an agitator but certainly isn't disciplined enough to competently protect the engine room. McDonald, naturally, doesn't cover as much ground as the two aforementioned, but he instinctively adopts a preservative disposition that's proven at this level. He's a Trojan horse of an enforcer, a deceptive purveyor of safety and bravery and his understanding of how to thrive in a highly competitive department credits our forward-thinking system. He doesn't take a back seat, per say, he just observes and administrates operations on his own accord.
Stabilising between the back four and the midfield, he's the only real old-school authoritarian we have that's genuinely attuned to the Championship's tough, rigorous expectations. KMac isn't a gifted distributor and, occasionally, he made a hash of simple passes and interchanges in a congested midfield, but he's a stickler for hard graft and effort in every given step, so the 31-year-old's preventive aptitude was crucial to our game plan against the Tigers. Joshua Onomah and Bobby Decordva-Reid bombed on in search of an opening, whilst big Kev' deployed the parachutes with his dogmatic, resolute code of conduct, which withstood the duration of the gruelling, muddled engagement in Kingston-upon-Hull.
Digging Deep Determinedly
In a game with very limited opportunities for both clubs, Fulham still had to dig deep to deny the hosts from levelling. They fought they had done with virtually the last kick of the game, but Fulham hung on in their to register a victory and a clean sheet away from home, which is a huge positive in my estimation. Tim Ream and Michael Hector partnered the heart of our back four perfectly, contesting headers with Eaves to offset their lofted approach. A collective togetherness enabled us to emerge from unkempt proceedings with the spoils, but I thought the evergreen American and the towering Jamaican etched their dominance upon proceedings masterfully. Definitely my preferred centre-half duo for the remainder of the campaign.
Hull City are recognised as one of the Championship's deadliest counter attacking sides and if the Whites weren't aware, they'd have their arses spanked in public, like they did at the Cottage on November. Grosicki and Bowen glide along the flanks with complete ease but Cyrus Christie locked onto the Poland international and Odoi grappled endlessly with Hull's talismanic winger on the opposite side, constricting the time and space they had to manoeuvre. From the front, Cav', Knockaert and Aleksandar Mitrovic penned Hull back in their own penalty area, forcing George Long to leather the ball aimlessly out of impending danger. Neither club could establish a sturdy foothold central positions, but the combative disposition illustrated by Parker's men was enough to unsettle Hull and unmask their impractical indecision in menacing areas.
A Late chance for Hull was a nerve jangler but a mixture of Marek Rodak's reflexes and Alfie Mawson's vigilance rejected Eaves' driven effort to ensure the victory. The Tigers waged war on Fulham's 18-yard box towards the final whistle but Fulham, much like they were against Stoke City at home a few weeks back, demonstrated a stubbornness that's a vital requirement in the Championship. It's a cruel, unforgiving environment for the weak and unprepared, so the manner in which the Whites guarded their honour was wholly pleasing and palatable. Rising to the challenge, Fulham claimed their first win in Hull since a 3-0 whitewash back in October 1996.
Aleksandar's Ankle Anguish
Embed from Getty Images
After a much needed rest last week, Mitrovic was back in the frame but couldn't add to his chart-topping 18-goal haul. Other than a rushed half-volley from 25-yards out in the 68th minute, the lethal Serb didn't impact the game in his usual demonstrative mien, although in truth, Hull's centre-half pairing of Reece Burke and Jordy de Wijs made sure that his imprint was restricted. Attempting to control the final third, Mitro' was snared by the Tigers' central defenders and was regularly outnumbered. The 25-year-old bustled and hassled, but he simply couldn't evade the hosts' meticulous surveillance and pincer tactics.
Mitro' was fairly isolated upon the vast pitch at the KCOM and he couldn't fashion clear-cut opportunities. Snap shots were his best option but he never stopped chasing Hull's rearguard. Forming a triple alliance with Cav' and Knockaert – and latterly Harry Arter – Mitro' and his restless teammates pressed and probed Hull's hurried rearguard, thrusting them into a state of relative panic as they searched for a viable outlet. Mitro' is a solid competitor and we often forget he's human, opposed to The Terminator, but with just ten minutes of normal time left to navigate, the hardened hitman's afternoon was brought to an abrupt end, much to our numbing horror and concern for his well being. Mitro' lay slain on the deck in the 80th minute following a collision with Lichaj and appeared to be in a great deal of discomfort as he clutched his busted ankle.
Stretchered off, with Joe Bryan being his replacement, the severity of Mitro's injury was unknown but it's become apparent that it's a pretty nasty knock to say the least. A suspected twisted ankle may sideline the strapping striker for a number of weeks, extremely bad news when considering he's the defining difference between the club being prosperous and mediocre. Delve into the transfer window and bring in Glenn Murray. We've always been light on out and out striking options and, as much as we rave about Jay Stansfield in particular, he is nowhere near ready to lead our front line for the foreseeable. Some may say Aboubakar Kamara could fill the void, but he's much more effective out wide. At least there, along the touchline, he has a thick white guideline to use as a spacial marker, otherwise the Frenchman's positioning is null and void. Time to act, Tony Khan and co.