Five Thoughts: Fulham 1-0 Stoke City
Written by Cameron Ramsey on 30th December 2019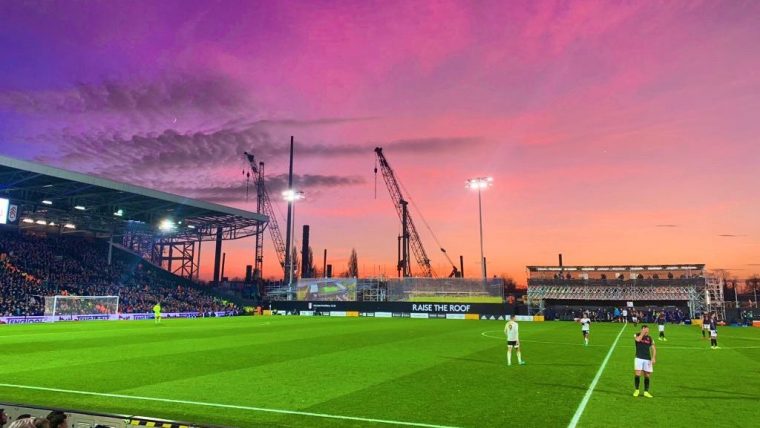 As 2019 comes to an end with a new dawn in 2020 on the horizon, Scott Parker's Fulham bid farewell to a tremendous decade of success and heartache with 3 hard-earned points against Michael O'Neill's Stoke City. Entranced by Sunday evening's stunning sunset, all within Craven Cottage reminisced of what was and what could have been over an eventful 10-year span which has quite literally had it all in abundance.

A European cup final, relegation and a historic day at Wembley, we've been subjected to the absolute best and very worst the game can muster, but we wouldn't have it any other way, would we? The game has changed, owners have switched hands but Fulham, our beloved on the banks of the Thames, remains the same and is as magical as ever.
We are 9 points behind the top two. Three wins, that's all. West Bromwich Albion are stumbling, Leeds United are unsure of themselves and we're closing the gap, slowly but surely. 2019, in retrospect, has been a bit of shitter, but 2020 has the capacity to be utterly glorious. Another 23-game unbeaten streak? We've done it before, so don't you dare say it's not possible. This club is built on belief, and it's that unyielding faith that will see us prevail in our ambitions this season and onward into the future. You're just to good to be true, come on you Whites!
Starkly Sapped Second
Initially, the game began in a passive slumber, with both teams content to shuffle possession in a docile, measured manner. This was pretty annoying because Stoke were equally unfazed, and failing to seize the initiative at home against a faltering opponent is simply unacceptable. As the clock struck the 15-minute mark, however, Fulham suddenly settled into a vibrant groove and established a rhythm that manipulated the Potters' shape, luring them out of their false sense of security. The deadlock was broken in the 26th minutes and the Whites manoeuvred the ball systematically with intricate, mesmerising sequences. Parker's men were purring could have entered the break with a 3-goal lead, if it wasn't for Jack Butland, who denied the hosts further joy with two exceptional saves to deny Aleksandar Mitrovic on both occasions. A pedestrian stroll evolved into a captivating spectacle that satisfied the masses, although Fulham's infectious verve and zest was wistfully short-lived.
After the interval, almost instantaneously, proceedings plummeted from a vastly exciting height to a grossly underwhelming depth. Languid, laboured, listless, the Whites sunk into a neutralised tempo, allowing Stoke to dictate the majority of the second 45. With a slender 1-goal lead, Fulham were clearly holding out for a slim victory and other than Joe Bryan's whirling strike from range and Ivan Cavaleiro's hashed opportunity to appropriate an unmarked Aleksandar Mitrovic, reasons to rise from your seat were few and far between. Stoke hemmed Fulham back and an equaliser seemed inevitable but, thankfully, the Whites surfed a miniature storm. A pragmatic triumph is all well and good but, when you're as shaky and vulnerable as us defensively, why wouldn't you press for a second, an invaluable insurance policy?
The festive schedule is certainly taking its toll and Alfie Mawson's/Joshua Onomah's respective injuries highlight fatigue. With that in mind, there's no wonder why we slackened off so drastically in the second-half, but I still feel as though we weren't entirely spent and the tank had more than enough gas left to mount a convincing push, although we rarely distressed Stoke's rearguard, which is also prone to howling mistakes and mishaps. Ryan Shawcross ambled through the latter stages with one functioning leg and a crippled stump, virtually, but we didn't target and expose that particular impediment whatsoever. Sapped of energy and intensity, we were quite happy to soak up as much pressure as we possibly could and our conserved plan conclusively worked a treat. Yes, a 1-0 win is prosperous and logical but, nevertheless, it's also alarmingly risky and precarious.
Dependable Decordova Dazzles
Embed from Getty Images
So, here we are again, basking in another superlative performance from the ever-dependable Bobby Decordova-Reid. I'm running short of positive things to say about the Jamaica international because I've expended my adoration for his game-changing enterprise in every edition since the beginning of October, more or less, but he still deserves a heaped spoonful of wholesome plaudits, so I'll endeavour to do him a glitzy service, once more. A weekly feature within our attack, BDR was absolutely everywhere. An untraceable nuisance in the final third, the 26-year-old ghosted into an uninhabited gangway between the front three and our midfield from the left channel, knitting combinations and provoking havoc with bespoke movement and an insatiable appetite to create and dismember.
Bobby made things tick and is our head playmaker to date. Not even Tom Cairney can manufacture attractive phases and piercing counters at the same rate as his subtle counterpart, and that's one hell of a statement, a claim that I thought would never see the cold light of day, but it's completely true and validated. With BDR in the spearhead, a player that can switch from flank to flank whilst freely formulating multiple plots in the process, we are so much more threatening and exceedingly easy on the eye. It's been said before, and no doubt it'll be uttered again, but he's invaluable to our system because he's just so adaptable. What he does to unassuming defences is a fine art – there's not many out there that can deputise differing positions so flawlessly and match Bobby's admirable work-rate.
Remember when Bobby couldn't even buy a goal? Not even on Gum Tree? Well, the fizz in the champers was provided by the man himself and we'll blissfully drink to that, although mine's a pint. Anticipating Anthony Knockaert's inviting cross – which squirmed fortuitously underneath Butland – BDR was on hand to prod home from close range to tally is 3rd goal in 4 days, his 4th this season. It wasn't a spectacular strike that blew the net from its moorings, but the gallant attacker diverted instinctively, entrusting a nose for goal similar to what we witnessed against Luton Town on Boxing Day. An innate marksman with an ingrained intelligence in the 18-yard box, sharp as a tack. Senor Jarman likened him to a 5* Uber Eats driver and, whilst he definitely delivers the goods without delay, he won't forget the extra garlic and herb dips, either. What a hero.
Anthony Attains A*
Embed from Getty Images
Despite playing fairly well in the last couple of meetings, Anthony Knockaert has been made a scapegoat, simply because there has to be someone to scrutinise. Now, I haven't been his best mate and I'm still adamant that Aboubakar Kamara, amongst others, is the better option but, whilst I've slated his extravagant tendencies, the Frenchman was electrifying. Knockaert loves a step over and often complicates simple instances, but with Stephen Ward to contend with, the mercurial Brighton & Hove Albion loanee ditched flamboyance for directness. Being a traditionalist, I'm chuffed with his input because there was no extra fluff, bells or tassels to distract us from his overall performance. He simply lifted his head, bolted into vacant areas along the byline and got the ball into the danger area. No dramas. Textbook wing play as it's meant to be.
That's all I ask for from a winger, essentially. Expressive Cruyff turns and excessive shimmies are entertaining in moderation, otherwise they're insufferably tedious. The odd jink and pirouette emerged, that's purely part of his makeup, but he didn't overdo it this time. With the chance to locate Mitro', the 28-year-old wrapped his right around the ball and teased the target. Overlapping Cyrus Christie with lengthy dashes, the Potters were outnumbered along the right channel and Knockaert, arriving at exactly the desired moment, applied the finishing touches. Bobby's goal was supplied, of course, by Knockaert's invasive ingenuity. Butland was flummoxed by the attacker's flat cross and as soon as the ball cannoned from his laces, the odds were securely within BDR's favour.
I've accused Knockaert of being downright lazy in various articles. Usually, if he loses the ball, he scowls at the bench and slumps his shoulders as if to say, "why bother?" Not on Sunday, though. Knockaert fought to retrieve possession from deep and bust a gut to heighten the tempo, dislodging the visitors' foothold. He charged around the turf like a man on fire, flying into innocuous challenges, almost recklessly, but his heart was very much in it, regardless of the potential ramifications. I won't retract my general opinion just yet, but I was wholly surprised by Knockaert's endurance and application but, if he's to retain his starting spot, he has to approach every encounter with the same spirit and willingness. We can't be having random off days and irresponsible outbursts when things aren't necessarily going his way.
Celebrating Collective Clamour
Fulham's defensive line was painfully penetrable at Kenilworth Road and perished. Devoid of discipline and leadership, the Whites' attack has had to bail our deeper lying representatives out of sticky situations and, despite the experience we have at our disposal, our defence is undoubtedly our weakest department, by a long chalk. With Lee Gregory, Sam Vokes and Tyrese Campbell on their books, Stoke could have ambushed Fulham's flaky rearguard in various ways, but the Whites battened down the hatches to curb our guests. A cleanly-shaven Tim Ream, alongside Mawson until he was hauled off, kept a very watchful eye on the line and his teammates followed his command. Ream has to be the drill master. His know-how is crucial and when he's barking orders and cracking the whip – so to speak – we're a somewhat solid unit. All in all, we stuck to our guns and got the job done. It was less than flawless performance, but it was a completely refreshing victory nonetheless.
Cryus Christie monitored his flank superbly and aided Knockaert wherever possible. He may have the turning of a cruise liner, but the Republic of Ireland international's stamina has evidently improved. On the opposite channel, Joe Bryan took a ruddy good pasting but remained a vigilant, resolute enforcer of his duties. Denis Odoi entered the fray in the 67th minute and mopped up Stoke's relentless long balls, scuttling after rogue clearances that skipped away unattended. Everyone had a purpose and a part to play, because as the game continued into the dying minutes, Stoke quizzed Fulham's resolve and fortitude.
Marek Rodak beat away James McClean's thumping volley at the back stick with a right hand of steel and, with Vokes, Campbell and Shawcross lurking in our penalty area, an aerial bombardment ensued. Waiting for Stoke's following to raw at the sight of a last-ditch equaliser, the closing 10 minutes were tense and 3 points balanced on a knife edge. Corners swung in, speculative punts sailed alarmingly but Fulham, as an obstinate collective, resisted Stoke's inbound onslaught on our goal mouth. We didn't cave in under the strain, we rose above expectation under immense pressure, a sturdy step in the right direction heading into the new decade. Crack a cold one open for the clean sheet and the animated unification on show. Ending 2019 on a high in that regard is well worth the recognition.
Rewarding Responsible Reed
Embed from Getty Images
There were many top performers out there but for me, Harrison Reed deserves some noteworthy credit. Propping up the base of our midfield, Reed patrolled the centre circle and didn't give Joe Allen and co. a minute's rest. No, the Southampton loanee didn't blast a thunderbolt top bins from 40 yards and he didn't serve up countless assists, but he did do the simple things enormously well indeed. Picking the ball up within the spine of our system, Reed shared possession sensibly, finding the safest option rather than risking our carefully constructed spells. With Tom Cairney, BDR and Onomah pulling strings, he was the measured calming influence our midfield needed and the attentive anchor that's entirely necessary.
First to loose balls, committed to disturbing Stoke's grip on proceedings, urgent and alert, Reed stirred up the middle of the park, making it a barren, unforgiving environment for Stoke's playmakers to inhabit. Imagine being marked by him. He's persistent, insistent, and full-blooded. Reed is everything you want in a midfielder and even if we're missing Harry Arter, I'd much rather have the Southampton loanee on the team sheet every week than Parker's sulky brother-in-law. It isn't up for debate, if you genuinely believe Arter's the answer, you need a lie down and a glass of water.
Reed led by example and offered our midfield a dogged cut and thrust that is absolutely fundamental at this level. He walks the beat with a fiery disposition and is completely confident in his capabilities and with that, so am I. Ideally, Stefan Johansen partnering Reed would make a formidable double pivot, but the industrious redhead is fully capable of blanketing the back four single-handedly, as he proved on Sunday. You've got my backing, Harrison. 2020 is going to be your year.