Five Thoughts: Brentford 1-0 Fulham
Written by Cameron Ramsey on 15th December 2019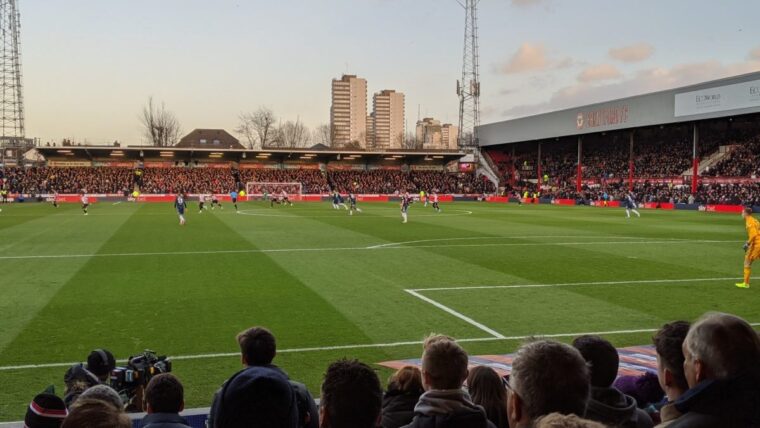 Griffin Park is a dive, but it's a jumble sale of a stadium that we just love to lose at. West London isn't ours anymore, I'm afraid. Scott Parker's Fulham fell to their third straight defeat and the wheels have well and truly fallen off. We were diabolical, that's my quick take and it'll only lead to a longer explanation and inquest.

Brentford had the bit between their teeth and made a mockery of the Whites' lacklustre set-up and strategy. The Bees are still irrelevant and characteristically tinpot, but they have the bragging rights and I'm sure it'll look splendid in their brimming trophy cabinet. No matter what happens from here, we'll still live rent free in their heads and I'd still rather be a "posh toff" than a scumbag.
Are we gaining promotion under Parker? I'm not quite sure we can. There's no fire and fight in the camp when we're trailing games and if you want to pit yourselves against the very best next term, to right some atrocious wrongs, we need a change of attitude and a drastic reality check. We're 14 points off West Brom and 12 off Leeds United. Incidentally, Marcelo Bielsa's squad lurk in the shadows, licking their lips at the prospect of worsening Fulham's plight before Christmas. This is last chance saloon.
Toothless Team Toil
Embed from Getty Images
It may not be a Merseyside derby or a pulsating El Clasico, but Fulham's clash with Brentford still meant a great deal to everyone affiliated with both clubs. It's a west-London showdown, an encounter which usually brings high-octane, last-ditch, enthralling football. But only one squad were prepared to leave everything on the pitch. It pains me to say it but to their credit, Brentford were tenacious, tightfisted and superior in every conceivable element. In games such as that, a team requires a mettle, an alternative solution but we don't have a resolve or an extra gear. We're either remarkable or rotten and for the third game running, we were force fed the latter.
Fulham, as they do so well, shuffled possession aimlessly from left to right without compromising the Bees' stubborn shape and with that, the hosts settled into the tempo the Whites had set, pressing us relentlessly. Constructing from the back proved to be a laborious task for the Whites and long, futile clearances floated back into Brentford's clasp. Buoyant and spurred by the visitors' tentativeness, the hosts' yanked Fulham into vulnerable positions through Josh Dasilva and Kamohelo Mokotjo, who provided a springboard for their offensive counterparts to pounce from. Fulham couldn't cope with Brentford's willingness on the break and Thomas Frank's men, to be frank, could have stroked home at least six goals. Swinging from the gallows, basically half dead, everything about our discipline and fortitude at the back was fraudulent and we got exactly what we deserved.
No urgency, no desire, no teeth. Brentford would have been kicking themselves in the dressing room after the final whistle. They missed the chance to drub their rivals by a detrimental margin and the fact we only lost by 1 solitary goal was priceless and laughable. We were spineless, we were pedestrian, we were predictable, uncertain and farcical. Tom Cairney is being suppressed in a deeper position and why, why would you drag Stefan Johansen off, Anthony Knockaert self-centred orientation is a downright hindrance and why, why would you drag off Stefan Johansen when you've got actual donkeys like Joshua Onomah lumbering around like a bloke that's just run a marathon in 10 minutes? Parker, this is all on you this time.
Alfie Aggravates Again
Alfie Mawson has to take his criticisms constructively. I worry for him because he's subjected to a barrage of berating groans, grunts and growls with each and every move he makes but to be completely honest, the berating barrage of abuse that gets pelted at him is fully justified. I've confidence in his underlying ability but as it stands, given his constant string of atrocious outings, he's such a burden to our defence, and we're already fragile enough at the back as it is.
Soft passes, disturbingly heavy, uncertain touches, the 25-year-old is only a danger to himself, but that pulls everyone down to his shaky level. It can't fill you with optimism lining up beside him. It's like he's playing under an extreme dosage of horse tranquilliser, I've honestly never seen someone move in such a way. He's just like a helpless lump of driftwood, floating despondently towards raging rapids, and there's not a lifeline in sight.
For a man built like the Titanic, he also harbours the same crippling defects, too. He sinks under the slightest of pressures and is seemingly made of substandard materials. Ollie Watkins is at least 2ft shorter than Mawson but the makeshift striker buckled our deceptive centre-half in the build up to their goal and I can't fathom how that happened. It defies logic, that is exactly where Mawson should be at his strongest but he folded like your granddad's favourite deckchair after a long day of slurping John Smith's at the allotment. He is the weakest link and he's worth so much more than that. In excess of £20m, in fact.
Creation Criminally Condemned
Embed from Getty Images
Let's put this into figures. I'm not a stats buff, but 11 shots compared to Brentford's 23, with just two on target, isn't the best of ratios going, not for a club that were 3rd before kick-off. StefJo and TC are arguably two of the best midfield catalysts in the Championship but even with those two on the pitch, the disheartening lack of invention in the final third is a massive red flag. Brentford's back line were sturdy and resolute but we didn't test them enough at all and we were culprit to overcooking our offensive phases, yet again. With nothing to offer in terms of creation, even Cyrus Christie felt inclined to bail us out from range. There was venom behind the right-back's strike but come on, that can't become a regular feature. Make it up as you go along and hopefully it'll work out for the best – the opening sentence in Parker's amended training notes, that.
Henrik Dalsgaard and Rico Henry spent more time charging up the channels than they did in retreat, simply because we didn't get at them, we didn't ask questions of their defensive tendencies and when you've Ivan Cavaleiro and Knockaert at your disposal, that's criminal. They're supposed to strike fear into defenders, make them wish that they were never born but in all honesty, I've been grossly underwhelmed by the pair of them this season. Cav', blessed with raw power, was shadowed manfully by Rico and when Knockaert made his 69th-minute for Kebano, the temperamental Frenchman was tunnel visioned as per. He did provide a deft cross that sailed just over an airborne Bobby De Cordova-Reid, but other than that he was an out of tune one man band.
Aleksandar Mitrovic was kept under lock and key by Pontus Jansson and Ethan Pinnock, but that's purely because the Serbian striker was stranded in the final third. This is happening far too often. Onomah isn't a playmaker, so don't let his dubious 'assist' against Swansea City pull the wool over your eyes. Onomah and Mitro' are out of sync with no connection and the only thing that'll resurrect that default is a system update. George Singer's statistical analysis suggests that Onomah spread the most passes but for what? He's not dynamic and his passes weren't profitable. TC and Mitro' operate telepathically, they're a match made in heaven, so if you're so desperate to entrust Onomah, Scotty, TC has to pull strings behind our famished predator. Do it, swap them around because former Tottenham Hotspur hotshot has the impact of damp sponge in the final third.
Bryan Burns Bryan
Embed from Getty Images
Bryan on Bryan conflict. That's what happened at Griffin Park. Brentford's Bryan Mbeumo sized up our very own Joe Bryan and made our versed, dependable left-back an inferior presence. On the opposite flank, Said Benrahma had Christie spread on toast but then again, it is Christie. Bryan is usually such a beneficial component within our set-up but he was constricted by Mbeumo's inexhaustible efforts. Of course, a fullback's primary responsibility is to defend, but with Bryan we're also dependent on his overlapping runs and production, even more so than his core defensive obligations.
Positioning has always been an Achilles heal for Bryan and the 26-year-old allowed the France U21 international to build up a head of steam. He was nowhere near tight enough to Mbeumo and once the 20-year-old opened his stride, Bryan was in a world of shit. Thrusting into Mbeumo in the 12th minute, incurring a yellow card in the process, Bryan's afternoon was dangling by a thread. One more ill-timed lunge would mean marching orders and that gift wrapped the advantage to Mbeumo with 78 minutes to go. It doesn't happen very often, but Bryan was vastly subservient against his fledgling oppressor.
As previously mentioned, Bryan is a fertile productive tool with the ball at his feet and he's much more effective going forward, but we didn't see that typical endeavour of his against Brentford. With just 1 registered cross to his name, it's clear that Bryan wasn't concentrating on his attacking game because he physically wasn't able to. I don't think Bryan had a terrible game, not entirely, but he made a rod for his own back by giving Mbeumo far too much time and space. Perhaps we'll put it down to complacency, although if he didn't know it already, there's no easy rides in the Championship, no matter how experienced and credible you are in your profession.
Neeskens Now Necessary
A start is all Neeskens Kebano deserved following his two outstanding substitute appearances and I'll have him back on the 2pm team sheet on Saturday as well. Staying true to himself, Kebano approached the game with an enthusiasm and was our brightest representative on the day. How he only got 69 minutes, we'll never know because he wanted to make things happen, he wanted to hurt Brentford in their shack of a stadium and now he's also ahead of Knockaert in the pecking order in my estimation for sure.
Knocking the ball out of his feet, the 27-year-old had Dalsgaard scuttling and with a swift dip of the shoulder, the versatile attacker clapped the base of David Reya's post in the 10th minute. That was the only time Fulham actually looked like scoring. Kebano chaperoned possession neatly, weaving away from oncoming trouble and distributing sensibly, but his efforts were ultimately in vain. Nothing was sticking up top and whilst the DR Congo international scoured for an opening, Brentford regrouped to deny the Whites. In the face of adversity, though, his application remained progressive and his morale didn't dip once.
A positive performer in a sub-par squad, Kebano has risen from the ashes and redeemed himself to Fulham's faithful, who'd forgotten that he'd even existed. Where others have floundered, the Paris Saint-Germain graduate has impressed and he looks right at home along the left flank. A goal is coming for the lively attacker and as he gets more game time, I'm sure Fulham's outings will improve too. He gets his head down, he's lifts spirits and though we've lost the three games that he's featured in recently, he could spearhead a revival if he continues with the same verve and intensity. Basically, I'm telling you to turn it on against Leeds, Neeskens.