Tim Clarke discusses Cyrus Christie and why he believes it's essential we show empathy towards all players in the squad, not just those who are funny on social media.


Chris Anderson (a former footballer) teamed up with behavioural analyst David Sally in 2013 and wrote a book called 'The Numbers Game". They argued that there are two types of sports: strong link and weak link. In a strong link sport, the most decisive factor is how good your best player is. It's why NBA teams with Lebron inevitably do well. He can run laps of the entire court, or at worst, pull an extra player out of defence. Football, on the other hand, is a weak link sport. What matters most is how good your worst player is.
The simple fact of the matter is that Cyrus Christie is our weak link. If an opposition can pressure our right defender, and sneak a cheap late goal, then it matters less how good Mitrovic is. Barring a renaissance in his career, Christie is not the man we need lining up at right-back if we are aiming for promotion. His case was dealt another blow by a solid Denis Odoi performance last week, and a very promising effort from Steven Sess at Huddersfield.
But that's not the reason we need to talk about Cyrus. The actual truth is far more painful…
A few weeks ago, Ben Jarman wrote an exceptional piece praising Joe Bryan for his honesty about his mental health. It was one of the most read articles in Fulhamish history, and the comments on social media were unanimously in support of Joe. As they should be.
And yet.
In the very next breath, Christie is cursed and slated across Twitter, Instagram, and Facebook. Even his name on the bench evokes outrage. The inconvenient truth is that Cyrus Christie exposes something we might not like to admit; Hypocrisy, thy name is Fulham fans (this writer included).
If you read, Ben's article and interpreted it to be about Joe Bryan in isolation, you have missed the point. It's not about Joe. It's about footballers. Even the ones you may not like.
It might be easy to show compassion to Bryan, because he's funny on twitter, likes Fortnite and has performed well for us. Let's ignore for the moment that Christie's main social media (and real life) activity is focused on raising money for the disenfranchised and volunteering at Soup Kitchens. After all, unless he knows his way around a meme, that's all irrelevant.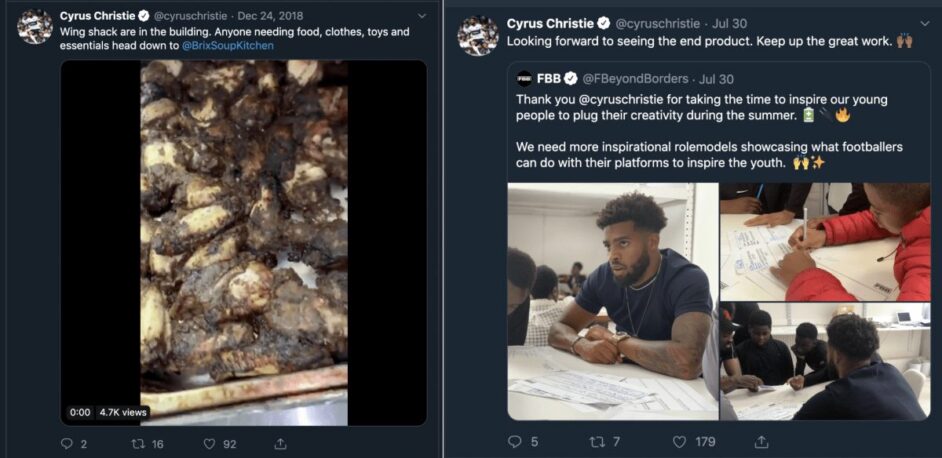 However, if you show compassion and empathy to Joe, and not Cyrus, don't fool yourself into thinking you're a good bloke. Hell, I'm sure Jeffrey Epstein showed compassion to the people he liked. The true measure of a person is how well he treats people when he might not feel like it. This hits at the heart: I had to have a long hard look at myself, and the way I have spoken and written about Christie after reading Ben's article. I didn't come out favourably…
Whilst I believe Cyrus would walk into most Championship sides, I don't think Cyrus Christie should be starting for Fulham – a club gunning for automatic promotion. Coming off the bench, sure. But long term, we need someone else there. You may disagree with me, and that's fine. However, it's not fine to inflame a powder-keg by blowing up on your socials every time his appears on the bench. It's not fine to abuse his sister if you cross paths on matchday. It's not fine to wait till he opens up about his stress and anxiety before we finally cut him a break.
If Joe's wellbeing matters, then Cyrus' wellbeing matters too. You can't have it both ways.