As it's ten years since Fulham's iconic run to the Europa League final in the 2009/10 season, we've decided to go back down memory lane. Armed with different Fulham fans, we're recounting the 10 incredible away trips that took Fulham fans from Vilnius all the way to Hamburg (twice). Starting off our journey is Jonny Smith, who was present at FK Vetra, where our Europa adventure began…


It's hard to believe that it has been ten years since Fulham embarked on their Europa League adventure with a trip to FK Vetra in Lithuania's capital, Vilnius. Back then I was a fresh-faced 18 year old with an eye on A-Level results hoping to get into the University of Manchester. Fast forward ten years and I'm now waist-deep in a PhD still in Manchester. Not only does time fly, but it works in mysterious ways!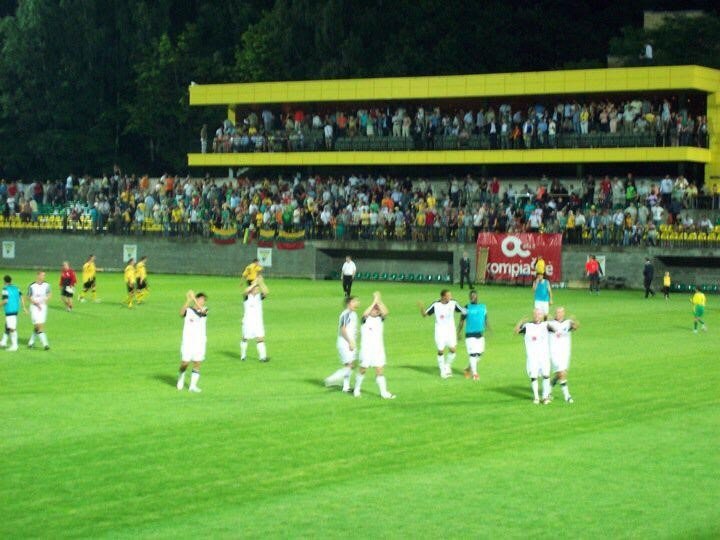 I remember the jubilation at the Cottage on the final day of the 08/09 season as news of Tottenham's loss filtered through the stadium, a result which guaranteed Fulham would finish 7th and most importantly qualify for the Europa League. Following the previous year's final day great escape, finishing this high seemed like the monumental achievement of the season rather than the prospect of the Europa League. Fast forward two months and my Dad had booked us on the chartered Fulham flight to a mysterious Eastern European place called Vilnius. A Europa League qualifier against FK Vetra awaited us.
I remember having little idea what Vilnius would actually be like beyond a faintly ridiculous image of some oppressive Cold War relic defined by monotonous blocks of Brutalist grey concrete. How wrong could I have been? Instead Vilnius' Old Town was a sun-baked delight of Roman-esq splendour, the city characterised by cobbled streets, pleasant piazzas and a sea of terracotta roofs.
The small but committed contingent of Fulham fans who made the journey filtered through the Old Town's al fresco bars, easily recognisable by their gleaming white shirts and soon-to-be household names: Zamora, Pantsil, Murphy, Davies… Bjorn Helge Riise.
It was lovely to mix with the other intrepid Fulham fans enjoying their surroundings. I remember one family had brought a near new-born baby along for the journey. I often still see that family at games, the baby now a strapping young lad with a claim to having seen Fulham play in Europe while still in nappies!
The festivities and mingling of fans carried on long into the evening and night under a constant flow of beers. A hazy memory of an Irish pub drifted into the next morning where my Dad and I woke up fully clothed, shoes and all, with the lights on and curtains wide open in our hotel room. The morning of the game was spent, like a fair few other Fulham fans, nursing a sore head and taking in the harrowing local history of Lithuania's Soviet occupation at the excellent KGB Museum.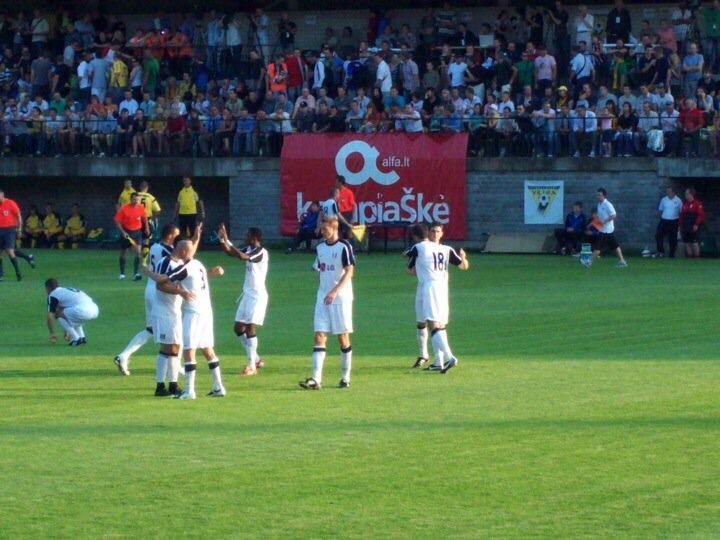 Maybe it's the ten year gap, but the match itself seemed remarkably unremarkable. Far from the majesty of the Cottage, Vetra's ground resembled a basic reincarnation of FIFA's generic 'Town Park'. Nestled in the middle of a park, the ground appeared to be rather ramshackle in nature with fans seemingly able to wander freely in and out the ground: one group of enterprising fans watched the game from a grassy knoll in an open corner of the stadium.
The match was an uneventful routine three nil win with Bobby Zamora and Seol Ki-Hyeon scoring either side of Danny Murphy's penalty. In its July timing and strange location the match resembled a pre-season friendly far more than the first step in an unlikely fairy-tale run to the final in Hamburg, some ten months later. It may not have had the drama of Basel, the scale of Roma, nor the novelty of Amkar Perm, but beating FK Vetra was the game that set an unforgettable journey in motion.
The trip was topped off by a surprise appearance from Roy Hodgson on the flight home to thank their fans for their support in Vilnius. It was only a small gesture, but it highlighted just how much of a gentleman Roy was as well as how close the bond was between fans and team in those brilliant years.
Travelling to Vilnius was a wonderful trip and set in motion a belief that there is nothing better than seeing your team play in Europe. The likes of West Ham, Aston Villa and Hull have all faltered recently in the Europa League by treating it as a distraction to league football, they don't know what they are missing out on! Lithuania was followed by trips to Switzerland, Italy, Germany, Ukraine, Poland and Northern Ireland to see Fulham play in the Europa League.
Ten years down the line I've realised those European away days were some of the best times I've ever had supporting Fulham. On the eve of the Championship season beginning this week, the Europa League feels a very long time ago and even further from our future. It's been a joy to reminisce about my trip to Vilnius, but let's hope those days aren't the last time we get the chance to play in Europe and that eventually we'll have the chance to create some new memories on the continent.
Photos used in this article with the permission of Jonny Smith and Jon Hall.