What a difference a goal makes! After a couple of encouraging results, Ranieri's Whites now have their eyes firmly set on rising out of the relegation spots. Can Fulham keep this run going against an Arsenal side reeling from a drubbing at Anfield? Our man George Singer takes a look at what we can expect to see in the New Year's day clash at the Emirates!
It's taken a few games, but the Tinkerman has started to stamp his Italian style of football on this Fulham squad. We've seen a move to a back 5, a couple of clean sheets, and our goal difference is now almost(!) not the worst in the league! Can we keep this going against an Arsenal side who comfortably bested us earlier in the year?
Recent results
October 2018 Fulham 1 – 5 Arsenal
January 2014 Arsenal 2 – 0 Fulham
August 2013 Fulham 1 – 3 Arsenal
April 2013 Fulham 0 – 1 Arsenal
November 2012 Arsenal 3 – 3 Fulham
Likely Arsenal lineup
In an attempt to try to balance his plethora of attacking players in the side, Emery has recently moved to a 4-3-1-2 formation. This puts his 3 star men Ozil, Lacazette and Aubameyang in their most natural positions, and provides plenty of central cover in midfield with Xhaka Torreira and Guendouzi providing a strong base to attacks. Against Liverpool they reverted to a 3-at-the-back lineup, however I'd expect Emery to use the 4-3-1-2 in an attempt to overwhelm our defence.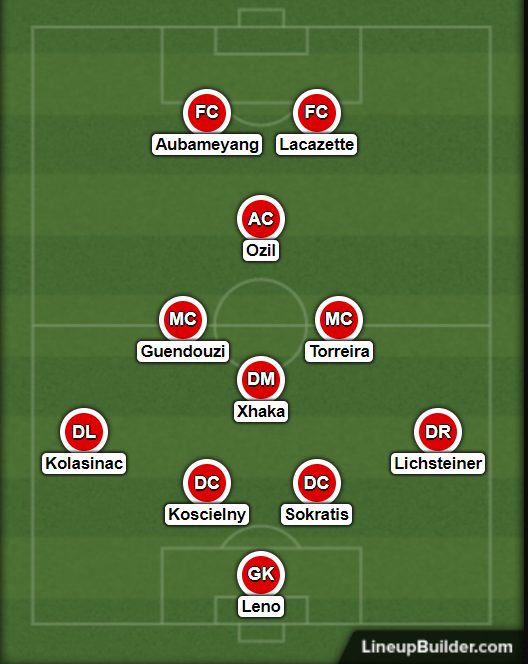 If they do line up in the 4-3-1-2, the width in the Gunners attack will come from their flying fullbacks. Whilst this does help generate crosses for their speedy strikers, it exposes a flaw in that space is left behind them when they bomb up the field. This is something that Brighton exploited well in the recent matchup, by breaking fast down the channels in the vacated areas. If you watch Locadia's equaliser against the Gunners, you can see how he broke fast in the left wing into the space behind by Lichsteiner (who pushed forward at an Arsenal corner).
Exploiting wide areas on the break should therefore be an area that we should look to exploit ourselves. If we can employ wingers with quick acceleration, and composure in attacking transitions, then this could be an area for us to help generate chances for Mitro to finish.
One to watch
Arsenal striker Pierre-Emerick Aubameyang is a man in great form in recent weeks – with 6 goals, 2 assists and 3 MotM awards in his last 9 games. After only managing 13 touches of the ball against Liverpool, he'll be itching to get on the ball as much as possible on Tuesday, and is the kind of player that doesn't need a second invitation to put the ball in the back of the net.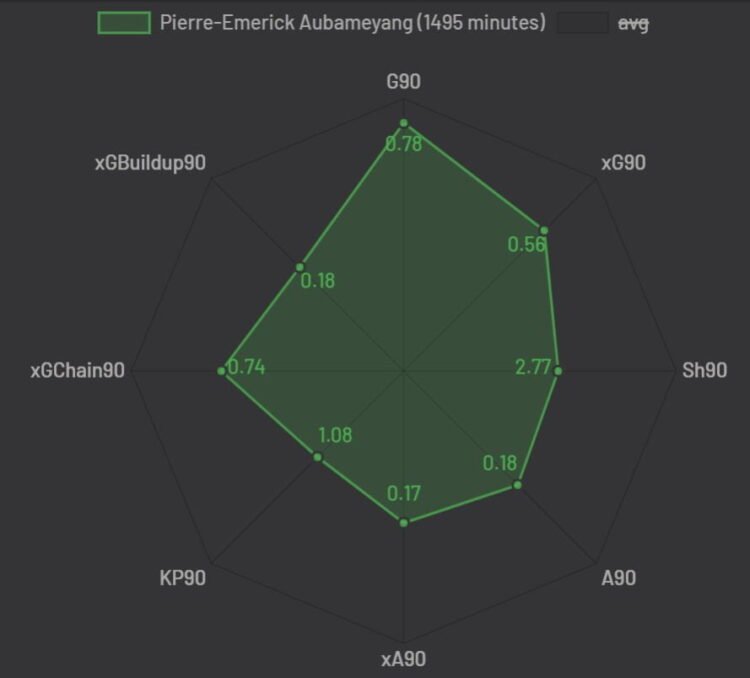 The Gabonese will station himself in the channels between centre backs and fullbacks, and continually move in and out of space to disrupt defenders. He combines well with Lacazette, as the Frenchman selflessly drops a little deeper to link up play and draw defenders towards himself. This provides space for Aubameyang to get a shot in on goal – watch his goal against Brighton for a great example of this!
Notes for Claudio
Sticking with our new '3-at-the-back' formation would make sense for the game. Not only is it starting to bring some defensive stability, but it may also provide a good platform for the counter-attacking style we will inevitably try and play.
When in defence, I'd expect us to sit deep and compact in a 5-4-1 screen. The days of Fulham being the Barcelona of the Championship are well over; there's just no real point in us trying to win the midfield battle against a strong footballing side like Arsenal. Therefore, I'd look at sitting as deep as possible, to restrict through balls behind our back line. We would, however, need to employ a new midfield combination which can apply pressure to Arsenal's midfield, as Callum Chambers will be unable to play against his parent club. Perhaps this is the time for Zambo to stand up and stake his claim in midfield? Or will Ibrahima Cisse, who seems to have risen above Johansen and McDonald in the pecking order, earn a rare start?
Whilst I don't really want to provide any extra opinion on the AK penalty debacle (it seems like everyone has provided their own, so I'm not sure I could provide anything new!), it's probably not a stretch to say that everyone wants him to learn his lesson and get back to contributing to the first team as quickly as possible. Love him or loathe him, against a side who leave space free out wide, he's clearly going to be a weapon that could do some damage. Assuming he hasn't killed him, like he alluded to in his post-match presser, I'd expect Claudio to probably start him on the substitute's bench.
If this is the case, then Ryan Sessegnon simply has to start the game. Whilst the transition to Premier League football has not been seamless, he showed at the end of last week that he's confident picking up the ball and running direct into dangerous areas – and that's exactly what we're going to need on Tuesday. Are we going to get many opportunities? Probably not. Therefore, we need someone who has the composure to put the opposition to the sword – and in Sess (paired with Mitro) we have exactly that.
COYW!!