After a busy couple of weeks off the field for the Whites, attention turns once again to on-field action. Our man George Singer takes a look at our upcoming crunch match against Southampton at the Cottage on Saturday!
Well, things have changed a bit since the last one of these haven't they?! We've parted ways with our Super Serb, with Premier League winner Claudio Ranieri being handed the keys on Slavisa's exit from the Cottage. Whilst I'm not going to into detail with my opinion on the matter (plenty of other chaps on the site have done this), my thoughts are simply this; It's sad that it didn't work out with Slav, but I'm hopeful that Claudio is the right man to turn things around.
And what a baptism it is for the Tinkerman – a relegation crunch match against fellow candidates Southampton. The Saints have long been on a poor run of form, and the prospect of a crucial 3 points to heap pressure on the "ambitious" Welshman Mark Hughes should be provide plenty of incentive!
Recent results
Jan 2018 Fulham 0 – 1 Southampton (FA Cup)
Feb 2014 Fulham 0 – 3 Southampton
October 2013 Southampton 2 – 0 Fulham
December 2012 Fulham 1 – 1 Southampton
October 2012 Southampton 2 – 2 Fulham
Likely Southampton lineup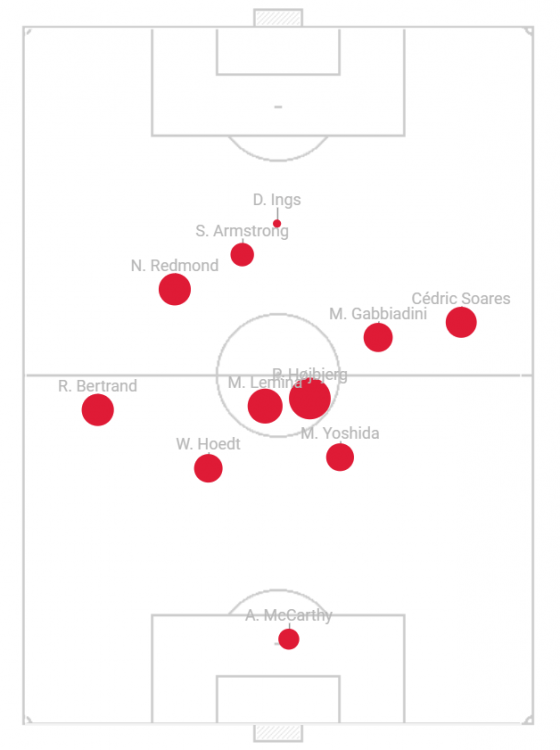 During the season so far, Hughes has most commonly fielded his side in a classic 4-4-2 setup – a system which has brought little in terms of points for the Saints. Perhaps in response to this, Southampton switched to a 4-2-3-1 formation last time out – earning a positive draw against Watford. Lemina and Hojbjerg played a deeper role to protect the defence, allowing Soares and Bertrand more freedom to to push forward and join the attack from fullback. Charlie Austin was brought on late in the first half for an injured Ings and impressed, and it may be that Hughes pairs the two upfront to shift back into a 4-4-2 (which they typically use away from home).
In attack, Southampton seem to have reverted back to 90s football, a shame considering under Pochettino and Koemann they were one of the finest attacking teams in the league. Their play is focussed mainly through long balls deep into the channels, and getting the ball wide to generate crossing opportunities. Expect the midfielders to switch the play from side to side to try and tease open space, which overlapping fullbacks will move into to put the ball into the box.
Despite tending to play two classic advanced forwards, the Saints are struggling to create high quality chances in attack. Their goal conversion rate is less than 5%, the worst in the league (in comparison, Arsenal's is 18%), and is largely due to them continually taking low percentage shots from outside the box.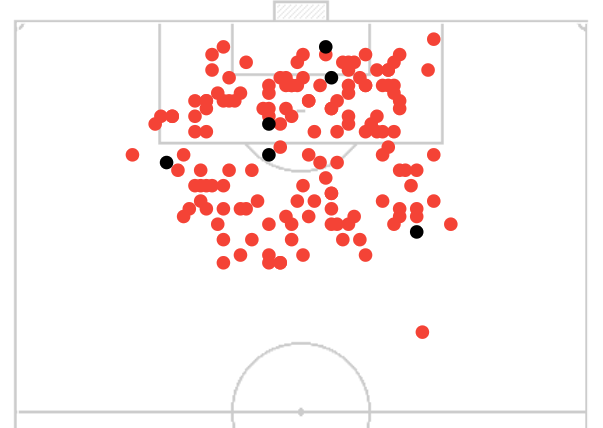 When watching Southampton in defence, there are some basic similarities with how we played under Roy Hodgson. They will play zonal defence, with 2 clear banks of 4 sitting infront of the keeper. They deploy a fairly weak press, and will look to restrict advanced space for the opposition.
However, there are a couple of differences between this side and our own European heroes. Firstly, the quality of opposition players in the Premier League these days are much stronger, and it's not necessarily as effective a system as it once was. For instance, Manchester City played through this block with ease, with their advanced playmakers operating in the pockets of space between the two banks. Secondly, as is common with sides struggling at the bottom of the league, there are issues with defensive workrate. With zonal structure, the system is only as strong as the weakest link, and too often at the end of games the Saints defence drop off – which allowed City to fire 6 past them a couple of weeks ago.
One to watch
The most potent spoke of this current Saints attack is Danny Ings – who has scored 4 goals so far this season. Since moving to Liverpool from Burnley in 2015, the striker has struggled to break into the first XI (playing only 14 games for the Reds). However, a deadline day loan to Southampton seems to have invigorated his career, and is currently carrying this poor Saints side on his back.
He's averaging over 3.5 shots per 90, and also averages 14 defensive actions per 90 (both healthy numbers for a forward). Assuming he plays at the weekend (he's classed as an injury doubt, but I'd expect he'll be fit), he's probably the main threat we should be aware of.
Notes for Claudio
So I've had to rename this section! This is the first Before the Whistle without Slavisa at the helm, so this section will now be dedicated to pointers for our Tinkerman.
The clear priority for Ranieri will be plugging our leaky defence, without stifling our attack (which has been slowly fading away itself in recent weeks). Whilst bringing a 'feel good' spirit to the team, and encouraging a mindset of everyone fighting for each other, is key it will be interesting to see if any tactical changes are made by the Italian.
Against a team that play direct football with wide forwards and 2 strikers, I would normally suggest playing 5 at the back to help protect against the counter. However, to my knowledge, this isn't something that Ranieri has used before. Therefore, I'd expect Claudio to put the shackles on the fullbacks a bit more, and ask them to offer more protection to the centre backs. We should expect direct play from Southampton, with long balls down the channels, so making sure we have enough players back to deal with this will be key.
It'll be really interesting to see how we line up in attack. Slavisa switched between a few formations, and with rumours circling that Ranieri may look to field two up top it will be interesting to see if we see another new formation. Personally, I would like to see us play in a 4-2-3-1, allowing us to flood the area between the 2 banks of 4 with attacking players, and protect our centre backs with two defensive minded central midfielders. Cairney looks to be the natural option at number 10, so if we're able to pair him up with Vietto and Sessegnon, their tricky movement should combine well to break down the Saints.
COYW!!
Data provided by data.wyscout.com