After a discouraging loss last weekend against bottom of the table Cardiff City, our next opportunity to put things right comes as high-flying Bournemouth travel to the Cottage. Our man George Singer takes a look at what we can expect to see!
Well, this is all getting a bit depressing isn't it? After a transfer window that filled us all with hope, the demons of 2013/14 season seem to be upon us again. We're now very much in a relegation dog-fight, with a defence as strong and stable as Theresa May's leadership. Lineups and substitutions seem to vary wildly, with seemingly little strategic or tactical thinking behind them. Whilst we're still early in the season, and I hesitate to call out 'must-wins' at this stage, an improved performance is necessary to (at least temporarily) hush the calls for Slav to lose his job.
Our next opponents Bournemouth are celebrating their 4th season in the Premier League, and have started the season in surprisingly strong form. Eddie Howe, now the longest serving manager in the Premier League, has built a team which has risen to the top 6 – impressing both home and away. With only the usual suspects above them, the Cherries are one of the most dangerous attacking teams in the league – and will prove a stern test on Saturday.
Recent results
April 2017 Huddersfield 1 – 4 Fulham
October 2016 Fulham 5 – 0 Huddersfield
January 2016 Huddersfield 1 – 1 Fulham
August 2015 Fulham 1 – 1 Huddersfield
March 2015 Huddersfield 0 – 2 Fulham
Expected Bournemouth lineup
After experimenting with 3-at-the-back formations last season, Howe has reverted back to his tried and tested 4-4-2 this year. It's a set-up that suits their style of play – simple, fast, attacking football with lots of width.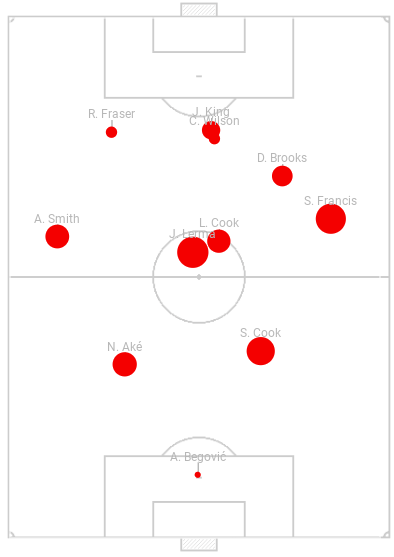 The formation relies on width to be created through flying fullbacks, and wingers pushing up to support Wilson and King upfront. Lerma and Cook sit deeper, and offer protection to the defensive with smart defensive positioning. They're both also comfortable on the ball, boasting mid 80% pass success rate.
Bournemouth are a side that don't particularly like to hold onto the ball for possession's sake. They like to get the ball forward at every opportunity, and create attacks quickly. No side in the league passes backwards less than them – the sign of a team who like to counter attack. Rather than hoofing looped balls forward – they get the ball forward on the floor, preferring through balls towards their rapid strikeforce.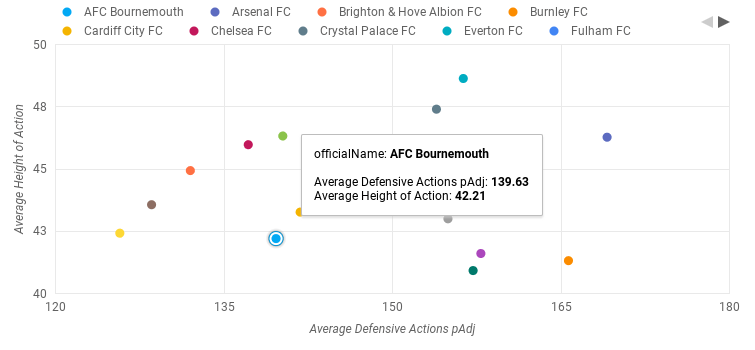 In defence, Bournemouth offer a fairly low, and fairly tame, block. They're in the bottom 5 in the league for possession adjusted defensive actions, a sign that they prefer to allow the opposition to have the ball. They will let the opposition push up as far forward as possible, committing men forward, and then pounce as quickly as possible on the counter attack on transition. With a 2 man central midfield, this is perhaps not surprising, and potentially an area which a more advanced playmaker deployed between the lines could exploit.
One to watch
Fantasy football players out there will be well aware of this chap: The young Scot Ryan Fraser has had a breakthough season for the Cherries, with 3 goals and 3 assists so far. He's one the focal point of the Bournemouth attack, and one we will need to concentrate on stopping him if we want to keep a rare clean sheet.
Since making the left midfield slot his own, the winger has been causing havoc in defences both at the Vitality stadium and away from home. He averages 2.6 key passes per 90, one of the highest rates in the league, which is partially boosted due to his wicked set piece deliveries. At his best, Fraser will use his blistering pace to move up and support the strikers, acting like a third striker out wide on the left. If there are any mistakes at right back, like Chambers made last week, then he is the perfect kind of winger to punish this.
Notes for Slav
If anyone out there is eyeing up this game as a fairly easy opportunity, and an opposition who will roll over and let us get the win we need to turn our season around, they'd be mistaken. Bournemouth are a really strong side – and one we should be wary of.
One of the main characteristics of Bournemouth that concern me is their ability to break forward, and run at opposition with speed. With makeshift fullbacks filling in for Fulham injuries, and Slav seemingly incapable of picking a centre back pairing for 2 successive games, this is a situation that Eddie Howe will look to exploit fully.
It's not often we play against 2 strikers these days, and we will need to make sure we have the defensive cover to cover them when Bournemouth break (ie if they pounce when our wingbacks are pushed up). To me, our 2 options would be to revert to a 3 at the back, or play McDonald in the reserved anchorman role infront a back 4. Personally, I'd like to see MLM revert back to his more natural role at CB, so I'd go for a back 3, and bring Anguissa back into a midfield pair with Seri.
In attack, I'd like to see us really target the weak block that Bournemouth offer. If Cairney still is out injured, i'd like to see Vietto return to his inside forward role, and occupy the channels to pin defenders. This would provide more space out wide for a roaming fullback, which hopefully Fosu-Mensah will return to.
COYW!!
Data provided by data.wyscout.com