After a mixed start to the season, pressure is starting to build for the Whites. Following a throw-away, yet comprehensive, loss at the Etihad last weekend, we're back at the Cottage once again. Watford are the side to make the short trip South, and will be looking to continue their strong start to the season. Our man George Singer takes a look at what threat the Hornets pose!
After Shahid & Tony's surprisingly strong Summer transfer window, expectations of what Fulham fans could expect in the Premier League rose accordingly. Whilst we're hardly in crisis, our start to the season has been mildly disappointing, and we currently sit in 15th place. We have played some tough opponents, but the pressure is starting to build if we realistically want to enjoy a season comfortably above relegation. 
Our next opponents are Watford – who have had an unexpectedly strong start to the season. Since taking over from Marco Silva in January, Javi Garcia has quietly built Watford into a strong Premier League team. In fact, before their loss to Manchester United, they had a 100% record, and odds were falling on the Hornets qualifying for the Europa League. So what should Slav do, as we look to take 3 points off his ex-employer?
Recent results
March 2015 Watford 1 – 0 Fulham
December 2014 Fulham 0 – 5 Watford
January 2007 Fulham 0 – 0 Watford
October 2006 Watford 3 – 3 Fulham
January 2005 Fulham 2 – 0 Watford
Last time we met
Watford are a team who, in recent years, we've rarely met. In fact, only once in the last 10 years have we sat in the same league table as them. We lined up against them back in Watford's promotion season in 14/15, where a certain Slavisa Jokanovic steered the Hornets to an impressive 2nd place.
The Whites team that season had high hopes, and were looking to bounce straight back up from relegation the previous year. Unfortunately, a disappointing first half of the season meant we instead were flirting with relegation, and Watford were pushing hard for a return to the Premier League after a 10 year absence.
Then managed by Kit Symons, Fulham were the architects of their own downfall – not for the first time that year. In a pretty close game at Vicarage Road, Troy Deeney proved to be the difference between the two sides, as Watford won by a single goal. The Englishman put the Hornets ahead early in the 9th minute with a typically powerful finish from a poorly defended corner. Despite some good attacks, the Whites couldn't beat Gomes in goal, and the loss meant they dropped down to 20th in the League.
Likely lineup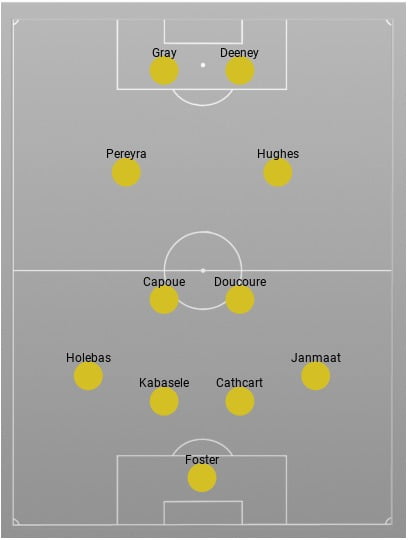 Watford will be lining up in their now-regular 4-2-2-2, which Javi Garcia has preferred since taking over the Hornets. It has brought them some immediate success, facilitating their simple-yet-effective playing style which has seen them rise to 4th in the table.
Off the ball, Capoue and Doucoure play a deep limited role, and Capoue especially offers an effective protective shielf for the back 4. Wide men Pereyra and Hughes will tuck inside, and look to close in on opposition midfielders and cut out passing opportunities.
When in attack, Watford will attack with width. Fullbacks Janmaat and Holebas like to get forward, and offer threat from wide. The Hornets also offer significant threat at set pieces: Watford have averaged 0.75 set piece goals per game this season – a league high.
One to watch
Despite approaching the twilight of his career, club talisman Troy Deeney is still performing at the peak of his ability, and is my one to watch this week.
Despite not looking the most athletic player, Deeney is one of the biggest physical threats the Premier League. The big man makes a living by bullying opposition defences, offering an aerial threat, and generally being a pain for opposition defences to deal with.
He's often seen hassling defenders at the top of the pitch, with his surprisingly high work-rate making him very effective at winning the ball high up the pitch. Expect him to hassle us when we're in possession, and with instability in our defence this may be something that Garcia asks him to exploit.
Notes for Slav
Whilst Watford have had an excellent start to the season, this still has to be viewed as a game where we aim to get points. Watford are outperforming expectations, as well as their expected numbers. They average 1xG per game, yet they are scoring at double this rate. They should be due a drop in form – and following their first loss to Manchester United this may be a good time to face them.

With two big men in central midfield, the obvious place for Slav to target in attack should be out wide. Hughes and Pereyra offer great ability on the ball, however by deploying wingers with naturally good attacking positioning we should cause some damage. Personally, I feel like it's time to move Sess up the pitch again. Whilst Vietto and Schurrle have done nothing wrong in their run in the side, this is the kind of game where Sess could exploit gaps in defence to break his Premier League duck. With Sess moving forward, this would allow Bryan space to move back into his left back position – and hopefully a return to his strong early season form.
COYW!!
This article was written with the aid of StrataData, which is property of Stratagem Technologies. StrataData powers the StrataBet Sports Trading Platform, in addition to StrataBet Premium Recommendations.