After the first international break, the mouth-watering prospect of a tie against Champions Manchester City awaits. Can we upset the odds to earn a result at the Etihad? Our man George Singer takes a look.
It's time for the tie that many have been looking forward to most since our Wembley victory in May: a chance to play against the master of possession football, Pep Guardiola. In probably the toughest game of the season, our expectations are low, and City are rightly strong favourites for the win. However, with the pressure off, can we emulate fellow promotees Wolves and earn some unlikely points?
Recent results
March 2014 Man City 5 – 0 Fulham
December 2013 Fulham 2 – 4 Man City
January 2013 Man City 2 – 0 Fulham
September 2012 Fulham 1 – 2 Man City
February 2012 Man City 3 – 0 Fulham
Last time we met
Manchester City are a team that I, and I'm sure plenty of other Fulham fans, assumed we had a pretty good record against. Memorable victories such as the 3-2 in our Great Escape season stick out, and I've always assumed that run continued until our relegation. In reality however, we've really struggled since Sheik Mansour took over the club, and are without a win in 11 ties. The worst of these, and most recent, was a 5-0 drubbing at the Etihad.
The game was dominated by Ivorian legend Yaya Toure. The midfielder opened the scoring from the penalty spot following a debatable foul from Fernando Amorebieta – which gave the Cityzens a narrow half time lead. However, like we did so often that year, Magath's Fulham side capitulated late in the second half. Amorebieta capped off a poor performance with a red card, Yaya Toure completed a hattrick, and a couple of late goals saw Fulham end up the wrong side of a 5 nil defeat.
Comparing the Fulham side from then to this year, it's clear we're a different beast, and honestly there's not a single player from 2014 who I would put into this current team. On the other side, how can we expect City to line up?
Likely lineup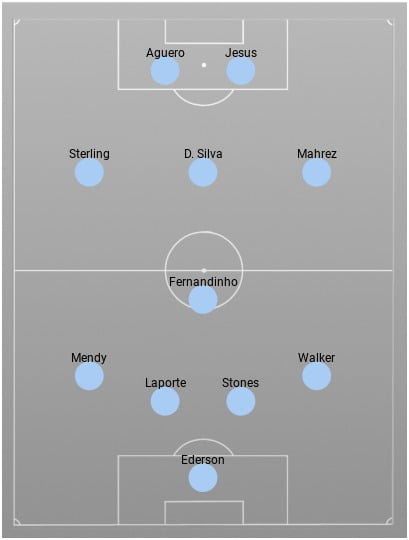 In reality – it's pretty much impossible to predict the City lineup. To the frustration of Fantasy players, Pep has a habit of continually switching around his outfield players, and he's used a different formation in every game.
However, irrespective of the teamsheet, they will still play in the same way that all Pep sides have. Pep likes to field plenty of attacking midfielders, anchored by a CDM comfortable in possession. The attacking players will operate in spaces between the lines, and naturally offer width to the attack. Fernandinho will likely drop back to act as a third CB in possession, as the highly talented fullbacks push forward and give crossing opportunities. 
Couple this with their pass-and-move style, City's goal is to continually move the opposition about by passing the ball in and out of dangerous situations. Keeping our defensive shape will be of paramount importance, and with Cairney out doubling up with both Anguissa and McDonald seems like a natural move to counter this.
One to watch
Where to begin? When doing these previews in the Championship I had to look pretty hard to find an opposition dangerman, but now I'm struggling to pick just one!
In all honestly, there's so much quality in the team, and there'd be a case to pick all of them. In particular, Benjamin Mendy has hugely impressed. The Frenchman having an explosive return to the team after spending the majorinty of last year injured, already racking up 4 assists in 4 games.
However, I can't not pick one of the most successful strikers in the League: Sergio Aguero. Jermain Defoe aside, no-one currently playing has scored more PL goals than him – and he's showing no signs of stopping.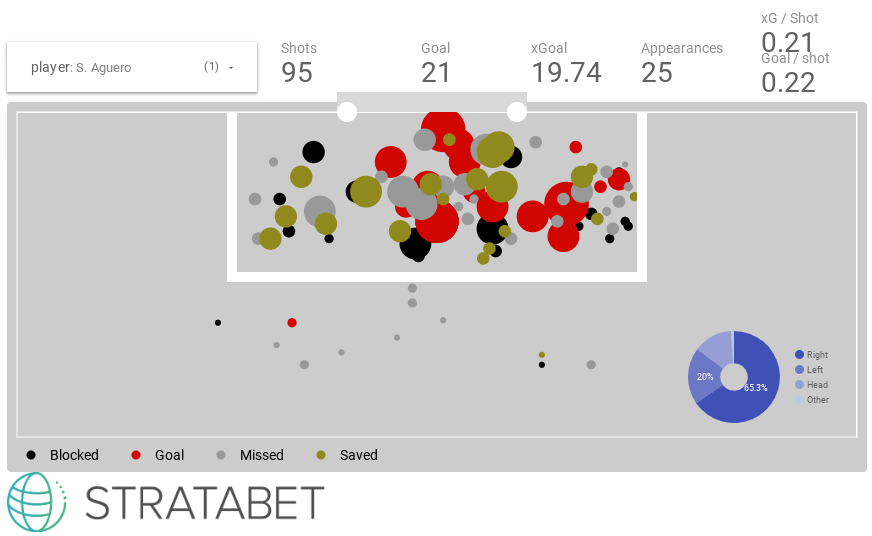 Truly one of the best finishers the league has ever seen – he boasts a hugely impressive scoring rate and averages 3.5 shots per game. He's comfortable finishing with any part of his body, and with the creative force around him he will be the most likely player to find the back of the net.
Notes for Slav
So many times we've discussed how Slav might prepare for this kind of game. It feels we have 2 real options: pack the defence, and look to poach a goal on the counter, or attempt to play our natural game.
Whilst we're clearly not going to boss possession, I'd fully expect Slav to try and play his natural game when on the ball. City like to play with lots of attacking midfielders, and press high. If we can keep our composure, and find a way through this press, then we may be able to find some pockets of space and do some damage. Mitro is in excellent form, and can cause some damage to Stones and Laporte, however we will need to offer him lots of support to ensure he doesn't get isolated.
This game is our prize for our promotion – a chance to play against the best in the world. It's sure to be a hugely entertaining game, and whilst we may not win, it'll be a real pleasure to watch 2 fantastic football sides battle it out together.
COYW!!
This article was written with the aid of StrataData, which is property of Stratagem Technologies. StrataData powers the StrataBet Sports Trading Platform, in addition to StrataBet Premium Recommendations.