After a couple of disappointing losses against London rivals, our next opportunity for our first points come as Burnley visit the Cottage. As the Clarets attempt to balance European and domestic football, can Fulham take advantage and win 3 points? Our man George Singer takes a look.
After a couple of, albeit impressive, pointless performances, the time for this Fulham side to get our first win is now. There's no such thing as an easy Premier League game, however playing a Burnley side at home, just days after their trip to Greece feels like the perfect opportunity to build some momentum.
Recent meetings
Sep 2008 Burnley 1 – 0 Fulham
Dec 2009 Burnley 1 – 1 Fulham
Feb 2010 Fulham 3 – 0 Burnley
Nov 2015 Burnley 3 – 1 Fulham
Mar 2016 Fulham 2 – 3 Burnley
Last time we played
Burnley are a side we've managed to avoid recently, with our paths avoiding each other during promotion and relegation. Therefore, the last time we played was all the way back in 2016.
In one of the earlier games of Slav's tenure, Fulham found goals easy to come by, but couldn't stop shipping goals. Some things never really change!
After conceding an early opener, the deadly duo of Ross McCormack and Moussa Dembele both grabbed a goal in an entertaining first 45 to give the home side a 2-1 lead. However, in a not un-common occurance that year, the Whites side lost control of the game and slid to defeat. It was a critical game in Burnley's promotion season, as the 3 points helped them to an impressive 2nd place finish.
Much has changed since that day, and now only 2 players in the Whites squad (Cairney and Ream) remain. On the other side, Burnley have enjoyed great success by sticking with the core of that promotion side, and are unlikely to change much in their trip to South West London.
Likely lineup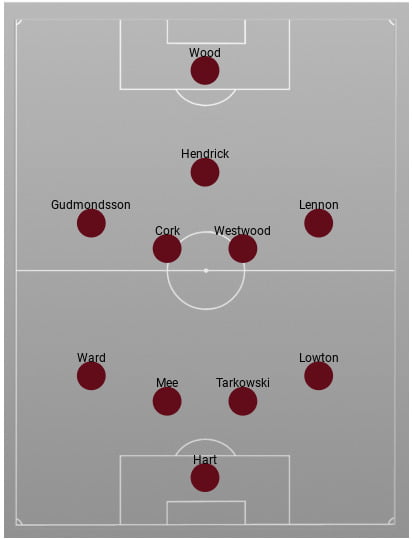 After plenty of success last year, Burnley will likely line up in a simple 4-4-1-1 formation. It's a setup that allow them to play their simple brand of football, and one that Sean Dyche has favoured since taking over the Clarets.
Burnley's defence is really interesting, in that they concede a lot less goals than they really should. For instance, last season they conceded the 2nd most shots. This is normally a strong indicator that a team is a relegation candidate. However, in reality they conceded the 6th fewest goals last year. So what's going on?
Mainly, their ability to concede fewer goals than they should is because they're excellent at getting in the way of opponents. They block a ridiculous 30% of the shots they face, which is comfortably the highest rate in the league.
They achieve this by operating a very low, compact, block. When in defence, their main aim is to get as many players between the opponent and the goal as possible, particularly crowding the centre of the pitch. At home, the back four and two central midfielders play this role, by quickly getting back behind the ball when the opponents are in possession. Away from home, their wide midfielders will tend to join in with this too, making them even harder to break down.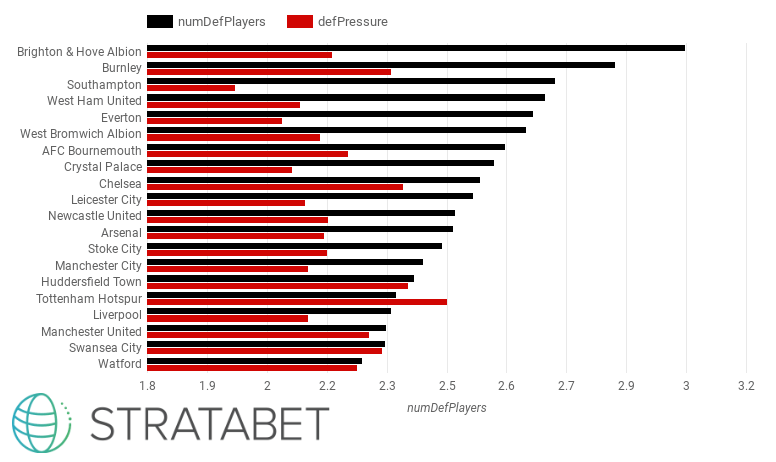 One to watch
Following a club record fee from Leeds last summer, my one to watch this week is the Kiwi Chris Wood.
The target man is the perfect focal point for Burnley's attacks. The Claret's attacks consist of high balls into the box, and direct through balls, which Wood thrives on. He scored 10 goals last year, the most at the club, as he fired them into the Europa League.
Most commonly, these attacks will either come from Gudmondsson's set pieces, or crosses from overlapping fullbacks. Wood's strength and positioning makes him a nightmare for defenders, and Slav will need to make sure that his defence is prepared for the aerial onslaught.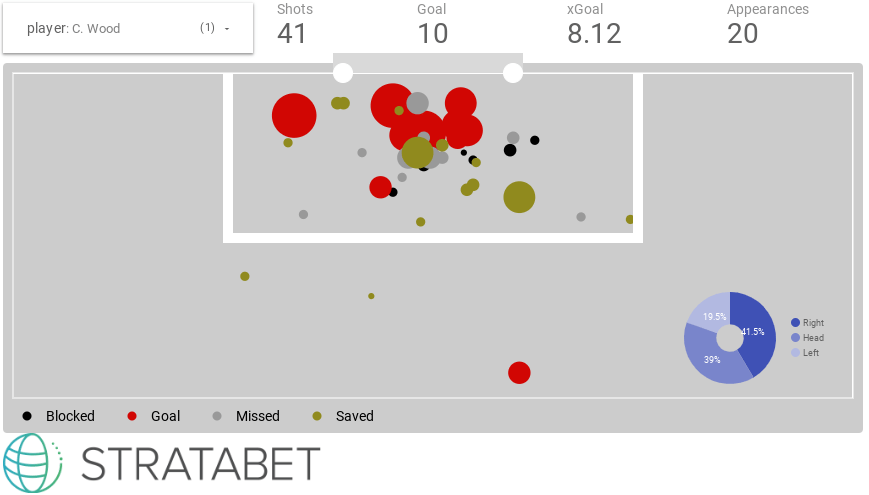 Notes for Slav
Burnley will offer us a similar challenge to Crystal Palace. They will look to get men behind the ball in an organised fashion, and attack in a direct way.
Slav will need to take some lessons learned from the season opener then, if we are to get a positive result. The best way we can look to beat them is to attack with pace on the counter, before they can get everyone behind the ball. In particular, Aaron Lennon likes to get forward, which could leave Matt Lowton exposed for Sess to take advantage off.
With more training and game time under their belt, this would be a good time for Cairney and Seri's partnership to start to blossom. They both occupy similar roles, and therefore some kind of pivot system would likely make sense to ensure they don't overlap too much. Against a packed defence, we will need as much creativity as possible to break through – so it's essential that the pair start complementing each other and offer their abilities in different areas of the pitch.
COYW!!
This article was written with the aid of StrataData, which is property of Stratagem Technologies. StrataData powers the StrataBet Sports Trading Platform, in addition to StrataBet Premium Recommendations.