Andre-Frank Zambo Anguissa is quite the name for a new signing, but the young midfielder from Cameroon is an unknown quantity to many, so our man Jack J Collins reeled in a French football expert to give you the lowdown on what to expect from the big fella in the middle.
To answer the big questions about the fifth of Fulham's deadline day acquisitions, he turned to Peter Rutzler, who works for The i and Get French Football, where he regularly features on their podcast.
JC: Where does Anguissa play in the 6-8-10 that Fulham tend to have as a midfield three? Is he the holding midfielder Fulham have been crying out for?
PR: Anguissa is a defensive-minded central midfielder, known for using his striking physicality to protect the backline and force turnovers. It's often a reductive, throw-away comment to describe a player as purely 'physical' and 'imposing', but in Anguissa's case, this wouldn't be wide of the mark.
He is exceptionally strong and quick, and this made him an outstanding foil for Marseille during what was an impressive season. Coupled with this is an excellent ability to retain and recycle possession from deep, leading to Anguissa becoming one of the most assured central midfielders in France last year.
His idol is Yaya Toure, and there are comparisons to be made regarding his imposing stature, but I'd say in terms of game play, he's more of a Yaya without the goals. Both he and fellow Whites signing Jean Seri fit the label of a box-to-box midfielder, but unlike the former Nice midfielder, it's in defence where Anguissa operates best. With that in mind, you most certainly could say he is the midfield enforcer Fulham have been crying out for.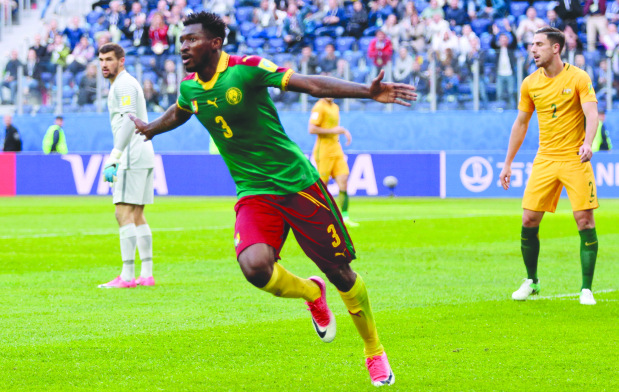 JC: Obviously, the first thing that comes to mind is that horrible mistouch against Atleti, but how good a season did he have overall last year?
PR: That mistake was gut-wrenching for Anguissa. He actually started the Europa League final against Atleti exceptionally well, appearing nerveless on the ball and helping Marseille to more or less control proceedings. But after that dreadful touch helped to gift Antoine Griezmann the opener, it was all downhill from there.
However, the fact he started that game reflects just how far he has come in such a short amount of time. Only Luiz Gustavo, a summer signing from Wolfsburg this time last year, played in more games during the last campaign than the Cameroon international, and this marked a clear departure, as he has gone from a player thought to be on the periphery at the Velodrome, to a key asset.
He did not start every game, it must be said, rotating his midfield role with the more creative Morgan Sanson and on occasion the diminutive Maxime Lopez. But in the big games, his defensive insurance was important, especially for Gustavo. The Brazilian was one of OM's best performers last season, and this was in part due to inclusion of Anguissa in the starting line-up, who offered him greater license to move up the field and effect play in the final third.
The best example of this came during OM's thrilling 2-2 draw against PSG, where Gustavo opened the scoring with brilliant long-range effort. OM had a brilliant season with a hugely disappointing finale. They were in the mix for a Champions League spot in the league and had the chance to win a European competition at the home of rivals Lyon. Neither happened, but the fact they reached that stage, with Anguissa playing a huge part in that, shows the midfielder's value.
JC: Mixed emotions from OM fans on Twitter–many seem happy about the money, but is this a vastly overinflated fee?
PR: In short, yes, it's a little inflated. Of course, this depends on what Fulham ultimately end up paying for him, but around £20 million should be the absolute maximum at this point. Anguissa was good last season, but he was not a standout name and nor is he the finished article yet by any means.
I think where Fulham will find value is that he fills a role that desperately needs filling. If he can adapt quickly, and that's a big if considering the struggles of Tiemoue Bakayoko, Florian Thauvin and others who have struggled to make the switch from French to English football, then he could well prove value for money.
JC: There's obviously huge potential—but just how much moulding will Fulham have to do to make him a Premier League quality player?
PR: With that all in mind, I think it's evident that Fulham may need to do some moulding this season. When Anguissa was released by Reims three years ago, before he was picked up by OM, it was felt he was not astute enough tactically. Since then, he has come on leaps and bounds, especially recently under OM manager Rudi Garcia, who has helped dispel that idea.
But it is still an area of his game that needs working on. The biggest challenge though, as touched upon, is adapting to the Premier League. Ligue 1 is a slower, more intricate division and the pace of the English top flight has taken many a French import by surprise. What works in his favour though is that physicality is one of his best assets.
JC: Overall a better deal for Fulham or Marseille?
PR: It's a tough one, but the French club perhaps edge it. Financially, the deal works better for OM. They look set to pick up £25 million with a couple of weeks to spend it, and for a player who has had more or less one successful, consistent, season in the French top flight, that is pretty good going.
But this is by no means a misstep by Fulham. He fills a void and brings European and international experience to the Whites midfield. He is also only 22, and therefore can be seen as a longer-term investment as well. If he can adapt quickly, he can be asset this season.