Whilst the Whites play their final game of the season up in Birmingham on Sunday, it's fair to say that there will be a fair amount of time when Whites' eyes will be fixed on South Wales. Our promotion rivals Cardiff play their final match of the season against Reading, knowing that 3 points will be enough to take them to the promised land of the Premier League.
What can we expect to see? Will Cardiff get the win that sends them up, or can Reading pull off an unlikely upset which guarantees their own safety? George Singer and Jack J Collins give you the lowdown on what we can expect at the Cardiff City Stadium!
Form Guide
Cardiff City Last Five
W: Hull City 0-2 Cardiff City
L: Derby County 3-1 Cardiff City
W: Cardiff City 2-1 Nottingham Forest
W: Norwich City 0-2 Cardiff City
L: Aston Villa 1-0 Cardiff City
Reading Last Five
L: Reading 0-4 Ipswich
L: Sheffield Wednesday 3-0 Reading
D: Reading 2-2 Sunderland
L: Fulham 1-0 Reading
W: Reading 1-0 Preston North End
Previous Fixtures
Dec 2017: Reading 2-2 Cardiff City
Jan 2017: Reading 2-1 Cardiff City
Aug 2016: Cardiff City 0-1 Reading
Mar 2016: Reading 1-1 Cardiff City
Nov 2015: Cardiff City 2-0 Reading
Permutations and Probabilities
So, the mission statement for the Whites is pretty simple this week: better Cardiff's result. However, what's the likelihood of this happening? I thought I'd take a look, using bookies' odds, and see if I could calculate a percentage chance of Fulham snatching second place: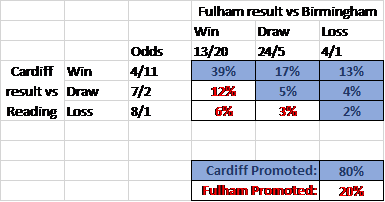 Bookies' odds can be translated into probabilities through a simple calculation. Therefore, assuming the bookies are right with their assessment, we have a way of finding the probability of each combination of results from both the games.
By totalling up the probabilies of scenarios where Fulham better Cardiff's result, we find that Fulham have about a 20% chance of ending the day in second place. It's therefore clear that Cardiff are rightly the clear favourites to end the day in 2nd place. However, this does put all the pressure on the Bluebirds. Will they be able to step up to the plate?
What are Reading playing for?
Reading have the advantage of having their own destiny in their hands. Due to their healthy goal difference, a draw will be enough to seal their place in the Championship for another year.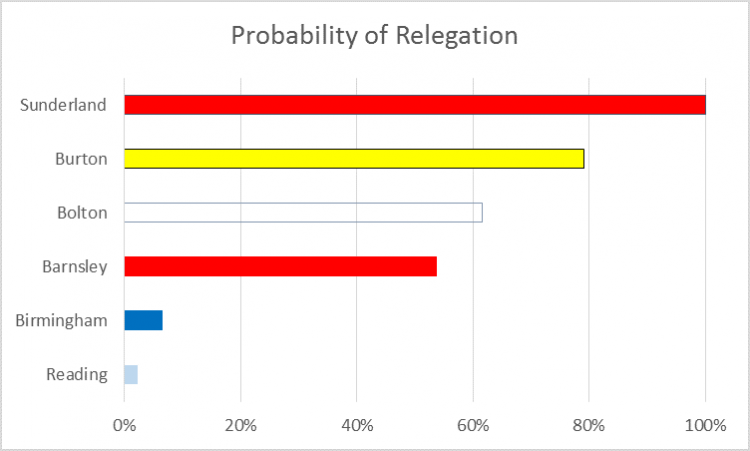 In truth, even if Reading do lose there will need to be an unexpected swing of results, where Barnsley, Bolton and Birmingham all pick up positive results. The 3 B's all have games against promotion chasing teams, and will go into the games as clear underdogs. In truth, it feels like Reading really should be safe, and I'd be hugely surprised if they end the day in the bottom 3. This is reflected in the Bookies' odds: giving Reading having a less than 5% chance of going down.
Who could make the difference for Reading?
For those not making the journey to St Andrews, many fans will have the Cardiff/Reading game on in the background. Who could prove to make the difference from Reading? Could it be one of our old boys?
Sone Aluko – God I hope this guy scores. Many Fulham fans, myself included, knew it was a 'head over heart' decision to sell Aluko this Summer – that transfer fee was simply too much to turn down. It's clear that he loved his time with us, and I'm sure our own situation will give him some motivation on Sunday.
There's no doubt he's struggled to make the same impact this season. He's scoring and assisting at half the rate he was last year, and unfortunately become the target of Reading fan's anger this year. However, he's a guaranteed starter, and should get a few chances to put the ball in the net. (GS)
Chris Martin – it's fair to say that Chrissy didn't endear himself to the White's faithful in his season on loan with us. After a promising start, he shocked us all by signing a contract with Derby – in an attempt to force a move back to play with (then manager) Steve McClaren. As we know, McClaren was subsequently sacked, and Martin fell out of favour with Rowett. Karma's a bitch, eh?
Since joining Reading on loan, Martin hasn't really set the world on fire. In 10 appearances (6 off the bench), he's only managed 1 goal. We know ourselves that he's the kind of player who appreciates a longer run in the team, however he's been unable to take the place of Bodvarsson up front.
It's unlikely Martin will start (he hasn't since March), however if Reading are chasing the game he'll likely be sent on as fresh legs with 20 minutes to go. We know ourselves that he can find the net when he's in the mood – the question is, what mood will he be in? (GS)
Mo Barrow – Probably the most likely source of a Reading goal. Their top scorer this season, he's been an instant success since his summer transfer from Swansea. He has serious pace, and clever with his feet, and a confident finisher. Despite playing out on the wing, he has a handy ability to be in the right place at the right time, with 9 of his 10 goals coming from just a few yards out. (GS)
Dave Edwards – Whilst Reading have been poor this season, there can be no doubt that their midfield three possesses quality. Fulham fans know all about Edwards, from his annoying habit of picking up goals almost every year against us, but he has struggled to carry his Wolves form into this Reading side. (JC)
John Swift & Liam Kelly – Swift and Kelly are both beloved by Reading fans, even in the midst of a bad year, with Kelly in particular a fan favourite as he came through the academy in Berkshire. On their day, both are excellent Championship midfielders, and if things are going to go right for Reading (and Fulham) on Sunday, the duo will be integral to any success. (JC)
Jon Dadi Bodvarsson – Another player who joined from Wolves last summer, Bodvarsson has done ok in a side which has struggled to create chances, picking up seven Championship goals and two assists, as well as a hat-trick in the FA Cup.  The Icelandic centre-forward has shown himself to be a handful, however, and if he pulls off a performance like he did in the first half against Fulham, he has enough about him to cause Cardiff's back-line some issues. (JC)
Overall
JC – Whilst the pervading hope remains that Reading can do a job for us and that Sone Aluko can provide the fairytale ending for Fulham, the likelihood remains that Cardiff are going to get the win they need to finally stop the speculation and get the job done.
We must hope that Reading's hammering last week and the public dressing down that they received from Paul Clement provides enough motivation for them to finish the season with some sort of pride intact. There's undoubted quality in their squad, and if Cardiff feel the pressure then there's a chance that they could be punished, but it's an outside chance at this point in time.
GS – I'd love to say that I fancy Reading to cause an upset, but the truth is I do think we'll end the day in 3rd place. Funnily enough, Reading's underlying data suggest they are playing about as well as they did last year, and their current league position is a much better reflection of their performances.
Even with a change of manager, conceding goals continues to be an issue for them. Whilst Cardiff may not be the most impressive attacking side in the league, they cause havoc with set pieces, and Reading are not known as a team that do well at defending them.
For me, it all comes down to the motivation of the players. If they go into the game, assuming & relying on their rivals slipping up, then they won't pose a challenge to Cardiff. If Clement can get them fired up, defend hard, and aim to sneak a point, it may well be Whites fans who end the day celebrating.
COYW!!