Nick MacNee interviews James Tippett, Brentford fan and author of "The Football Code", about the upcoming derby between the Whites and the Bees, Dean Smith and who to look out for on Saturday.
NM: James, thanks for joining me. How would you describe Brentford's season so far?
JT: Brentford's season started terribly. After eight matches, we were 22nd but since then it's been ups (Fulham at home) and downs (Derby away). I'd still say though that our performances have been better than what our position in the league table suggests, however. Having said that though, we've been incredibly lucky in our past few games to win three 1-0's in a row.
NM: You're four points behind Millwall and in tenth. However, they've got quite a tough set of games ahead of them. Do you think you can catch up to Millwall and make the playoffs?
JT: If results go our way, then yes we can. I think Saturday is a huge match for both Brentford and Fulham. It's a must win for both teams, it's live on Sky and fingers crossed that it'll be an absolute cracker.
NM: If this game ends in a draw, do you think it's all over for your playoff chances then?
JT: As I said before, it still would depend on other matches. If other results go away, I guess a draw would be fine but if not then probably no. However, our final three games after Fulham after easyish. We play Hull, Barnsley and QPR.
NM: I think Hull are pretty good and QPR is always tough thanks to the derby aspect, but you should be able to get at least six points from those games at the very least, I think.
JT: Yeah, but it's still all about being lucky at this stage of the season.
NM: I think 73 points is the benchmark for qualifying for the playoffs this season. That's, what, nine points away from you? Three wins?
JT: Yeah.
NM: Still possible with your fixtures. Anyway, your manager Dean Smith has been in the papers recently with heavy links to the West Brom job. Do you think that he would take that job if it was offered to him and would he thrive outside of Brentford… "system", should we call it?
JT: I don't know how much truth there is behind those West Brom links but obviously Brentford have their own system of recruitment – Dean Smith doesn't choose the players that we bring in. We have a whole stats team dedicated for that but he is a good man manager. When West Brom do come down, unless they offered him a giant budget, I think he would stay. I think he's happy at Brentford.
NM: But if he did go, how do you think he would do at the Baggies? I mean it would probably be his first real opportunity to be in a job where there's a good chance that he would have some money to spend as well as the freedom of choosing who he wants to bring in. Obviously at Brentford, he doesn't have anything to do with transfers, he's the head coach and at Walsall, they had no money to spend…
JT: Again, it's hard to say and you'd probably have to refer back to his Walsall days I think for anything on how he can do in the market. If I remember correctly, he brought through Tom Bradshaw from Shrewsbury, our own Romaine Sawyers on a free from West Brom, Rico Henry in their youth system… We'll have to see. I still think he'll stay at Brentford however.
NM: I've also noticed that under Smith, there's been a bit of regression in the league table since you finished fifth under Mark Warburton. I think it was tenth and eleventh in the past two seasons and currently tenth at the moment. Are you not slightly worried that after such a good first season, you're regressing into Championship mid-table mediocrity?
JT: No, not at all. I actually think that we were quite lucky to get into the playoffs. After that, we came ninth and tenth and now we're top ten again. Considering that we have the budget of a bottom three team, we're doing incredibly well. I don't think we've regressed at all. I think our squad has got stronger year upon year and we're currently operating at a loss every year trying to maintain Griffin Park, so we're just waiting for that new stadium, new income to come through and push on.
NM: Well, we're going to go back to a painful time for Fulham fans, where we lost 3-1 at Griffin Park on December 2nd. Romaine Sawyers and Ollie Watkins were excellent that day and Fulham will definitely be wary of their threat this time around. In terms of other players though, who should Fulham watch out for on Saturday?
JT: Neal Maupay, our striker, has had an on and off season but he's been scoring quite a few recently.
NM: Yeah, I went to your game at Bristol City and he scored there.
JT: Sure. Ryan Woods is coming back from a three game suspension and he will most likely be put straight back into the lineup. He's a bit like your Kevin McDonald, only half the size and ginger. Florian Jozefzoon, our quick winger, should also be back. We haven't conceded in the past 300 minutes of football so our defence has also been pretty solid.
NM: Yeah, three straight 1-0 wins, as you said. If it consoles you, Fulham have kept four straight clean sheets. Knowing our luck now, the game will finish 0-0. Ok, last one from me – lineup and score prediction?
JT: It's got to be Dan Bentley in goal. Yoann Barbet at left back. If it was me, I'd play Chris Mepham and Andreas Bjelland at CB but knowing Smith, it'll be Bjelland and John Egan. He'll play Dalsgaard at right back. Woods, Josh McEachran, Sawyers in the middle of the park and then Jozefzoon, Maupay and Ollie Watkins up top.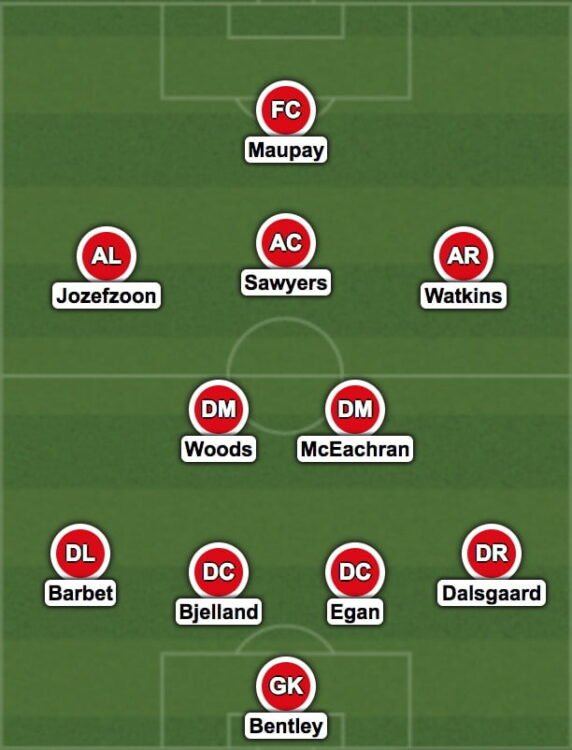 NM: Score prediction?
JT: Erm… 1-0 Fulham.
NM: There'll definitely be more than one goal. I think it'll be 3-2 to us. All out attack from both teams.
JT: You say that but our attack has been rubbish in my opinion recently. Maupay scored a deflection against Bristol City, it was a cheap penalty against Ipswich and then we scored from our only good chance against Nottingham Forest.
NM: Well, we'll have to see. At the very least, you haven't named Alan Judge in your lineup. I still have nightmares about that stupid game and his free kicks.
JT: Yeah, I heard Jota is coming back on loan to us just for Saturday's game. Judge is a strange one. He's back but he wasn't named in the eighteen against Forest. He's a doubt for Saturday, I think.
NM: Good stuff. Thanks for talking to me, James.