Nick MacNee salutes Aleksandar Mitrovic and the other January transfer window arrivals while also briefly previewing Fulham's final nine games and the QPR derby game on Saturday.
So much for that "six game slate" – Fulham were presented with what appeared to be a difficult stretch of games, consisting of rivals both for the automatic and play-off spots. They didn't just storm through them, they laid waste to all of them, leaving carnage in their wake. The Whites have been brilliant and it's no secret why: they went for it in the January market and it has reaped wonders for the team.
Credit should go to the Khans, the transfer team and Jokanovic. The three signings Fulham have pulled off look to be masterstrokes. In Targett, Fulham have the left back they've been looking for since, well, Paul Konchesky left. Targett just personifies calmness at a position where Fulham have struggled for so long. His defensive qualities have instantly locked up an area where Fulham's opponents thrived in the first half of the season and already formed an excellent understanding with Sessegnon on the left hand side. Cyrus Christie, who was unfortunate to have his second assist for Fulham taken away from him at Preston, looks just as good as Fredericks does at right back and certainly raises an interesting conundrum with Freddo's contract up in the summer.
And of course, we have the Beast from the East.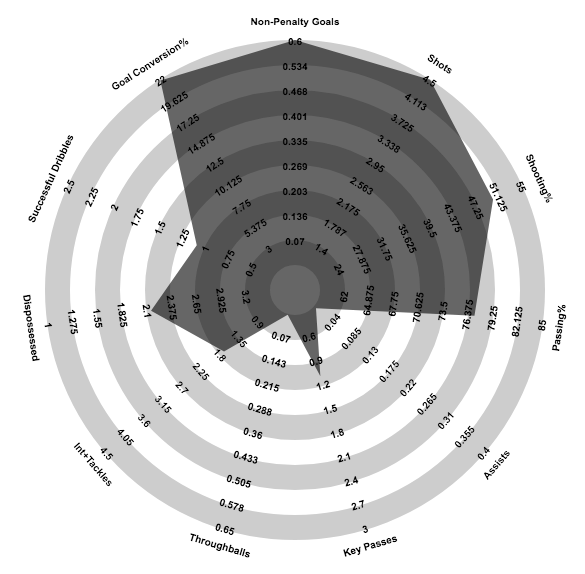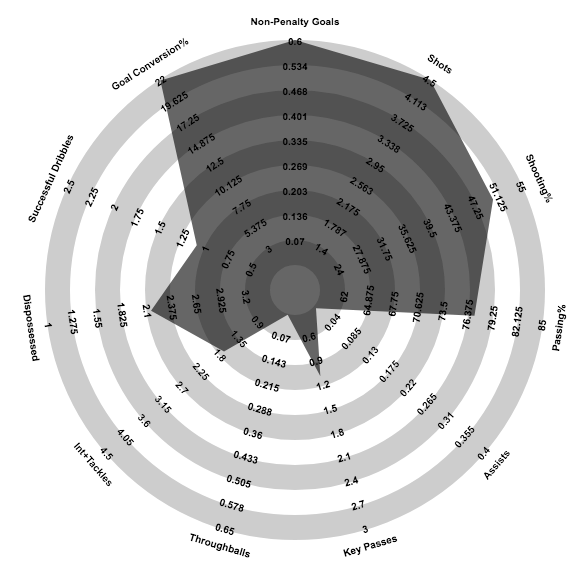 In Mitrovic, Fulham finally have the striker they've been looking for that fits Jokanovic's system. A cool finisher, a physical presence and viable in the air. He already matched Abou Kamara's total for the season in half as many minutes and loves playing for the club. With nine games remaining, you wouldn't bet him reaching 15 goals for the season, would you?
The Final Nine
There's still plenty of work to be done however, especially if Fulham have aspirations for the second automatic spot. I say second as I still think it's highly unlikely that Wolves will drop out of first. After all, they're likely to gain another three points with Burton visiting Molineux and maintain at 10-11 points gap over third place.
I've been posting on Twitter lately the schedule difficulty (ranked using average expected goal differential) for every team that I consider to be contending for a playoff spot at the very least and this week's incarnation is relatively surprising.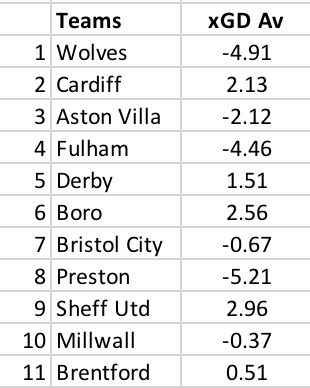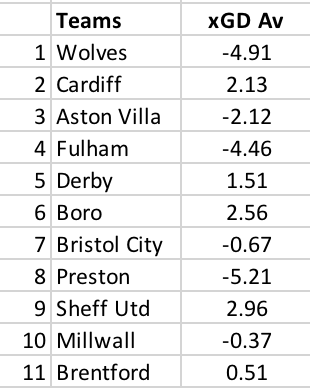 Of all the teams in positions 1-11, only two teams have an easier schedule for Fulham: Wolves and Preston. Cardiff have the hardest schedule out of the three teams contending for second and it's not hard to see why. Despite an impressive win over Brentford, four of their next five games can still be described as daunting: Derby (A), Burton, Sheffield Utd (A), Wolves and Villa (A). Aside from the "gimme" game against Burton, it's hard to see Cardiff keeping up their perfect form against all of those teams, although stranger things have happened in football.
Despite shockingly losing against QPR midweek, Villa have four games before that Cardiff home game that can only be described as "soft": Bolton, Hull, Reading and Norwich. Even with a one point gap, it really wouldn't come much as a surprise to me if they won all of those games and stay ahead of Fulham for now.
So what kind of target are we aiming for Fulham in terms of points return? For starters, during that infamous run last season, Fulham got 19 points from their last 9 to claw 6th place away from Leeds. A repeat of the same feat would get Fulham to 87 points, a good total but probably not enough for second. Nate Silver's FiveThirtyEight currently have Cardiff forecasted to finish with 91 points for second, about 8 wins away from Fulham's 68. With Cardiff's upcoming touch schedule, it's certainly possible that that target regresses to around about 89 points, which would leave the Whites needing to get about seven wins or 21 points.
How do they go about hitting this? Well for starters, they have to win all their remaining home games. Fulham have done a brilliant job at home in the league in 2018, having only conceded one goal at Craven Cottage, while scoring 19 in that same time. It's certainly a doable feat, especially when you consider who Fulham have to play. After QPR, they face Leeds, Reading, Brentford and Sunderland. Of course, Fulham have had their troubles with Brentford at the Cottage over the years but there is certainly no reason why they can't get revenge for their defeat in December over the Bees, while the other three sides are seemingly entrenched in their own crises at the moment. The away games are the sticking point for Fulham however. Even if they are to win all their home games, getting two wins from the likes of Norwich, Sheffield Wednesday, Millwall and Birmingham is no easy feat but possible.
Ultimately, it will still come down to our the performance of our rivals and whether they can keep it up or not. Jokanovic knows though that if our rivals are to slip up, Fulham need to be in a position where they can capitalise off it so that they can overtake them simply through winning. Unlike last year, the squad isn't looking at results around them hoping things go their way to hit the playoffs. They are solely looking at their own performances and getting results. That's why they must kick off this "final nine" with a derby win on the Sky cameras over QPR.
A brief look at QPR
No derby game is easy, regardless of the difference in the quality of squad. You only have to look at the Merseyside derby in the 90s. Blessed with talent of the likes of Robbie Fowler, Steve McManaman, Jamie Redknapp and Michael Owen, Liverpool routinely struggled with an Everton side that was constantly battling with relegation. Indeed, Liverpool in that decade were excellent against their competitors for the title but struggled with the so-called "easy teams". Doesn't that sound familiar?
While Saturday's derby game might not have the prestige of the Merseyside derby, the point still stands. Fulham need to stamp their authority on these "gimmes" and show to the league that they mean far more business this time around. This Fulham squad are blessed with much more talent than their hooped neighbours but they simply need to get it done to stay focused on their mission.
That's not to say QPR are completely lacking talent though. Ian Holloway has built almost a bootleg version of our midfield trio in Josh Scowen, Massimo Luongo and Luke Freeman. The latter especially impressed in the previous game in September and was linked with Fulham in January should Cairney were to leave but unsurprisingly, nothing happened. Jack Robinson has been a pleasant surprise for Rangers at CB and, despite being unfortunate with the own goal, I thought had a good game as well in late September.
But it has still been a poor season for Rangers. Despite their win on Tuesday night over Aston Villa, they are tied for the third worst away record in the league with Hull. Even perennially doomed Sunderland have taken more points away from home than Rangers. Furthermore, QPR didn't bring anyone in during the January window, rather opting to bring back some of their young talent that they loaned out while fan strife still surrounds management both on and off the pitch.
Three Points Minimum
Regardless, Saturday will still be a tough game. After all, we only have to see the Aston Villa game midweek (which our manager was at, funnily enough) to know that Fulham can't afford to be complacent here and think they'll get the three points by just turning up. There's also that annoying "Holloway factor". You know he'll urge them to get physical and to foul the likes of Cairney, annoy Fredericks, Mitro and Johansen, etc. Get them to play all the dirty tricks in the books as so many teams have done to us over the course of the season.
Fulham are well rested though and will be desperate to go into the international break with a double over their local rivals secured and hopefully a smaller gap to second place. The squad and management know the importance of a derby win both on the table and for their fans. If they put in the performances like they've able to at home recently, then there is no reason why they can't swat aside Rangers. But they must be wary, for anything less than three points would surely spell the end of their automatic promotion hopes.
Jokanovic has orchestrated a marvellous turnaround and put Fulham in a prime position to succeed. It is now all done to him and his team to see us through the final stages. COYW.