Nick MacNee looks at the metrics and analytics behind the late moves for Aleksandar Mitrović and Cyrus Christie, whilst providing his thoughts on Fulham's Deadline Day business.
Fulham signalled their intentions last night as they pushed through two deals in the dying hours of Wednesday night in the form of Cyrus Christie on a permanent transfer from Middlesbrough and Aleksandar Mitrović on loan from Newcastle United. Both have experience in the Championship while still relatively young at 25 and 23 respectively.
To say that no-one saw this coming is an understatement. In all honesty, I'd thought Fulham had filled their strongest need in Matt Targett coming in at left back, to move Ryan Sessegnon up the pitch, and that it was unlikely Fulham would do much more due to the machinations of the January window and the often stated increased pricing and desperation that most football clubs have at this time of the window.
Yet credit has to go to Tony Khan and the transfer team here, they bided their time and waited for the right player at the right price to become available and profitted from events that swayed in their favour in a ruthless manner. Christie falling out of favour under Pulis and Mitrović's deal with Anderlecht falling through allowed them to sweep two high quality players from under their rivals' noses.
So what can we expect from them?
Cyrus Christie
I've long had an appreciation for Cyrus Christie and spoke of him as an alternative to Ryan Fredericks when rumours were persisting in the summer about a potential move for Freddo. Of course, Ryan stayed and Christie joined Garry Monk at Boro, notably scoring against us in September (in what was both a fluky and horror goal for the Whites to concede).
With Monk's sacking and Pulis' arrival, it was probably not much surprise to the outside fan to see him immediately throw Ryan Shotton, who he had worked with at Stoke in the Rory Delap era of long throws, back into the fray in place of Christie.
Christie's attacking prowess is well known in the Championship. Able to use both feet, he has got a really good cross on him, something that a Mitrović type could easily get their head on if Christie's crosses are consistent. Take this cross against QPR using his left foot.
Defensively, Christie has struggled at times and doesn't boast the most impressive defensive numbers. Even when adjusted for Boro's slightly above average possession numbers (51%), Christie doesn't exactly set the world on fire. While it's hard to expect Cafu-esque defensive displays from any full back in an extremely attack minded system like Fulham's, it does raise a small level of concern.
I say small, as his dribbled past % (as illustrated in his Boro radar below) is quite low, showing that when in the right positions, he is likely able to make a tackle against a tricky winger, an area where Fredericks has struggled at times (Ivan Cavaleiro is still giving him nightmares to this day).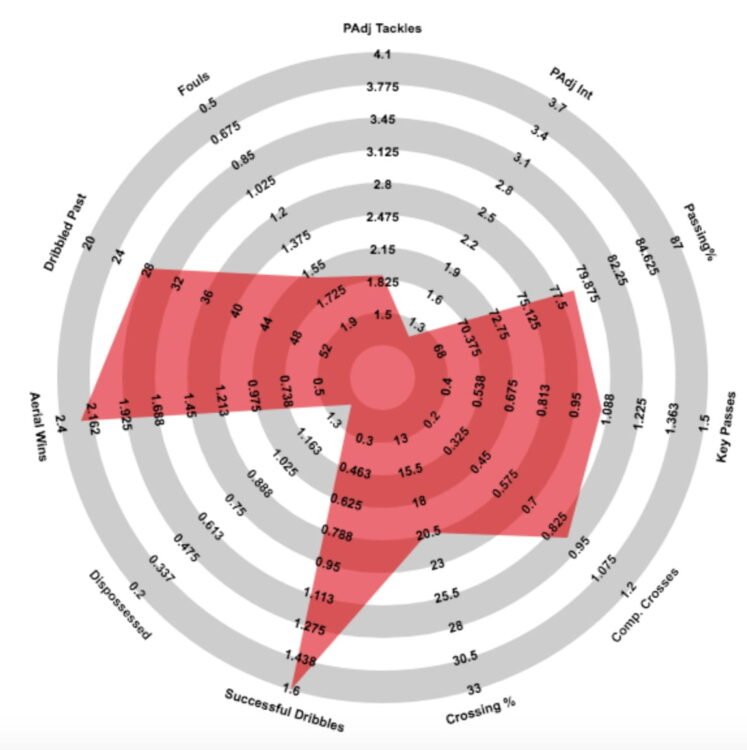 In truth, Christie's season at Boro has been a disappointment for him. His attacking numbers as a full back under Monk were still good but nowhere near the levels that he reached under Steve McClaren and Gary Rowett at Derby last season (see below).
I would hope that with a return to an attack-minded system and much more responsibility placed on the full back to create, that Christie would be able to return to producing such an impressive attacking output.
After all, 1.72 key passes per 90 for a full back is a ridiculous figure and easily worth the £3m Fulham forked out if he can keep that up consistently. Whether he can displace Ryan Fredericks is another question, however.
Aleksandar Mitrović
Familiar to most people, Aleks Mitrović arrives at Fulham with a brash reputation to say the least. After a surprisingly effective initial season in the Premier League when he joined under Steve McClaren, Mitrović has slowly fallen out of Rafa Benitez's favour since relegation and only played 1211 minutes (just under 13.5 90's), including just 89 minutes this season. He also comes with a point to prove both to Benitez and the Serbian national team, especially with the World Cup coming up.
It's easy to fit Mitrović into the target man category, an area where Fulham have been lacking in since Chris Martin went on strike, but he can certainly contribute on the ground. Mitrović, like Martin, knows how to use his body to ward off defenders and bring others into play… while also not completely melting down when shown an open goal (Yes, I'm still bitter about that QPR game).
Oh, he also takes shots. Lots and lots of shots.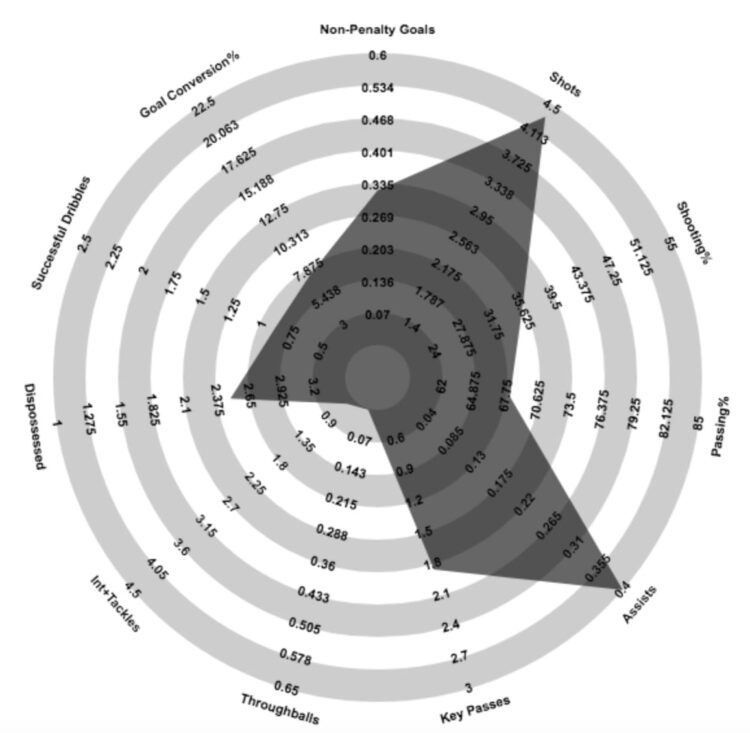 While the radar may not appear particularly impressive or full, this is largely down to how many shots Mitrović took when he was on the pitch. Per 90, Mitrović took a whopping 4.33 shots per 90, topping the shots per 90 leaderboard last season (for players who played more than 1000 minutes) and a whole 1.2 shots more than Fulham's top shot churner himself, Sone Aluko, last season.
The shot locations were also far better than the Nigerian took last year, although they admittedly play in different positions. Of the 54 shots the Serbian took last year, 46 of them were inside the penalty area or six yard box, a ridiculous figure. That Fulham love to take shots in the penalty area can only be a huge bonus for Mitrović and where he fits into this team.
With regards to expected goals, he averaged a huge figure of 0.50xG per 90 last season, far superior compared to the likes of Fonte (0.22) and Kamara (0.41). Having a striker who takes shots from good areas can only be a positive for Fulham!
To address the elephant in the room, while the Serbian is known for having disciplinary issues and not getting on with managers, I personally don't have much reason to be concerned. Mitro himself has already spoken of his relationship with Jokanovic, citing the Serbian manager as a big reason to come here, which says plenty about the respect he has for him.
While Jokanovic is certainly a stubborn manager at times, he is definitely well versed in handling players' egos, only evidenced in the Chris Martin fiasco last year by persuading the player to return to the squad and that his career was best served at Fulham. I have no doubt that Jokanovic, a passionate man himself, will be able to rein in and handle Mitrovic's rare cases of aggression and passion…
Although I wouldn't mind seeing the striker wind up John Terry when we play Aston Villa later in the month.
Final Thoughts
In Mitrović, Fulham finally have an assured starting striker who is more than capable of firing in the goals that Fulham will need to reach the Premier League, whether that is through the automatic spots or the playoffs. I would assume that he'll feature from the subs bench on Saturday against Forest and Bolton to build up his match fitness before we eventually see him in full flow against the daunting 6 game stretch against the likes of Villa, Bristol City, etc.
From then on, my best guess is that Jokanovic will feature him in the starting XI from time to time depending on the opponent. Nevertheless, Mitrović is an exciting addition and one that bodes well for the club.
Christie presents a much more interesting conundrum, both now and in the future. His arrival virtually assures Denis Odoi of the backup CB spot in the Chris Baird utility player role whilst also clouding Ryan Fredericks' near future at the club. Fredericks, despite a slow start, has come on massively in this good run and has looked almost dominant at times.
Christie's arrival either signifies that Fulham don't think they can renew RF's contract and have acted in advance to get a replacement, regardless of which division Fulham are in next year, or they don't want Fredericks to get complacent and have brought in a high reputational player to keep up his play… or both.
Either way, there's a lot of scenarios in play but I don't blame Fulham for erring on the side of caution and getting a replacement/addition that they were happy with.
Fulham have done well in the January window and garnered themselves increased depth. The next few games however will decide whether Fulham's season will sink or swim. COYW.