In the latest edition of Before The Whistle, George Singer takes a look at the upcoming visit of Premier League stalwarts Southampton in the FA Cup Third Round, and envisages what Fulham have to do if they're to beat their top-flight opposition.
Southampton's Recent Results
L: Southampton 1-2 Crystal Palace
D: Man Utd 0-0 Southampton
L: Tottenham 5-2 Southampton
D: Southampton 1-1 Huddersfield
L: Chelsea 1-0 Southampton
Recent Meetings
February 2013: Fulham 0-3 Southampton
October 2013: Southampton 2-0 Fulham
December 2012: Fulham 1-1 Southampton
October 2012: Southampton 2-2 Fulham
Match Odds
Fulham: 9/5
Draw: 12/5
Southampton: 7/5
---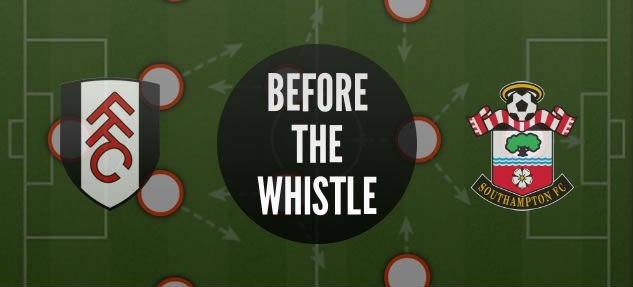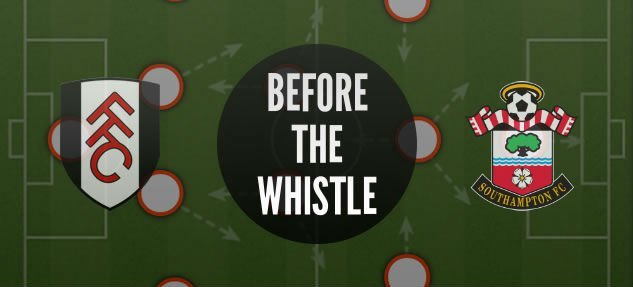 Hello and welcome to another edition of Before the Whistle! Today I take a look at our FA Cup 3rd round opponents Southampton – and give some pointers about what to look out for from our Premier League opposition.
Since promotion to the Premier League 5 years ago, Southampton have been run as a model club. Through innovative and strategic planning, with a constant focus on the long term quality of the team, they have steadily and sustainably transformed into a comfortable top half team.
One of the main parts of this is blueprint is their resourceful transfer policy. Their large recruitment team (which includes their Head Coach) purchases young players with high potential.
The coach then focuses on developing these players, and finally the recruitment team then sells them on at the peak of their value. The profit they make on these players then gets re-invested into more promising youngsters, and the cycle continues.
A whopping £60m being made on the sale of Virgil Van Dijk is a perfect example of this. With this sustainable process in place, you'd expect they should continue to lead the midfield pack in the Premier League for years to come.
However, this season has seen an unexpected dip in form. Mauricio Pellegrino has struggled to deliver results for Southampton, and they currently find themselves down in 17th place.
They are on a run of 9 Premier League games without a win, and have only won once away from home this season. So what's happened to them as a team?
Why are Southampton failing to score?

The generation of chances hasn't been an issue for Southampton this year. If you look at the shots on goal they've had, the Saints look like a comfortable mid-table team.
They average 12 shots, and 1.4xG, per game – a healthy volume of chances. However, their problem has been translating these into goals. They have scored less than once per game, so why are they not putting away their chances?
Southampton's goal scorers – a one man show
As seen above, Charlie Austin has been the key performer for Southampton this season. Putting the ball in the back of the net has always been one of his strengths, scoring plenty up and down the English leagues. He currently has the highest xG per 90 in the Premier League so far, even above headline-grabbing Harry Kane.
However, injury has halted his scoring run this season. Austin has only played about 6 and a half games for Southampton, and he won't be back on the pitch until February. When he's been injured, Southampton are really struggling to find a striker who can put away chances into the back of the net.
For instance, Austin's deputy Shane Long only managed to open his account last weekend, scoring his first goal in 900 minutes of football. Gabbiadini has also struggled to recreate the strong form he found when he first joined the team.
So there's no doubt that with Austin still injured, and the team in poor form, this is the perfect time to play a toothless Southampton team.
However, they do have plenty of Premier League quality players, and we will clearly need to be well prepared if we want to earn a shock win. So where are Southampton likely to attack from? What do Fulham need to look out for?
A left-wing attack
Southampton have created most of their chances through attacks down the wing, and putting crosses into the box for a striker (like Austin) to poach. They average 21 crosses per game, the 4th most in the Premier League, with most of these coming from the left hand side:
In the above graphic, I've categorised similar chances created by Southampton, and picked the most common combinations. You can see that the most common attacks created are balls into the middle of the box from the left wing. Coming from either from the touchline, from deep, or inside the box, Southampton's favourite way to create chances is quite clear.
Southampton tend to rotate their wingers, so it'll likely be either Boufal or a returning Redmond playing on the left wing. Even with their injuries, Pellegrino has promised to play his "best 11 to win this game". Therefore, Fulham will need to prepare for strong wing play, and accurate crosses onto the head of their striker.
Notes for Slav
It's a pretty basic 'notes for Slav' section this week. My advice for Slav would simply be to prepare for crosses being pumped into the box. Whilst we may see some small rotation to the Saints team, it's unlikely they will fundamentally change their style of play.
Depending on the which wingers and fullbacks play, we may see more of a shift on which wing they tend to attack down, however providing cover for our own fullbacks is going to be key in keeping the Saints from knocking at our door.
This article was written with the aid of StrataData, which is property of Stratagem Technologies. StrataData powers the StrataBet Sports Trading Platform, in addition to StrataBet Premium Recommendations.