Fulham host Ipswich at the Cottage on Tuesday night, hoping to round off a hugely successful Christmas period. To give you a breakdown of what you can expect from our opponents tonight, it's George Singer with another Before The Whistle preview.
Ipswich's Recent Results
L: Ipswich 1-2 Derby
D: Ipswich 0-0 QPR
L: Wolves 1-0 Ipswich
W: Ipswich 2-0 Reading
L: Middlesbrough 2-0 Ipswich
Recent Meetings
August 2017: Ipswich 0-2 Fulham
April 2017: Fulham 3-1 Ipswich
December 2016: Ipswich 0-2 Fulham
April 2016: Ipswich 1-1 Fulham
Match Odds
Fulham: 12/25
Draw: 10/3
Ipswich: 27/5
---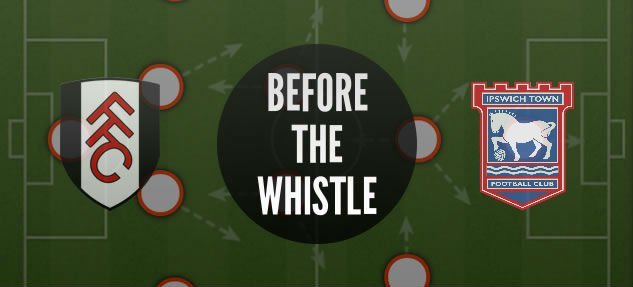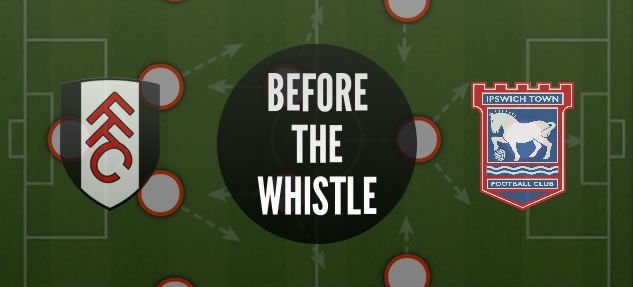 Hello and welcome to another edition of Before the Whistle! Today I take a look at our next visitors to the Cottage, Ipswich Town, and what Slav needs to look out for in our attempt to do the double over the Tractor Boys.
Earlier in the season, Fulham pulled one of their best performances out of the bag when they travelled to Portman road. At the time, Ipswich had a perfect record, and went into the game aiming to continue their great form against a Fulham side who were yet to win.
A strong performance from the Whites brought the 3 points back to South West London. Cairney was able to pull the strings in midfield, and Fonte topped off a strong performance by getting his only goal of the season so far. When the final whistle blew, the win never really felt in doubt.
Since the game, Ipswich's form has slowly dropped off, and the Blues have fallen out of playoff contention. They now find themselves in midtable mediocrity, sitting on the same points as the Whites. So, what can the data tell us about their underlying performances? Are they likely to recreate their early form, or continue to fall down the table?
Ipswich are overperforming expected goals
The data is suggesting that Ipswich have been pretty lucky with their scoring so far this season:
According to the expected goals method, Ipswich have scored 10 goals more than expected. Whilst good finishing has a role to play here, especially from set pieces, their xG per game is the 5th worst in the league. This suggests that they've been lucky to score as many as they have, and if they keep shooting the way they are they're likely to regress to the lower half of the table.
Whilst Ipswich may be over-performing their expected values, and are likely to score less regularly in the long term, who has been putting the ball in the back of the net for them? Who do Fulham need to look out for?
Ipswich's attack – evenly divided between the forwards
The above graphic shows that Ipswich's attacks tend to be focussed through 3 of their front men: Celina, Waghorn and McGoldrick. Since moving to a 4-2-3-1 formation, Mick McCarthy has rotated his attackers, with a combination of these 3 behind a target man in Joe Garner.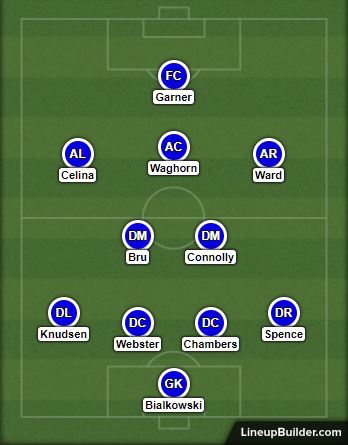 How are the strikers being supplied?
Most of Ipswich's attacks come through play down the wing, or from set pieces. In fact- Ipswich have scored the most goals per game from set pieces in the league, so this is clearly something Fulham will need to prepare for.
Fulham will also need to look out for Ipswich's left back – Jonas Knudsen. The Dane has assisted 6 so far this season, being a havoc with crossed played in from the left hand side.
Notes to Slav
So, to summarise, what would my notes to Slav be this week?
Ipswich's lineup will rotate, however we're likely to see a combination of Waghorn, Celina and McGoldrick behind Joe Garner
Run drills for defending set pieces in training
Watch for the overlap of Knudsen on the left wing, who is likely to create chances with crosses into the box
This article was written with the aid of StrataData, which is property of Stratagem Technologies. StrataData powers the StrataBet Sports Trading Platform, in addition to StrataBet Premium Recommendations.