Fulham take on the Tykes at the weekend, hoping for a result and performance that would rekindle some faith and passion in the Whites faithful. Our man George Singer is as ever, on the case of how best to make that happen.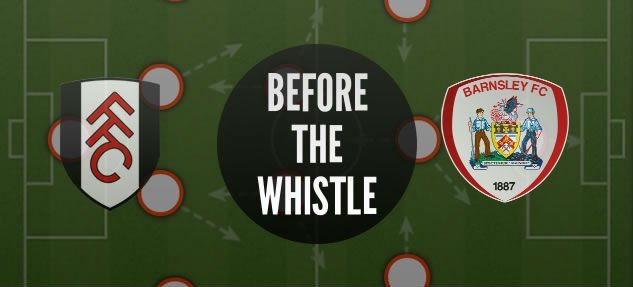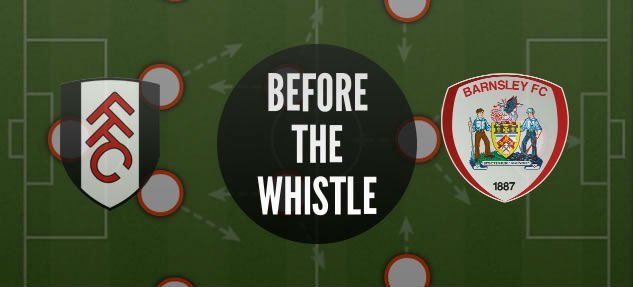 Hello and welcome to another edition of Before the Whistle! Today I take a look into our next visitors to the Cottage Barnsley, and what we can expect to see from the Reds.
Over the last couple of years…
Since their play-off victory over Millwall in 2016, Barnsley have had a pretty steady time back in the second tier of English football.
An impressive start last season helped Barnsley hit the ground running in the Championship. In particular, Sam Winnall was a key man, scoring 11 in 22 games. This meant that Barnsley went into the new year as genuine playoff contenders.
However, in the January transfer window, and other windows since, they have lost the spine of this impressive team. They've have struggled to replace these key men and hit the same initial heights. Well known Championship names have moved on to other teams in the league: James Bree and Hourihane moved to Villa, Marc Roberts moved to Birmingham, and Winnall went to Sheffield Wednesday.
So far this season
In recent news, Barnsley have been taken over by Chinese Billionaire Chien Lee. However, more interestingly, is that Billy Beane (of Moneyball fame with Oakland A's) has joined the project. Sure to follow is another team attempting to embed statistical analysis into the club and recreate the success had by the A's in baseball. Whilst they're certainly not alone in attempting this, Beane's pedigree with using data in sport is incredibly well regarded, and it will be really interesting to watch Barnsley's progress from afar.
However, more pressing in the short term, are Barnsley's performances so far this season. After a mixed start, Barnsley have hit a terrible run of form. They've gone 7 games without a win, including 5 losses. This has left them hovering precariously above the relegation zone, down in 20th place.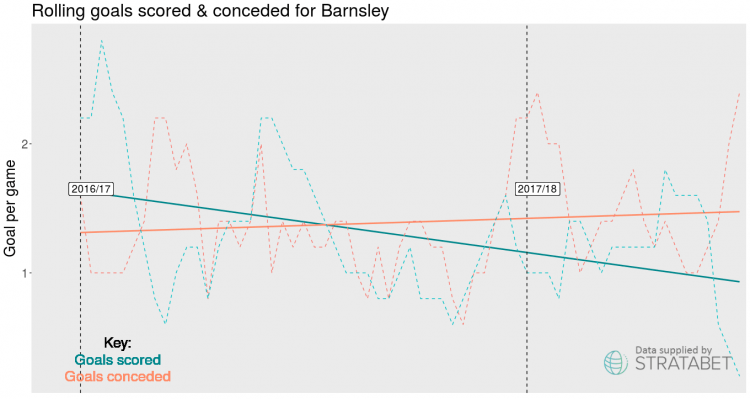 As seen in the graphic above, Barnsley recent goal figures have suffered a major swing– in completely the wrong way. Goals scored have collapsed, whilst goals conceded have shot up.
In the last 7 games, they've conceded 13 goals – a scarily high number. Whilst expected goals suggest they are unlucky to have conceded as many as their have (xG conceded is less than 6) there's no doubt that this is a good time to play the reds. If we can get an early lead, their heads may drop. However, with new owners coming in, players may want to step up to prove their worth.
Barnsley in attack
There's no doubt about it – Barnsley are a side that like to play direct football. Any chance they get the ball, they will run forward with the ball or play it long.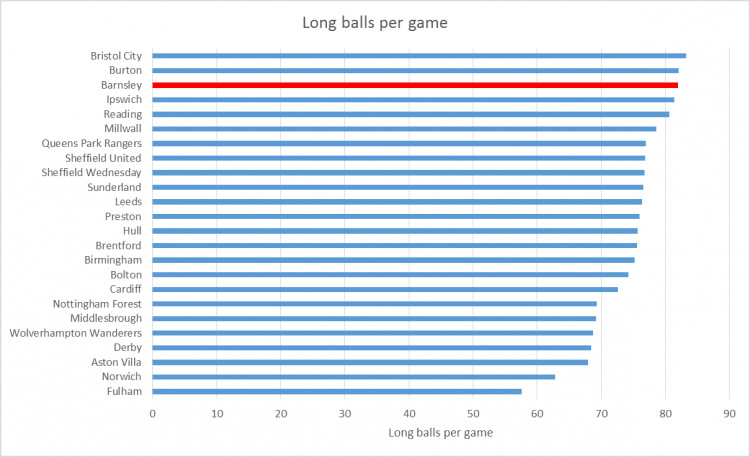 Compared to last year, Barnsley have increased their long balls per game by more than 10%. Since losing high quality players over multiple transfer windows, the team have clearly had to move to a different style of play.
Barnsley also favour attacking down the right hand side of the pitch, with nearly half of attacks coming from this side. Fulham will need to look out for the diagonal ball to Adam Hammill – a common tactic played by the Reds.
As with any opposition who look to move the ball forward quickly, we will need to ensure we have people who can get back quickly behind the ball to defend. In particular, covering at left back is going to be key. If our left back runs forward, without tracking back, we could leave too much space free and shoot ourselves in the foot.
Barnsley weaknesses
After reviewing highlights of recent matches, it seems there's a clear area Barnsley need to improve on: defending attacks against their left back.

The above graphic shows open play chances created by the opposition across Barnsley's winless streak. You can see that the majority of chances, and goals, have been created centrally or on the opposition's right wing.
Here are a couple of examples of teams making the most of poor marking. Goals below are scored by Bolton – helping them earn a rare win:
In both cases, Bolton's right back was able to find plenty of space on the flank to create chances. Barnsley's left mid and left wing defensive combination is a clear weakness, and one Fulham should look at attacking through direct runs down the channel.
So how could Fulham line up?
Whilst predicting a Fulham lineup recently is frankly impossible, I'd probably go with something like this: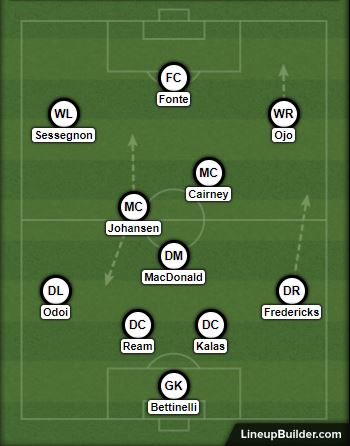 Fredericks and Ojo would be a great combination to capitalise on a weak Barnsley left flank. Their direct running should create lots of opportunities to get space in the box, and create crossing opportunities for an out and out striker
For many reasons, I'd like to see Sess move up to the wing. However, as Odoi is more restraint in attack, and is less likely to leave gaps for Barnsley, this gives extra reason to push Sess forward
Dropping StefJo to his best role as a box-to-box CM will be vital to help deal with Barnsley's quick break. In particular, we'll need to us his speed in getting back to help cover the left flank
This article was written with the aid of StrataData, which is property of Stratagem Technologies. StrataData powers the StrataBet Sports Trading Platform, in addition to StrataBet Premium Recommendations.