Before the Whistle: Set-Piece Setbacks
Written by George Singer on 15th November 2017
With this week being an international break, giving Fulham a much needed intermission after a run of terrible results, I wanted to turn the statistical spotlight on the Whites.
One of the things that I often hear from Fulham fans, is "We're really terrible at set pieces". My response to this, has always been one of two things. Firstly, if you only watch Fulham live, how do you know that we're really bad compared to everyone else?
Secondly, as with every type of attack, the likelihood of a team scoring from a set piece is pretty low (for instance, only ~2% of corners result in a goal). So if you see a game where we have 10 corners, we still shouldn't expect to score from any of them.
So, I thought I'd take a look into the data to see whether we can prove Fulham fans right or wrong.
Why should teams care about set pieces?
So before we go into whether or not Fulham are strong at set pieces, it's worth giving a quick review about why football teams really should care about set pieces.
1. Getting set pieces right can transform a relegation team into a top half one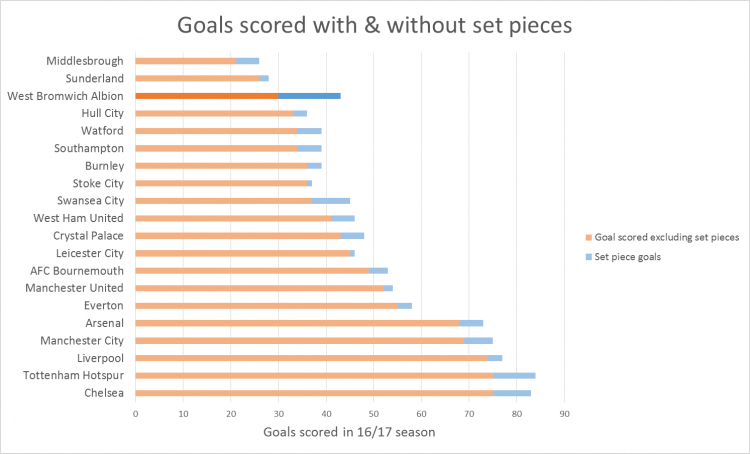 Take a look at West Brom in the above chart. The Baggies, managed by Tony Pulis, are really good at set pieces. Yeah I know, I know, in other news, water is wet. However, what's interesting is just how many of their goals that come from them – they make up about 30% of their goals.
If set pieces goals didn't count in football, West Brom would have been in the bottom 3 for goals scored – along with 2 of the relegated sides.
In the end of the season, they finished in the top half of the table – all thanks to taking set pieces seriously.
2. Set piece goals are (relatively) cheap
In football, scoring goals is valuable. Scoring lots of goals is really valuable, and the transfer market is aware of this. Prices for top quality finishers are high, and the difference between a signing 15-a-season striker (Benteke) and a 20-a-season striker (Aguero) is tens of millions of pounds.
Compared to this, transforming a team to become good at finishing set piece goals is much cheaper. What does it cost? Good coaching, and hard work on the training field, and not a lot more.
Set pieces are still a hugely underrated and undervalued way of creating goals in football. Only a handful of top teams in leagues really take them seriously. Atletico Madrid, and for you moneyball nerds out there FC Midtjylland, have famously used set piece goals to great effect to win their respective leagues – giving them a competitive edge over their opponents.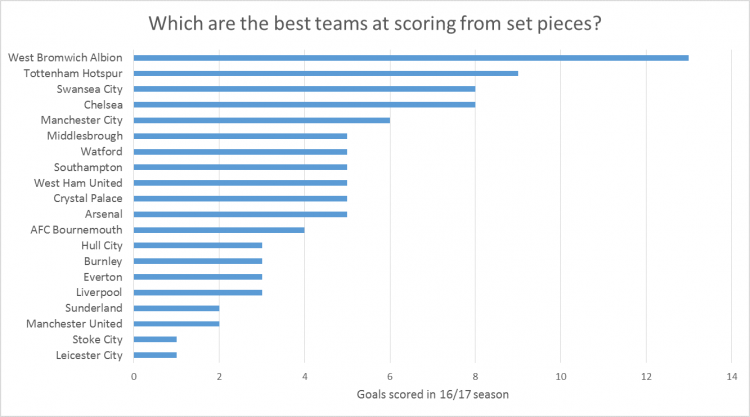 Set pieces can be coached to any type of squad – big team, small team, tiki-taka, hoofball, whatever. Yes WBA are a big team, which they absolutely use to their advantage to score a crazy amount of set piece goals. However, look at the other teams below who top the set piece chart above. Are Swansea and Spurs full of big players? Not really. But they do have coaches which take set pieces seriously.
Yes yes, ok. Enough about the Premier League. What about Fulham?
Fine. Let's take a look at which team have created the most shots per game from set pieces so far this season: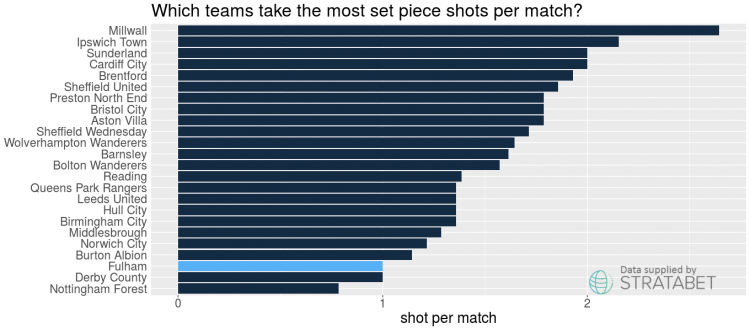 Ouch. We're really not creating many chances from set pieces are we? Some teams in the league are creating over double the chances that we are from set pieces.
Ok, but what about the quality of shots we're producing? What's the probability of a team's set piece shot resulting in a goal?

Ouch again. Not only are we creating few chances from set pieces, but the they're also relatively poor in quality.
In fact, Fulham create the 3rd worst xG per match from set pieces in the league.
But don't the slopes at the edge of the pitch mean it's harder to do set pieces at Craven Cottage?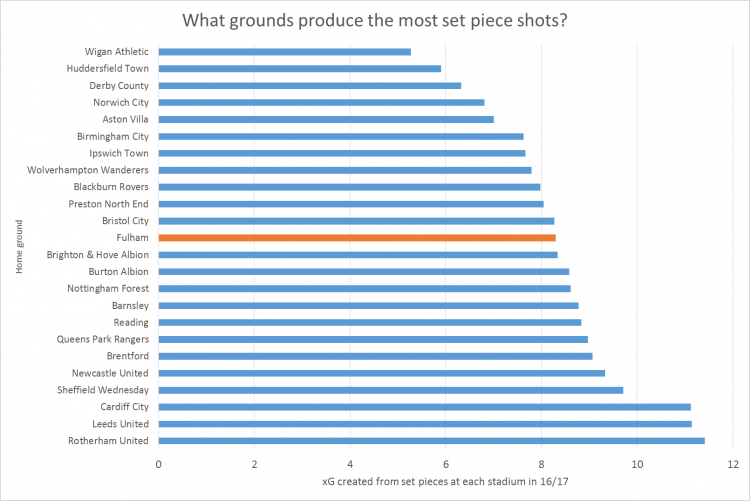 Nope – Craven Cottage is pretty much average when it comes to set piece chances created.
Right, so what does this mean?
To me, this data suggests that Fulham aren't really taking set piece training seriously. Often I see multiple corner takers in games – sometimes just whoever is nearest will take them. To me, this suggests that there isn't a clear set piece plan for the players to execute.
Whilst Slavisa's coaching has produced some wonderful open play football, I'd really like us to focus more on set pieces on the training ground. After all, a goal scored from a 20-pass move is no more valuable than a headed goal from a corner.
The difference between a team that isn't caring about set pieces (Fulham), to one that is, can be between 5 and 10 goals over a season. If we scored 7 more goals last season, we would have finished with the second best goal difference in the league – and would likely have resulted in meeting a different play off opponent. And who knows what that could have meant…
This article was written with the aid of StrataData, which is property of Stratagem Technologies. StrataData powers the StrataBet Sports Trading Platform, in addition to StrataBet Premium Recommendations.