In the latest edition of Before the Whistle, George Singer takes a look at the Whites' trip to Molineux, and assesses how Fulham can set up to cause an upset and leave the Black Country with all three points.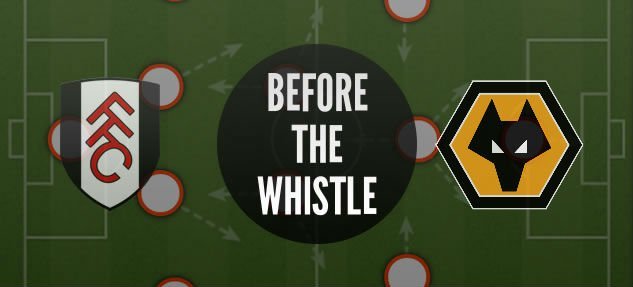 On Friday, Fulham make the journey up North to take on the mighty Wolves; a match that will surely prove to be a tough test for the Whites. Following a summer of complete regeneration within the club, Wolves have hit the ground running in an impressive way, and catapulted themselves to the top of the table. So, what have Wolves done so well to turn themselves around from a struggling club to being the bookies favourites to win the title?
After an inconsistent 2016/17 season, both on and off the pitch, Wolves seriously increased the quality of their squad over the summer. They brought in players like Ruben Neves (a FIFA career mode favourite), Diogo Jota (on loan from Atletico Madrid), and solid Championship experience in John Ruddy.
Not only have they seen their attacking output boosted, but they've also managed to do this whilst keeping their defence solid. Whilst it remains early in the season, it appears that their big name signings that they have brought in have made an instant impact.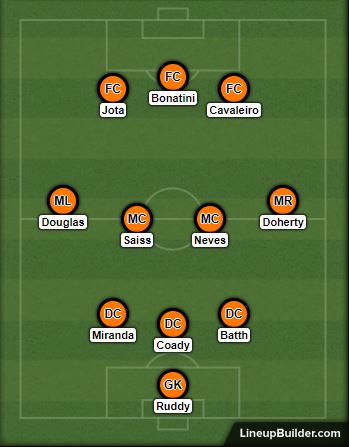 Adopting the 3-4-3, made famous by Conte's Chelsea last season, the system that Wolves have been using has given them great balance in both attack and defence.
This is due to 2 factors. Firstly – they have brought players in that suit the system really well, and have experience playing in these positions. For instance, Jota has previously played a lot of football on the left of a front 3, which really helped him to initially hit the ground running.
This transfer strategy or picking a system first, and then buying the players that fit into it, tends to bring fast results. The opposite: buying big name players, and then trying to squeeze them into a system – often causes an expensive mess. I'm looking at you Everton…
The second factor, is that a 3-4-3 gives plenty of attacking options, and reduces the chance of attacking players becoming isolated.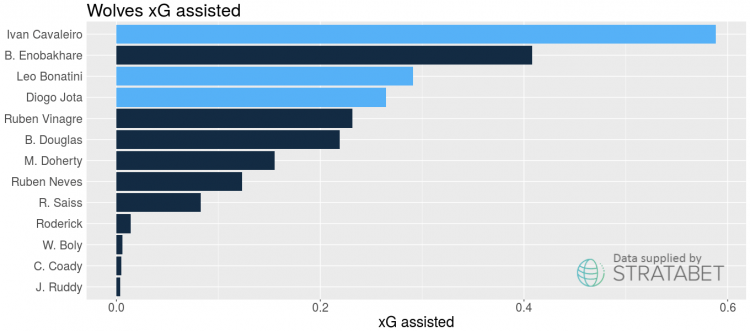 The above two graphs show xG scored, and assisted, for Wolves players per 90 mins. I've highlighted the standard front 3 of Jota, Bonatini and Cavaleiro. You can see how they balance their attacking output between each other really well.
It also makes them really difficult to defend against, as there is no clear focal point of the attack. For instance, you could try and mark Bonatini out of the game. However, all this would do is provide more space for Jota and Cavaleiro to create in.
So how do Fulham attempt to stop this attack? With Wolves averaging nearly 2 goals a game, and Fulham without a clean sheet in 10 games, what can Fulham do to buck the trend?
This graphic shows how Wolves tend to focus their attacks centrally. Relatively few of their chances come from their flanks; they create the majority of their chances through the middle of the pitch and through passes within the penalty box. This is probably not a huge surprise, seeing as they play with 3 fairly central strikers.
So what can Fulham do to stop the Wolves attack? Well, I hate to mention it, after a disastrous outing against Bristol City, but perhaps a 3 at the back (coupled with a strong CDM pairing), may be the best way to keep Wolves out.
Keeping this in mind, what could a Fulham lineup look like?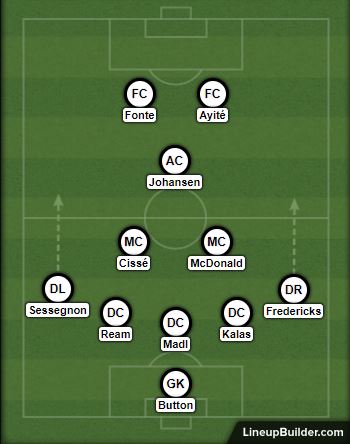 Yes yes, there's a lot of players in this lineup who I don't necessarily deserve to be in there. However, hear me out:
Cisse's defensive output is actually ok, and better than Norwood's. whilst he's pretty appalling on the ball, in a reduced CDM role he could flourish.
To combat a fluid front 3, and give the option of man marking, bringing in a 3rd CB may work. One of Madl's skills is defensive positioning – certainly an area he excels over Odoi, hence he gets the nod.
Sessegnon may have struggled defending at left back so far this season, however by flooding the pitch with CDMs and CBs, this will give him the freedom to play more attacking football.
Whilst I'm one of Cairney's biggest fans, he surely isn't fit enough to start at the weekend. Whilst StefJo may have had a poor start to the season, his stamina and ability to take players on would be key in a lone CAM role.
This article was written with the aid of StrataData, which is property of Stratagem Technologies. StrataData powers the StrataBet Sports Trading Platform, in addition to StrataBet Premium Recommendations.