Fulham vs Bolton Wanderers
Written by George Singer on 26th October 2017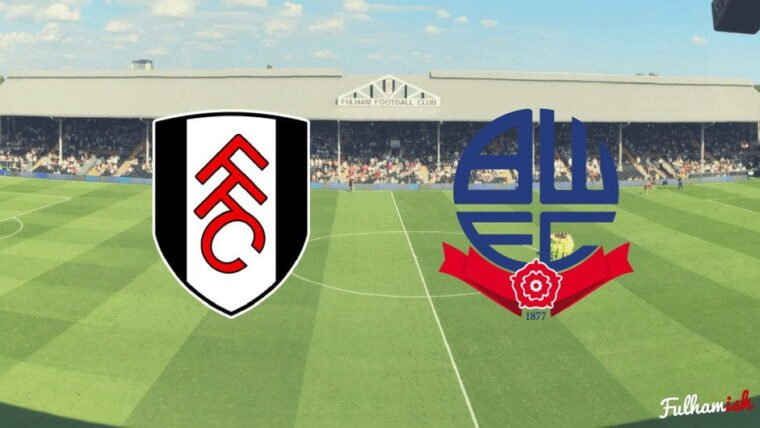 In the second of Fulhamish's new preview series, George Singer takes a look at Saturday's opponents, Bolton, and figures out what the Whites will have to do to stop the Trotters wandering away from the Cottage with any points at all.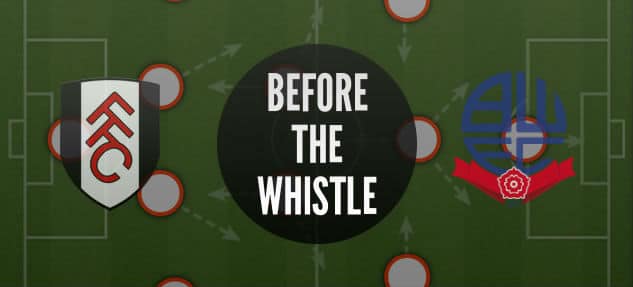 On Saturday we welcome Bolton Wanderers to the Cottage, who after a tough start to their return back to the championship are starting to find their feet again.
After a successful campaign in League One last season, finishing behind only a rampant Sheffield United, Bolton were always going to find Championship football a much sterner test. Upgrading the squad over the summer with the shackles of a transfer embargo was a challenge, and the squad's lack of quality showed with the team collecting just 2 points from their first 11 games. This quickly rooted Bolton to the bottom of the championship, and prompted one of the bookies put up odds of 1/1000 for Bolton to get relegated.
However, it looks like the tide is starting to turn for Bolton. An impressive home win against Sheffield Wednesday and a credible draw against our neighbours QPR have made the target of climbing out of the bottom three a little less daunting. They'll surely hope to bring some points back up with them on their long journey home on Saturday.
So how did Bolton line up in their most recent game against QPR?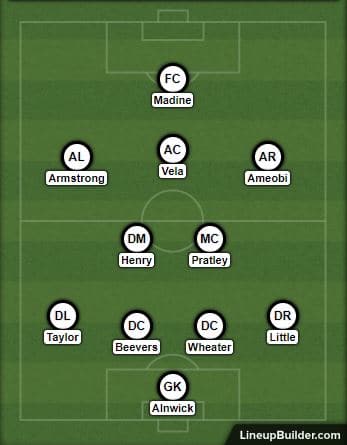 Since recently moving from a 5-3-2 to a more conventional 4-2-3-1, Bolton have seen fortunes turn in their favour – which continued against Rangers. Despite only having a third of the possession, Bolton took the lead with Pratley heading home a well worked corner. Playing focussed direct football, Bolton looked good value for the win. However, a fine flicked finish from Sylla ensured the Rangers took a share of the points.
So, what do Fulham need to look out for when the Trotters visit the Cottage? What can the data tell us about how Bolton play?
Bolton's attack – one dimensional and low quality
Starting with Bolton's attack, what do Fulham need to look out for? Well, the data shows us that Bolton focus their attacks through one man – Gary Madine. The 6'3 target man comfortably attempts the most xG per 90 minutes for Bolton, and would be the first place to look when aiming to stifle the Bolton attack.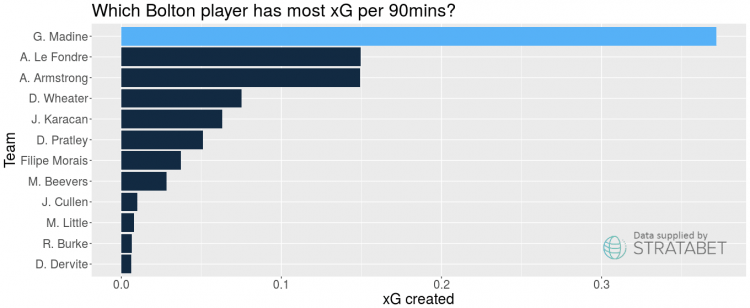 So it looks like Madine is the clear focal point of attacks for Bolton. How are the Trotters setting up attacks for their main man? What do Fulham need to look out for?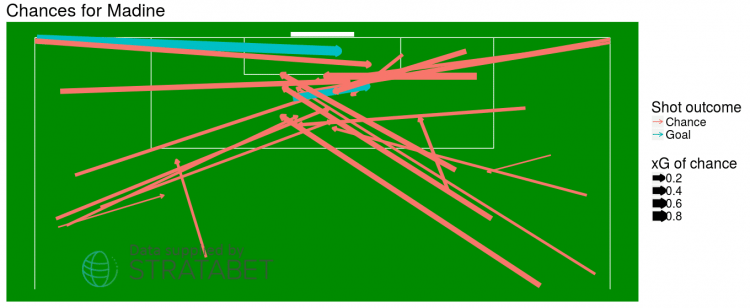 From the graphic above, you can see that most of the chances coming in to Madine are coming either from corners, or crosses from deep. Very few of these chances are being created centrally – suggesting a lack of a central playmaker for Bolton. Therefore, if Fulham want to cut off chances for the striker, they should focus their defensive efforts in wide areas, and put pressure in the deeper areas where Bolton are putting in crosses.
One other point worth discussing about Bolton's attack is the quality of their shots in general. Bolton on average have the worst shot quality (xG per shot) in the league – meaning on average their shots are less likely to go in compared to any other team in the league. This is due to Bolton tending to shoot from further out on the pitch.
To help visualise this, let's compare them to the team on the other end of the scale: Sheffield Wednesday. The owls are the team which create the most xG per shot – as they tend to shoot from better locations. Take a look at the two team's shot maps below: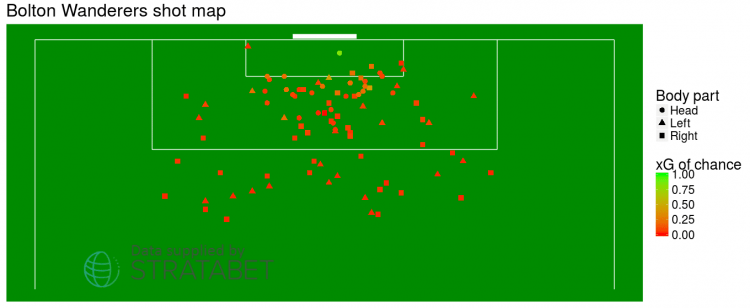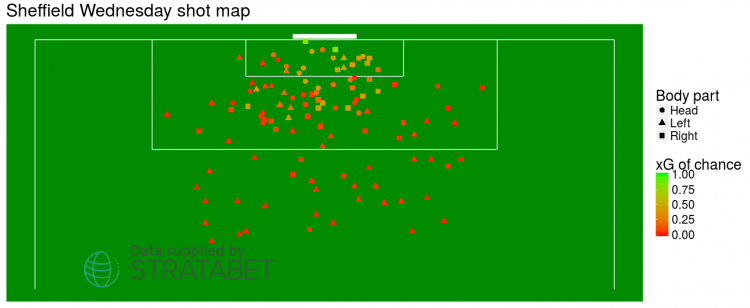 Bolton tend to shoot from lower quality areas – with a sizeable proportion of their overall shots come from outside the box. There's also a distinct lack of high quality shots inside the opposition's 6yard box – compared to Wednesday who have a relatively large amount of shots here. Bolton are simply not creating enough high quality chances to really challenge opposition defences.
Bolton's defence – leaky and lopsided
So, that covers Bolton's attack. Next, we should take a look into Bolton's defence. Starting with: where do they tend to concede chances?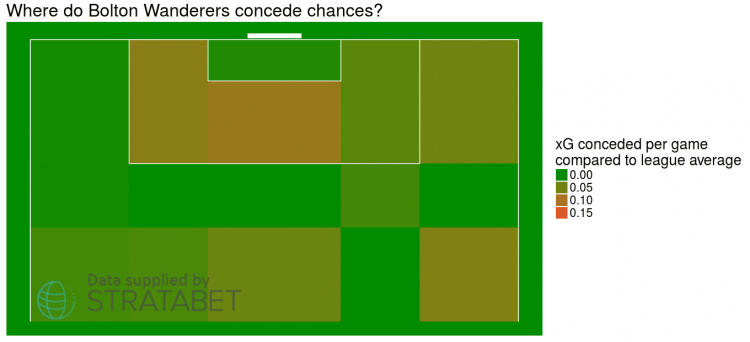 To me, this shows a couple of things about Bolton's defence:
Their defence is seriously leaky – and they concede a large amount of chances all over the pitch
Teams are more likely to create chances on their right wing, compared to their left
Why are teams creating more chances on their right flank compared to the left? Well, we can take a look into the defensive output of Bolton's fullbacks (per 90 mins played):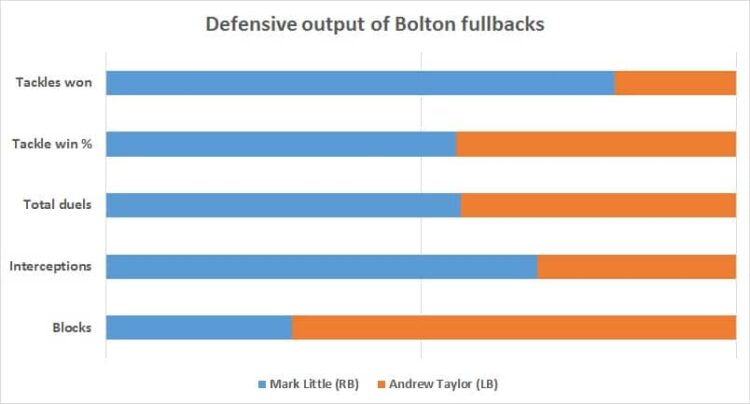 From this, we can see that Little has a much higher defensive output than Taylor – reducing the effectiveness of his opposition's left winger. Not only is he putting in a lot more tackles, but also is winning a lot more of his duels against opposition's opponents. With this information, it's clear that Fulham can use this to try and focus more efforts against the weaker fullback Taylor.
Notes for Slav
So, to summarise the article, what would be notes for Slavisa be this week?
Concentrate defensive efforts out wide – and close down the deep crosses
Isolate Madine, forcing Bolton to shoot with low quality shots from outside the box
Focus attacks on the right wing, and make the most of Taylor's lower defensive output
This article was written with the aid of StrataData, which is property of Stratagem Technologies. StrataData powers the StrataBet Sports Trading Platform, in addition to StrataBet Premium Recommendations.