Aston Villa v Fulham
Written by George Singer on 19th October 2017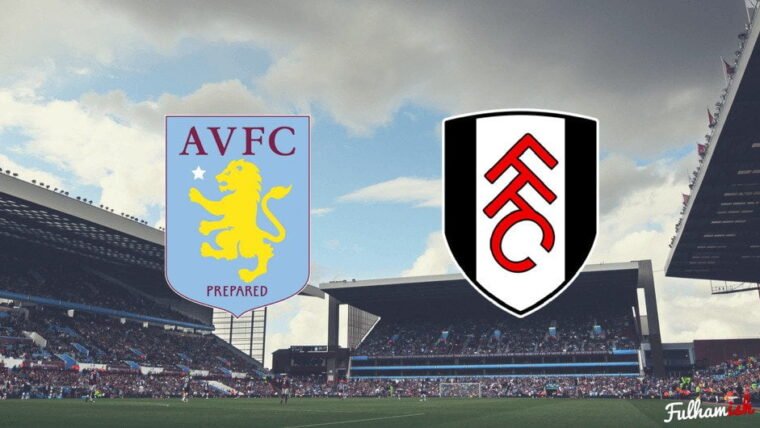 On Saturday we visit Aston Villa, a team in strong form having won 4 out of their last 5 league games. After a poor start to the season, Bruce's Villa were under pressure, again failing to meet the high expectations from Villa fans over this expensively assembled squad. The Villans looked in real trouble – and many were touting Bruce to be the next Championship manager to lose his job.
However, with a combination of back to basics football and a favourable fixture list, Villa have kicked on and now find themselves in 7th place in the table. With Fulham also in fairly good form it promises to be a tight contest – so what can Fulham expect when they rock up in Birmingham?
Don't forget for all the reaction to Saturday's game, make sure you listen to Monday's Fulhamish Podcast. You can find all the information on how to subscribe here.
---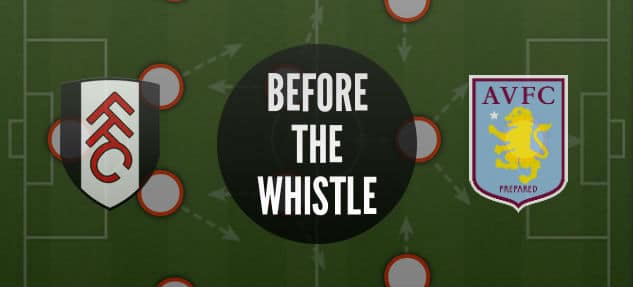 Before the Whistle – A statistical preview of Aston Villa vs Fulham
Hello and welcome to my debut post on Fulhamish! It's great to be joining the awesome Fulhamish squad, and I hope you enjoy my posts on the site. I have brought my blog 'Before The Whistle' across from my personal site – it's basically where I take a statistical look at Fulham's upcoming opponents. Hopefully, through these statistics, I pull out something interesting about them, and give some basic notes to Slav about how I think Fulham should prepare.
Disclaimer: I'll use the term 'Expected Goals', or 'xG', a fair bit in these articles. If this means nothing to you, I suggest you check out this BBC article which gives a nice overview of the term.
---
Last time out
Villa travelled to Wolves, a match which ended in a 2-0 win for the home team. Here is how Villa lined up: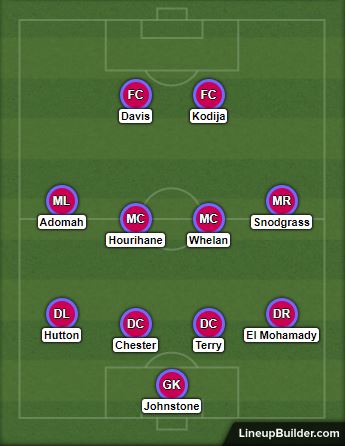 In this game, Villa were unable to cope with a strong Wolves attack. However, across the season, how does Villa's attack and defence compare to the rest of the league?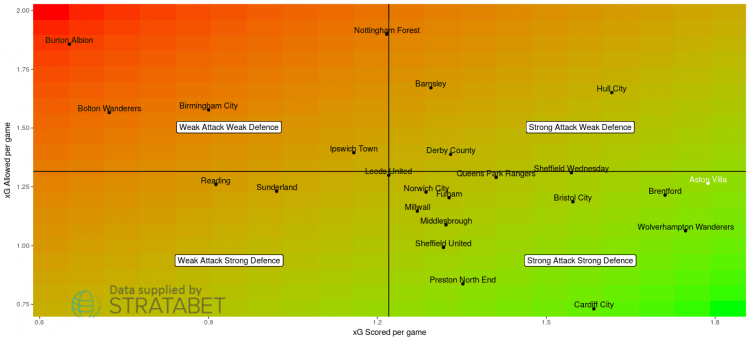 This graph puts each team in one of four buckets, depending on the strength of their attack & defence. It looks like Villa have a pretty average defence, but they have the best attack in the league – creating about 1.8xG per game. Naturally, the task on the top of Fulham's 'to do' list for this weekend is going to be 'how can we stop Villa's attack?'.
Well, the first question we need to ask is: how are Villa creating these chances? The below chart is a nice way of displaying that. It breaks up the pitch, and shows where Villa are creating chances compared to the rest of the league. Essentially, if a box is red, Villa are creating more chances compared to the rest of the league, and blue if they're creating less.
So where are Villa creating their chances?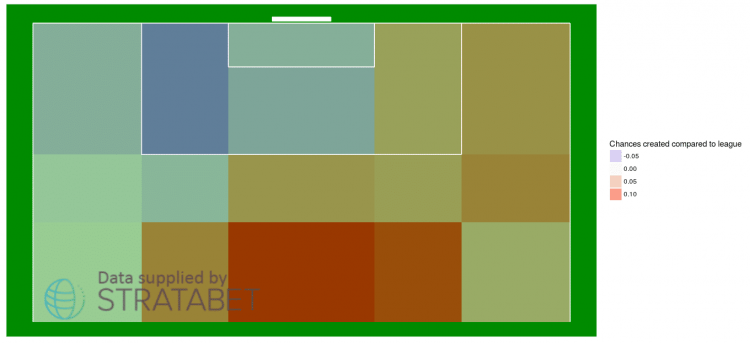 So, it looks like there are two main areas where Villa create their chances. Long balls from deep, and crosses from the right band side.
So who is responsible for making these chances?
Well, one place to start looking would be to look at Villa's top assister, and my man to watch, Ahmed Elmohamady. Since signing from Hull in July, and reuniting with former manager Steve Bruce, Elmohamady has been causing havoc down the right of the pitch – playing as both right back and right winger. In a recent interview, Steve Bruce has called him a dream to work with. So what has he been doing to attract this praise?
From the below graphic, you can see that he's creating chances in Villa's key attacking areas – crosses from the right wing and balls from deep. A large physical strikeforce, coupled with high quality crosses, are allowing Villa & Elmohamady to create lots of threatening chances.
Where is Elmohamady creating chances?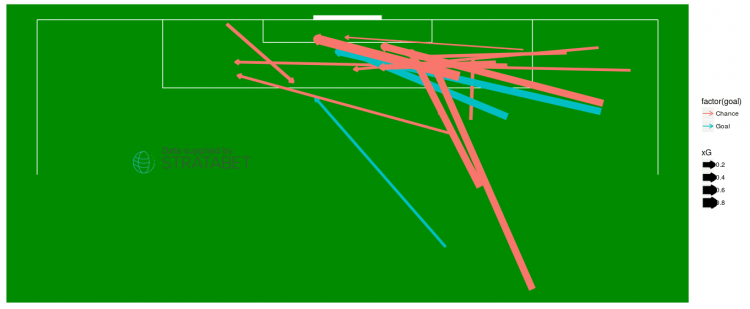 Here's an example of Ahmed causing real headaches for opponents – against Barnsley. At this point in the game, Barnsley are already a couple of goals down, and their lazy defending gives Elmohamady far too much free time. He puts in a great ball from deep, straight onto the head of Keinan Davis who rises high to put the ball in the back of the net.
So, do we expect this to be a weakness for Fulham?
It's not necessarily an easy question to answer, however one way to break this down is to look at which teams are conceding more or less xG through crosses.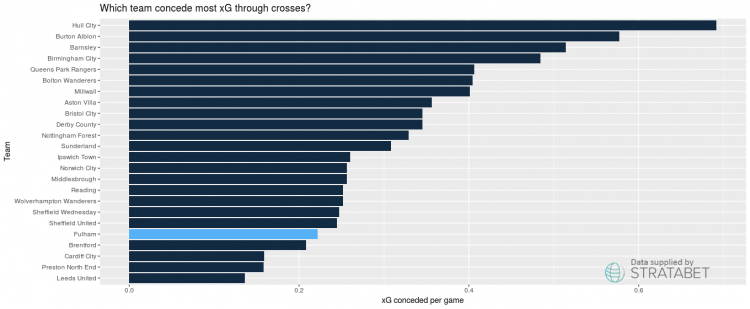 So, it looks like Fulham are actually pretty strong at stopping opponents from creating chances through crosses. So it seems that they're probably in a good place for the game, and should be able to naturally nullify one of Villa's main threats.
Notes for Slav
So, if I had to give a condensed summary, what would be my 3 points to pass on to Slavisa?
Prepare for loads crosses and long balls from deep.

Mark Elmohamady tightly, and don't give him space to put crosses in. Playing Sessegnon as a left winger in front of a natural left back (potentially Rafa Soares) would be a great way to help do this.

When crosses comes in, mark Davis heavily – and expect him to be a danger in the air.
This article was written with the aid of StrataData, which is property of Stratagem Technologies. StrataData powers the StrataBet Sports Trading Platform, in addition to StrataBet Premium Recommendations.