Fulhamish's Away Day Planner: October & November 2017
Written by Dom Betts on 27th September 2017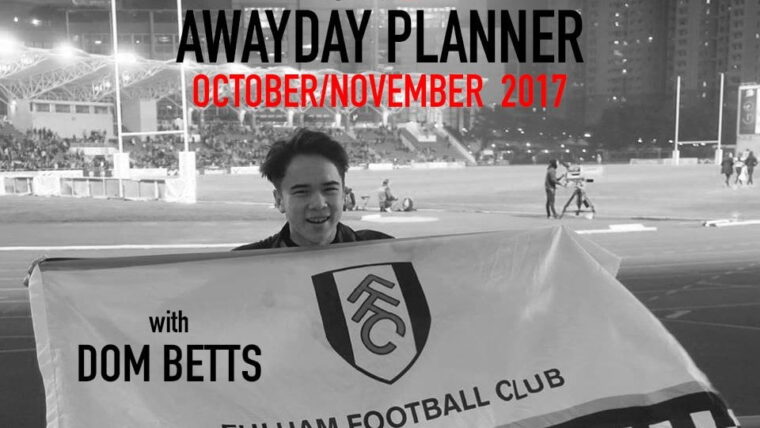 In the latest instalment of how best to Follow Fulham Away this season, our away day maestro Dom Betts conducts you through the three away days in October & November.
---
Aston Villa
21st October, 15:00
Travel
Advance train tickets are on sale for the game. You can go either of two ways and that's to Birmingham New Street from London Euston or to Birmingham Moor Street from London Marylebone.
Then you can take a train from Birmingham New Street to Witton which takes around 15 minutes. If you wish to take a taxi from the City Centre it'll cost £15-18 or £5-10 in an Uber (could vary with Surge pricing on matchdays).
London Euston (EUS) – Witton (WTT)
Journey Time – 1 hour 4o minutes (times can vary)
Adult – £29.40
Adult with Railcard – £25.35
Child – £14.70
London Marylebone (MYB) – Witton (WTT)
Journey Time – 2 hours 1o minutes (times can vary)
Adult – £13.40
Adult with Railcard – £8.90
Child – £6.70
Where to park
Street parking is available in streets around Aston Railway Station (which you will pass if you continue along Lichfield Road towards the City Centre)
Free parking is available, but around 1.5 miles away (or a 30 minute walk) at the Star City leisure complex which is also well signposted, on leaving the M6.
Where to drink
1)  Most Pubs in the City Centre – Usually Fulham Fans tend to drink in Birmingham as there are much more options than in the vicinity of Villa Park
2) The Yew Tree, Brookvale Road,B6 7AS- There is a pub about 10 minutes walk the other way outside Witton Station if you fancy something closer to the ground. They have a good selection of beers on draught as well as Magners.
Match Tickets
Adult – £31.25
Over 65s, Full Time Students, Armed Forces – £21.25
Under 21 – £18.25
Under 16 – £11.25
---
Wolverhampton Wanderers
3rd November, 19:45
Travel
There are advance tickets now on sale. You can get a direct train to Wolverhampton from London Euston and there is a train available that get backs into London the same evening. Molineux is only a 15 minute walk from the railway station.
London Euston (EUS) – Wolverhampton (MVH)
Journey Time – 1 hour 56 minutes
Adult – £35.55
Adult with Railcard – £23.50
Child – £17.80
Where to park
1) Just off the ring road near Molineux is the Civic Hall car park, normally remains open for night matches and costs £4 for three hours or £5.50 for four hours or £2 for evenings (entering the car park after 5pm).
2) There is limited parking available at the stadium itself at a cost of £8 per car
3) There is some street parking to be found on a small industrial estate near to Wolverhampton Railway Station. It is in the region of Kennedy Road (off Culwell Street). It is then around a ten minute walk to Molineux.
Where to drink
1) The Bohemian Bar, 25-27 Lichfield St,WV1 1EQ – Wolves Away is known for being pretty much mission impossible to find a local bar/pub to let away fans in. However this has proved a success previously, selling many cocktails and beers as well as Pizza
2) The Hogshead, 186 Stafford Street, WV1 1NA – This is more of a pub option for you, serving you're common beers and ciders as well as a wide range of Craft beers. It also serves regular pub food.
3) The Bluebrick, 191 Broad Gauge Way, WV10 0BA – The Bluebrick located at the Premier Inn a short walk from the station, serving your regular food and drink.
---
Sheffield United
21st November, 19:45
Travel
You can get a direct train to Sheffield to get to the game however the last train home from Sheffield (Via Doncaster) leaves at 2154 so you'd need to leave the game early as the ground is a 15 minute walk from the station.
However, Grosvenor Casino are putting on free coach travel for the game so you could opt in for this and just use it for the return journey.
You could, of course, stay over and find accommodation in Sheffield. Dom is staying in a triple room in a central hotel, costing only £15 per person.
London St. Pancras International (STP) – Sheffield (SHF)
Journey Time – 2 hours 5 minutes (times can vary)
Adult – £35.00
Adult with Railcard – £23.10
Child – £17.50
Where to park
1) Street parking near the ground
2) If you want to avoid Sheffield City Centre, then you may find it easier to park at Meadowhall Railway Station, near to the well known Shopping Centre  just by Junction 34 of the M1, where you can park for free. You can then take a yellow tram to the City Centre and then walk to the ground. The tram journey time is around 20 minutes and costs £4 return.
Where to drink
1) The Sheaf Island, Ecclesall Rd, S11 8HW – A standard Wetherspoons outlet serving standard pub food and cheap beer only a 10-15 minute walk from the ground. You'll have a good mix of home and away fans in here
2) The Howard, Howard St, S1 2LW – This is the pub directly opposite the crossing up from the fountains by the station. This pub does some nice pub food along with a good selection of beers. It also has TVs showing live sport as well as a pool table.
3) The Devonshire Cat, 49 Wellington St, S1 4HG –  This pub has around 12 hand pulled beers on offer, serves food, has a large screen tv, welcomes families (until 7pm) and is listed in the CAMRA Good Beer Guide.