The Stats Factory: Comparing Scotty Malone
Written by Jack J Collins on 11th July 2017
It was confirmed last week, after much speculation, that Scott Malone was off permanently to Huddersfield for a fee estimated to between £3million and £5million. Jack J Collins looks back at the statistics of Malone's season at Craven Cottage to see quite whether we've scored an own goal in letting him go, or opened the door for an improved replacement.
There can be no doubt that Scott Malone was an important member of Fulham's side last year. His contributions down the left flank, especially in an attacking sense, were unparalleled in the league, as he bagged 6 goals and 3 assists in 38 Championship appearances for the Whites over the course of the season – the most of any defender in the division.
However, there was still a large amount of consternation when Malone was named in the Championship Team of the Year. The problem lay in the fact that whilst Malone had been having a good season in an attacking sense, his defensive work often suffered – on paper Malone looks like a dream signing, but in reality, those of us analysing the games could see time and time again how Kevin Macdonald had to slot into the left back role to cover Malone's forays forward.
This perhaps came to a head against Norwich away – with Chris Martin sent off and a 10-man Fulham defending a 2-1 lead with just minutes to go, Malone would often be the furthest player forward, chasing down balls in the opposition half. Whilst his effort levels are commendable in this, it shows a recklessness in his defensive positioning which better sides can exploit – and in truth, at points, they did.
The debate lies, in terms of the team of the year, in the fact that there weren't too many brilliant seasons from Championship left backs last season. In truth, Malone probably deserved his spot in the team of the year, not because of his own brilliant displays, but more because of the lack of genuine competitors for his spot. To compare him as a left back then, we have to take a larger step back, and run his statistical model up against two players who shone in the position in the division the year before – Middlesbrough's George Friend and Hull City's Andrew Robertson.
Friend is the archetypal Championship defender – assured, composed and solid – and featured heavily as Middlesbrough conceded just 31 goals on their way to automatic promotion in 2015/16. In the Premier League, however, he has struggled with injuries and hasn't quite looked the same player. That said, Boro fans seem exceptionally strong fans of their left back and there appears to be no doubt that he will remain in their starting berth this season if he can remain fit – testament to the ability of the man.
Robertson, on the other hand, has gone from strength to strength and was very much Hull's star man once Robert Snodgrass swapped the Humber for the bright lights of West Ham. His performances have attracted the attention of Liverpool, and slightly more bizarrely, Sporting Lisbon, and just goes to show that good performers in the Championship can go on to do well at Premier League level. Malone will hope to follow in the Scotsman's footsteps.
Scott Malone, Fulham 2016/17 – 6 Goals, 3 Assists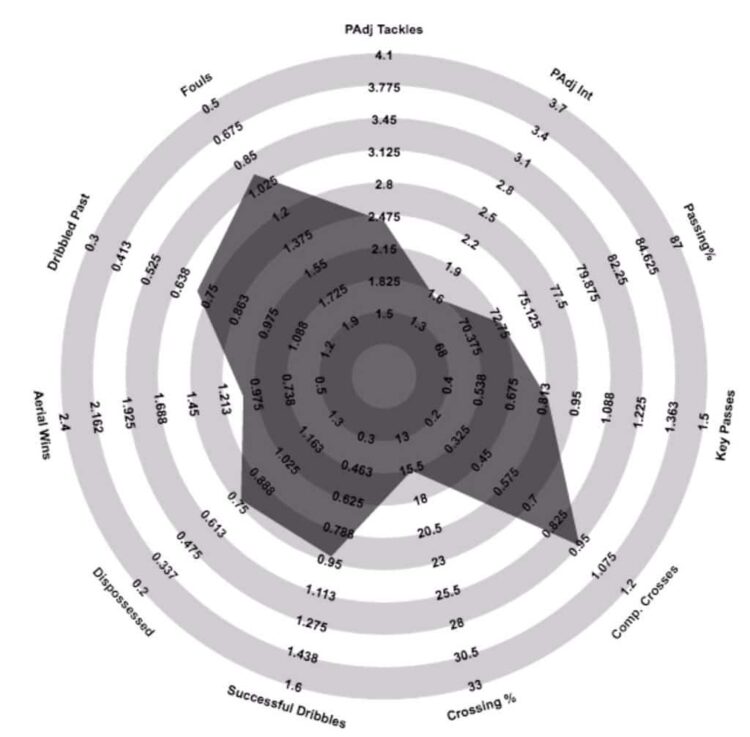 Fulham conceded 57 goals in 2016/17.
Malone's radar reveals a number of things. Whilst he completes almost a cross a game, which is higher than either of the other two, his cross percentage reveals the weakness that many have pointed out –  showing that Malone attempts around 6 crosses a game that fail, for every one that finds a target. That's an awful ratio, and whilst it's testament to Fulham's style under Jokanovic that the full back is able to get that many opportunities to centre the ball, it doesn't bode well for Huddersfield fans next year that in a tougher division with fewer opportunities for weaker sides, their left back is this wasteful.
Malone's positioning is another thing that has been questioned on numerous occasions this season, and his interception stats are a testament to that. With just 1.6 interceptions per 90 minutes on the field, Malone is clearly lacking the defensive impetus that is shown by other full-backs; and whilst his tackling statistics are pretty run-of-the-mill, it's interesting to think about how many of those were won in crucial areas – whilst the speed of Ryan Fredericks has made some last-ditch stops this year that have saved Fulham's blushes, I can remember few similar feats from Scott Malone.
Something else to note is that for a player so focused on attacking, Malone's successful dribbles ratio is diabolical, especially when contrasted to the other two full-backs in this thread. This is due to a number of things, but mostly down to the fact that whilst Malone's speed is clearly a crucial facet of his game, it also sometimes gets the better of him – the left back running the ball out of play or knocking it too far in front and the attack being intercepted by his opposite number were not uncommon sights on the left flank of the Cottage this season.
George Friend, Middlesbrough 2015/16 – 1 Goal, 2 Assists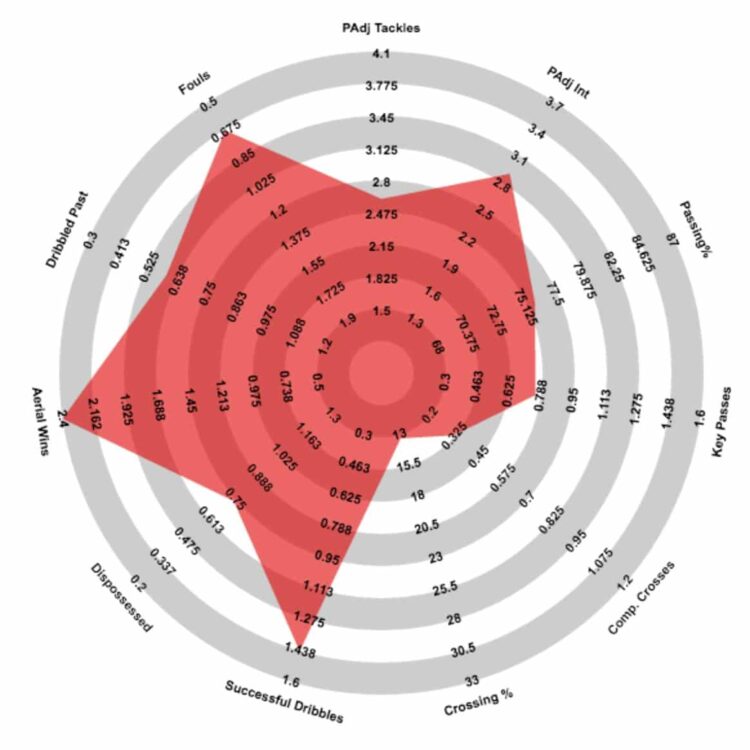 Middlesbrough conceded 31 goals in 2015/16.
As one might expect, George Friend's radar is significantly larger than Malone's, because defensively he's a more compact and solid player. His interceptions and tackles per game are significantly larger than the Fulham left back's, something you might expect from a player who was part of the most watertight back four in the league last season.
His goals and assists output might be far below Malone's, but then again Boro scored just 63 goals in their promotion campaign – compared to Fulham's 85 this season, it seems reasonable that their full backs weren't large providers. What's perhaps most interesting is that Friend's crossing is evidently not brilliant – in fact his percentage completion is slightly lower than Malone's – but this is something the left back has realised. As such, he attempts less than half the crosses that Malone does, instead focusing on playing a more simple game.
The question remains as to whether Fulham need their left back to have the attacking menace of Malone, or whether in fact tightening up a leaky back four would serve the side better – if that's the case, a left back in the mould of Friend who protects his own keeper whilst still offering an assured and competent presence on the ball, would perhaps thrive in the absence of Fulham's ex-No3.
Andrew Robertson, Hull City 2015/16 – 3 Goals, 4 Assists

Hull City conceded 35 goals in 2015/16.
On the other hand, Robertson is a flying left back who is very much attack-minded in the sense that Malone is. His Championship statistics tell a story, but they also detail a player who is still young and growing. Robertson was just 21 when he started the 2015/16 Championship season with Hull City, and his petulance in terms of defence was clear to see. Having developed in the Premier League this year, Robertson has turned into one of the finest left backs in the country, and is keeping £20 million-rated Celtic starlet Kieran Tierney out of the Scottish National side.
His successful dribbles and low dispossession statistics speak for themself – Robertson was comfortable on the ball, and running at players from a young age. His crossing percentages rank above Malones, but Robertson has a knack for doing the right thing. Attempting far less crosses than Malone, he instead played a killer pass more often than swinging the ball wildly into the box, ranking at almost double Malone's statistics for key passes per game.
Robertson's pass accuracy far outstrips that of both Friend and Malone, and outlines the way that a wing back can add to attack in more ways than just opening up space and centring the ball time and time again until one comes off, a la Malone. Where Robertson falls down is defensively, although the way which Hull set up allowed the full back to attack without worrying about his defensive duties – just 35 goals conceded in the season is testament to the fact that he obviously wasn't shirking his duties.
In the Premier League, Robertson has gone on to prove his worth both defensively and as a counter-attacking outlet, and the ever-growing links to Liverpool appear to suggest a player who will be plying his trade in the Champions League next season. Whether he can make the step up to that level remains to be seen, but with so much potential and having shown his capabilities at both ends of the pitch, Robertson appears to have an exceptionally bright future.
So, what does it all mean?
It all depends on your interpretation of the situation, and what you think Fulham need to do. Ultimately, whilst Scott Malone contributed heavily last season in terms of goals and assists, his lack of defensive positional awareness and wayward crossing ability suggest that the Whites should be able to add a replacement with the funds acquired from the sale to Huddersfield.
If you're of the opinion that a more solid defensive option would add to Fulham's promotion bid, then players with the same statistical model as George Friend would be a good place to start; and if we're looking for a like-for-like replacement, then Robertson should be used as the example.
The second part of this article will involve Ben looking at some potential replacements for Malone, and deciding which kind of player would fit Jokanovic's system best. Until then, we can all just agree that the thing that we'll miss most about Scotty Malone is his inimitable chant, which lit up the banks of the Thames like no other in these recent times. 
Major thankyou to Nick Macnee (@nsmacnee) for the player radar.