The Stats Factory: The Changing Role of Stefan Johansen
Written by Jack J Collins on 26th April 2017
Fulham's midfield trio of Kevin McDonald, Stefan Johansen and Tom Cairney, as we've pointed out time and time again, are the basis from which the Whites' success this season has sprung.
The balance of their skill sets is in perfect harmony with Slavisa Jokanovic's vision and identity, but it was the introduction of Stefan Johansen which perfected the blend and finished the puzzle for the gaffer.
As a Johansen fan from before his time at the Cottage, I've noticed some interesting things which have come with his position in the side, which is not the same as it was in the seasons before this. Jokanovic, and the statistics boys, (who don't get enough credit), clearly noted when he signed the Norwegian that there were elements to his game that weren't being utilised to their full potential at Celtic Park.
Johansen played mostly in the No10 role at Celtic, taking up a more advanced position than he does in Jokanovic's side. When we signed the Norwegian international, I thought he'd be used rotationally with Cairney, to allow both a chance in an attacking triumvirate.
As usual, though, there was more to this than meets the eye, and crucial to the success of Jokanovic's side this season has been the emergence of a 'link man' in the midfield – someone who connects the defensive shield of Kevin McDonald to the free-flowing attacking fluidity of Tom Cairney.
As we pointed out earlier in the season, the partnership of McDonald and Parker, which Slavisa began with, was too static and defensively minded to allow the rapid transition of play from defence to attack, something now linked heavily with the Fulham style of play.
In fact, despite Fulham's good start, points-wise, to the season, something that was quite obvious to the watching bystander was that the side actually weren't playing particularly well. Arguably, the first time that this Fulham team fully clicked into gear this season was on the 15th October, in a 4-2 victory against Barnsley at Oakwell.
Unsurprisingly, to the ever-swelling numbers in the  Johansen fan club, that was the Fulham No14 made his full league debut. His performance in the following fixture against Norwich, in an advanced position when Cairney was injured, was full of determined running and attacking potential, inspiring the comeback in the second half, before he was inexplicably dropped for away game against Aston Villa.
That game at Villa Park proved a lot of things to many people, but it inspired me to write this article, bemoaning the lack of dynamism of McDonald and Parker in the base of the midfield. In the next game, Jokanovic slotted Johansen into the 'holding' berth next to McDonald and Fulham hammered high-flying Huddersfield Town 5-0 at the Cottage, dazzling the visitors with devastating counters launched from midfield.
From that point, Johansen has gone from strength to strength as part of the midfield trio, but interestingly, his role has expanded rapidly from the player he was at Celtic. Instead of playing in the advanced position of the three, as many expected, Jokanovic's 'link man' has evolved into far more of a complete midfielder since his introduction to the Fulham team.
---
Chance Creation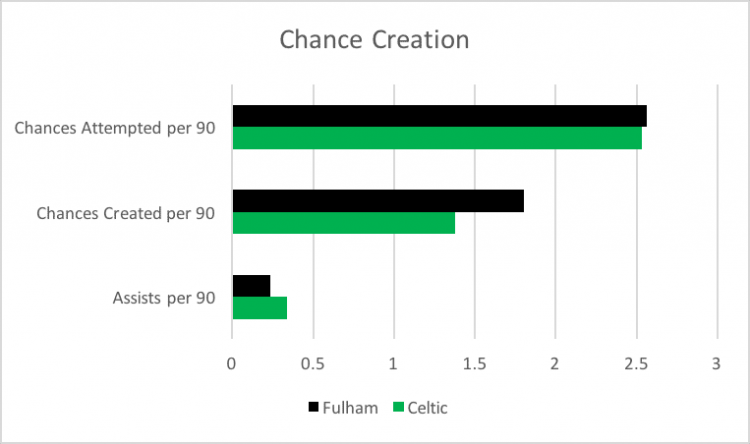 Looking at the statistics, it's clear that Jokanovic's methods and system have completely altered the way that Johansen looks at the game. Whilst his assists have come down slightly per game, as you might expect from playing in a deeper role, it's his chances created which have jumped up the most considerably.
Considering the amount of attempts has stayed reasonably constant, it's safe to assume that it's Johansen's efficiency which has increased – more of his attempts are coming off – an idea which resonates across his entire game. In fact, Johansen's chance success rate has jumped up from 55% in Glasgow to 70% in London.
---
Passing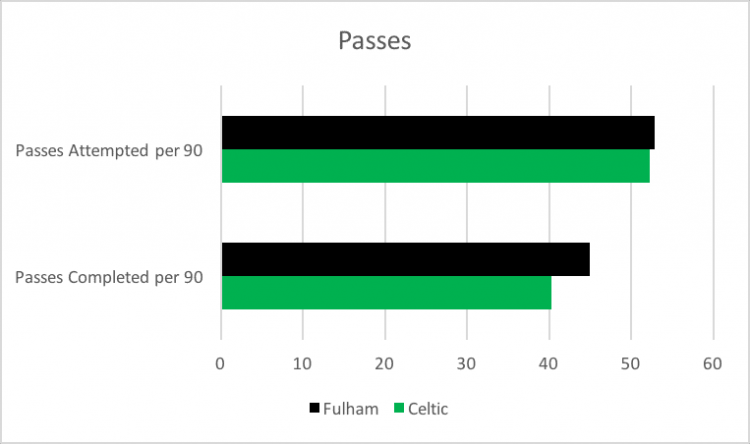 His passing accuracy has increased as well, and despite attempting slightly more passes from the withdrawn role, the presence of Cairney and McDonald around him, and the ball retention abilities of this Fulham team mean that his pass completion rate has shot up from 77% to 85%.
Whilst this rate is up there with the team as a whole, Johansen has played more key passes than anyone except Tom Cairney, showcasing his ability not only to adapt to the system, but also the first key point of Johansen playing the most multifaceted role in this Fulham side.
---
Shooting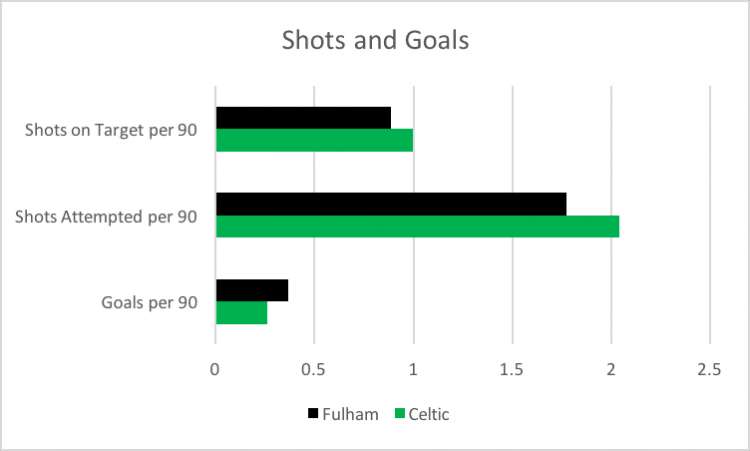 In terms of actually putting chances away, Johansen has managed to do what no-one expected here and actually vastly improve his scoring record whilst dropping deeper. It's perhaps due to his knack of arriving at the right time, but also his composure from around the edge of the 18-yard-box, which has resulted in his best ever goal return this year.
Again, it's clearly Johansen's efficiency which has improved more than anything else at Fulham. His shots attempted per game ratio has actually decreased, and at 49% to 50%, his attempts that are on target are still fewer than they were at Celtic.
Despite this, Johansen's goals to game figures are considerably improved since his move to SW6, rising from a goal every four games for Celtic to just under a goal every 2.5 games for the Whites. Either Jokanovic has the Norwegian shooting in a different way, or his new role provides opportunities which he is more prolific with.
---
Dribbling and Possession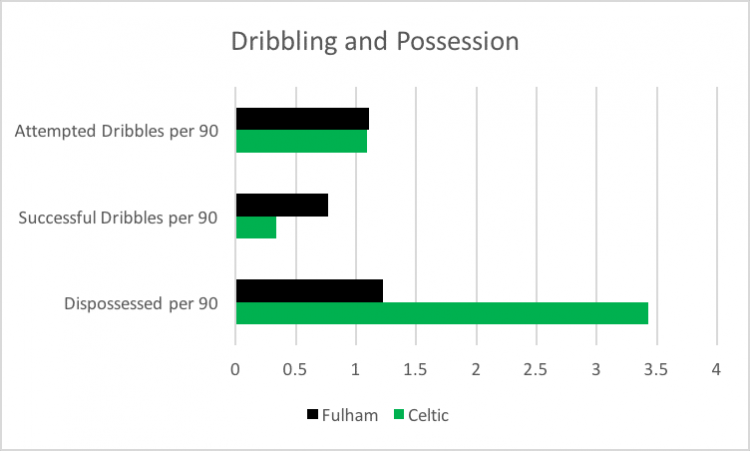 To close the argument, and show how crucial Johansen is at both ends of the pitch, his dribbling and possession statistics are below. It's clear that whilst the amount of attempted dribbles per game are about the same, his care of the football is far superior in White than it ever was in Hoops.
In fact, his dribbling success rate has more than doubled this season, leaping from 31% to 70%. The same story is clear from the number of times Johansen's pocket has been picked and he's been dispossessed, which has fallen from 3.43 times a game at Celtic, to just 1.22 times a game at Fulham.
Jokanovic's system and influence, therefore, simply cannot be underestimated when it comes to Johansen. The Norwegian has been remoulded into a box-to-box centre midfielder, and where his remarkable engine once was the heart of an attacking force, it now carries both attack and defence, helping out at both ends of the pitch and bringing the best out of Johansen.
---
It's easy to see this in the rankings for the season as well. As well as evidently being first for goals scored amongst Fulham players, Johansen ranks second behind Cairney for Key Passes and second behind McDonald in interceptions outside of the back four. He also ranks third for assists, as well as for tackles attempted.
On Squawka, his performance score in attack is third (behind Cairney and Aluko), whilst he goes one better in his possession score, ranking in second – Jokanovic has clearly stated to his left-footed combination in the middle that it is crucial for them to protect possession, and Johansen has quietly and effectively made this into a central part of his game.
The span of these achievements and rankings are intrinsic to understanding how Johansen is the middle cog in the midfield. Now equally adept at making a late run into the box, driving forward in possession, making an interception or simply pressing high up the pitch, the Norwegian No14 has become a truly well-rounded, complete midfielder, and it's been an absolutely vital part of Fulham developing into a slick, well-oiled unit under Jokanovic this season.
---
Thankyou to Alan at Celtic by Numbers for the Key Performance Indicator data on Stefan Johansen's time at Celtic. It should be noted that this is the data for Johansen playing as an AMC for Celtic, which was compared with the data from him playing as a CM in a midfield trio for Fulham.