The Stats Factory: The Play-Off Run In
Written by Jack J Collins on 7th March 2017
As many of you will have heard on last night's podcast, I thought it would be a good idea to try and rank the run ins that the playoff contenders have left, to compare them.
If you haven't already, you can listen to the new podcast here!
To do so, there's a fair amount of subjectivity involved, and I ranked every game remaining to each of the teams in the same way that they do on Premier League Fantasy Football, on a scale of 1 to 5, with 1 being a probable victory and 5 being an exceptionally difficult fixture.
We've kind of decided that Newcastle, Brighton and Huddersfield are uncatchable, and with Preston's performance at the weekend, I've (perhaps prematurely) written them off as well, as I think Grayson's side have too much to do now to slide up past Fulham and Norwich, as well as the teams currently occupying the playoff places. So, without further ado, here's my run down.

Leeds United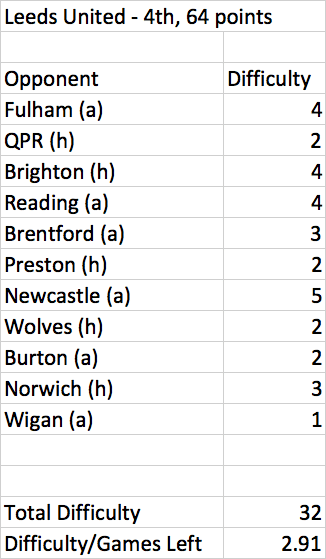 We'll start with Leeds, who are currently fourth. They actually have the hardest run in according to my ratings system, but they're also currently 8 points ahead of Fulham in 7th, so have the biggest cushion to play with. Leeds' next 7 games are crucial – if they're still in the playoff place after Newcastle away on Good Friday, Leeds are a shoo-in for a top six spot, in my opinion.
As mentioned last night though, Leeds have a tendency to self-implode, and if Fulham were to put a few past them tonight, then there's a horrible run of fixtures coming up against teams who are all playing well (including our neighbours in Hoops and Stripes), where a crisis of confidence could lead to a collapse.
If they can survive the tough tests against Fulham and Reading though, you would imagine even losses to Brighton and Newcastle wouldn't be able to derail the Leeds United bid, meaning that the game against Fulham tonight takes on more significance than ever. Even a narrow defeat for Leeds, which doesn't dent confidence too much, would probably give them the platform to keep their campaign on track.
Reading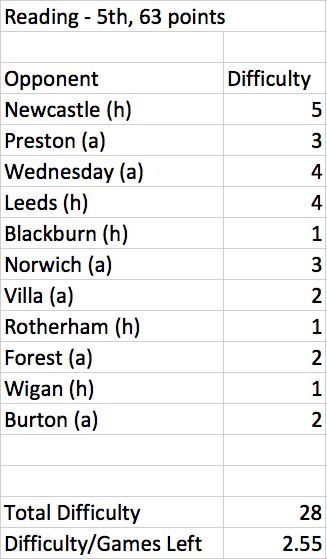 Fulham fans in a poll suggested that they felt Reading were the most likely side to slip out of the play-off places, but in fact the Royals are actually only one point behind Leeds and 7 points clear of 7th.
They also have the joint-easiest run in of anyone, according to the statistics, and whilst there is some merit to the idea that they have to play teams scrapping at the bottom of the table for survival, there's a reason those teams are down the bottom in the first place, and that's because they haven't won very many games.
And whilst Leeds have seven potentially tricky fixtures in a row, Reading only have four. Their game tonight against Newcastle United is followed by trips to Lancaster and Yorkshire to play Preston and Wednesday respectively, before a crucial clash with Leeds back at the Madejski. After that, though, it's relatively plain sailing and Stam's team have made a habit of grinding out wins this season.
Sheffield Wednesday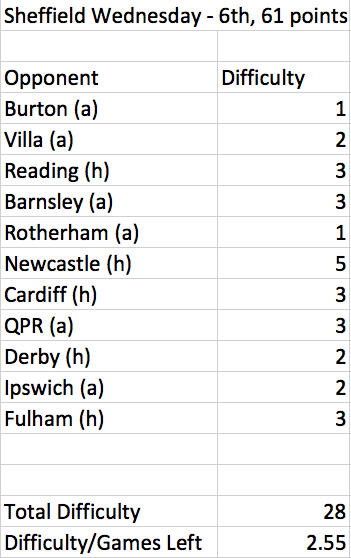 Wednesday's run in is ranked by the system, alongside Reading's, as the easiest of the lot on paper. With only one fixture rated above 3 on the difficulty meter, Newcastle at home, and home ties against the trickier teams in the run in – namely Fulham, Reading, Derby and Cardiff – Wednesday seem to have the most favourable path.
Combined with their destruction of Norwich City at the weekend, and their form going into the final straight of the season, I think Wednesday are arguably the safest bet of making the playoff places.
The additions of Winnall and Rhodes have added even more firepower to a team which already included Foristieri, Hooper, Fletcher and Nuhui, as well as the midfield dynamism of Ross Wallace and Barry Bannan. Wednesday, despite their off-colour loss to Leeds, seem to be clicking into top gear at just the right time.
Whilst there is merit to the argument that if Fulham keep on their coat tails until the end, and it could all come down to a straight shoot-out at Hillsborough; it's probably unlikely as you'd imagine Wednesday will begin to accelerate away from the pack, who all have far more games against each other.
Fulham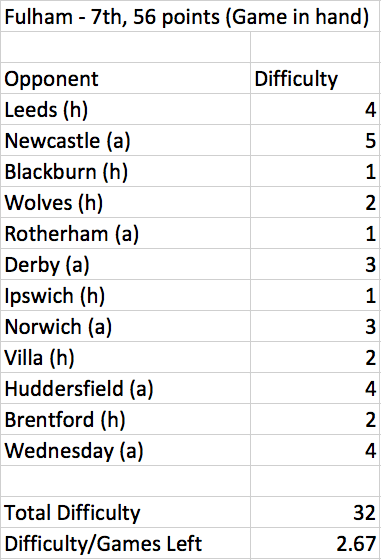 If Fulham are to catch the teams above them, the game against Leeds and the game in hand against Blackburn, both at the Cottage, are crucial. The seven games from Blackburn to Villa, however, are where the Fulham bid is made or broken.
I'd argue that a minimum of 17 points are necessary from that run, in an important period where the other top sides are playing one other at least twice, if Fulham are to have any hope of making a late dash for the playoffs. That said, our goal difference is heavily in our favour, which is something that counts almost as an extra point if things do start to tighten up.
The day after Blackburn, Fulham will have a straight view to whether the playoffs are possible or not. A word of warning that a last day shootout against Wednesday is not what Fulham fans should be hoping for – the Whites' record at Hillsborough is atrocious and Wednesday have been irresistible at home at points this season – the business needs to be done far before that date.
Norwich City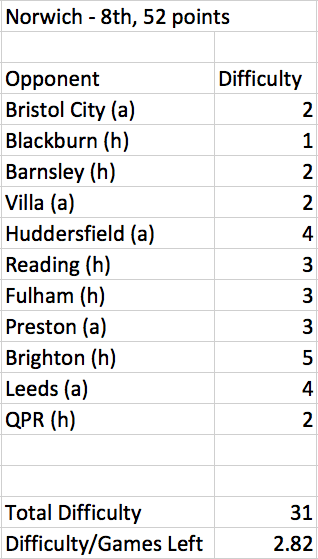 You get the feeling that after the weekend's demolition at the hands of Wednesday, the Canaries have maybe left themselves a little bit too much to do. They also have the second hardest closing period, according to the statistics, but they do have three of the five teams in this list to play, which means their destiny is still somewhat in their own hands.
Norwich have a horrendous run of fixtures in terms of difficult games, from Huddersfield to Leeds, where they play six of the top ten, but it does mean that if they were to beat Reading, Fulham and Leeds, they would perhaps be able to close the gap enough to take advantage of a last day fixture against QPR, who will have nothing to play for but pride at that point.
Even so, it seems a bit like too little, too late; and you'd imagine that Norwich's main contribution from here to the end of the season will be to affect the other teams around them, rather than be able to launch their own drive.
What does it all mean?
It's interesting to analyse these run-ins, but the argument remains that we're still too far from the finish line to make any points of final conclusion, in a league where anything can still happen. That said, the crucial periods for each team remain just that, and we've highlighted exactly where they are for each of the contenders. All that remains is to see what happens next, and we'll revisit these statistics with five games to go.