Five Thoughts: Fulham 2-0 Preston North End
Written by Cameron Ramsey on 29th February 2020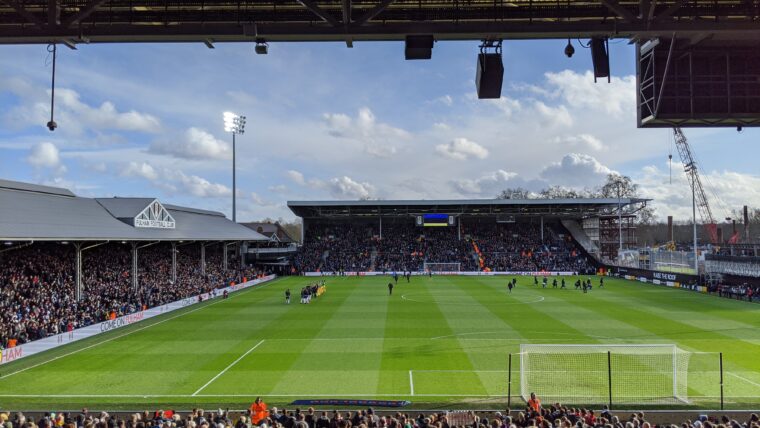 David Nugent really does know his way to goal. Alex Neil's one-time England veteran sealed our fate at Deepdale in December but in the blinding glare of early Spring's sunlight, the 35-year-old's expertly diverted own goal handed Fulham a lifeline in their quest for a place in the automatics. Cheers, Dave!

For the first time since October, the Whites won a game with more than a 1-goal gap. Hitting the back of the net has been a dilemma for Scott Parker's set-up and we're still nowhere near as ruthless as we should be, given the personnel we have, but we literally got the job done in the end against Preston North End.
We are 5 points off Leeds United and 6 points off West Bromwich Albion, well within the chasing pack, so all is to play for in terms of supremacy. Ashton Gate is our next destination and it's an away day I'm thoroughly looking forward to. Consistency is key and we've been severely short of it, so maybe this is where we unearth our formidable showpiece principles. Better late than never, right?
Stubborn Shape Satisfies
The game was very open in the first-half as both sides hunted for blood, but Fulham held their discipline and, ultimately, their shape to deny the visitors. Preston advanced through Tom Barkhuizen and Sean Maguire out wide and looked fairly menacing but, as the middle of the park was congested, neither side was able to construct meaningful phases. To Fulham's benefit, though, the compact complexion cemented the Whites' defensive composition, as they were rarely pulled out of sync.
Tim Ream and Micheal Hector worked in unison to shield Preston's attackers and with two clean sheets on the bounce, perhaps the misunderstandings, bloopers and bumps along the way have smoothed themselves out. Our American enforcer was excellent, but Hector was immense. The authoritative Jamaica international was first to loose balls, unrivalled aerially as per, and he also screened across the width of the defensive quarter to stunt visitors' cautionary flow. I'm still not entirely sold on the concept of religiously playing out from the back, although Hector was remarkably calm in possession, administering play sensibly and effectively, and he even sent Aboubakar Kamara on his way to initiate the move for the Whites' devastating second goal.
Latterly, Preston were reduced to a counteractive long ball game and Fulham's back four, supported by a stringent midfield corps, cooperated collectively to shepherd the ball out of play. Scott Sinclair, Daniel Johnson and Barkhuizen rallied but they simply couldn't break us down. Against a fellow promotion chaser, that's an achievement. We've buckled under the slightest of pressures before and once an opposition tightens their grip, we dwell on our vulnerabilities instead of resolving them. On Saturday, though, there was a refreshing sense of competence and qualification in our system, and every department coincided cohesively. Not a bad day at the office.
Christie Claims Credit
Embed from Getty Images
Entering proceedings early on for a crocked Joe Bryan, Cyrus Christie resumed services along the right channel expertly and was the rightfully accredited as Man of the Match. With an enlivened ethic and an unshakeable attention to his responsibilities, the "Irish Cafu" was our primary outlet in the final third, filling the void left in Bryan's abrupt absence seamlessly. Christie has reinvented himself from a tentative wimp into an irrepressible live wire.
The expeditionary right-back roamed his flank intently, flashing and wedging excellent crosses into the 18-yard box and, if play had been turned over, he'd bust a gut to intercept Preston's swift counters. Maguire's no slouch, but he couldn't steal a march on Christie, who stalked his compatriot like Joe Goldberg from Netflix's You. Even with a slight cramp-induced twinge in the second-half, he remained composed, aware and he really should have scored, but his adept chested volley skewed wide of the mark by a whisker.
All in all, it was a highly enterprising display from the reinvigorated 27-year-old, which aptly summarises his reformed status under Parker's supervision. Our fullbacks alternate regularly and we need every option to be primed for action – Christie rose to the occasion and was virtually faultless with every touch and interchange. Long may his excellent form and work-rate continue, because dishing out plaudits is much more rewarding than slopping up criticism.
Skipper's Suitable Shift
I've worried greatly about Tom Cairney's impact in recent weeks as his influence has simmered somewhat, but I was particularly satisfied with the skipper's industrious shift in an overpopulated midfield department at the Cottage. Something definitely hadn't been right in recent meetings and I'd questioned his dedication, but nothing was amiss against Preston. Finally, glimmers of the maestro we exalt and adore reemerged from the shadows, and the fraudulent passenger that had taken his being hostage relented as his dormant ingenuity came to prominence.
TC appeared energised in his expeditions in possession, advancing menacingly rather than opting for the safe, nullified route he'd opted for previously – notably against Millwall – where virtually every single pass he recorded went backwards, rather than forward. Weaving out of tight pockets in possession, the nimble 29-year-old spread play intelligently, inviting Ivan Cavaleiro and Bobby Decordova-Reid into direct passages as Fulham advanced. Rediscovering his artistic originality, Cairney set Fulham's sequences into motion with a purpose and vibrancy.
He and Aleksandar Mitrovic collaborated like the duo of old – the big man held it up whilst being marked by at least three men for the chief playmaker to construct, and I can't begin to stress just how important that connection is. Creativity linking up with raw power spells trouble for opposing defenders. His confidence has been running on empty but he played with a lifted chin and a trying determination. When he's feeling the beat, the whole squad does too. I pray he's working his way back to his exceptional self again, as he's the inventive spark our system requires so vitally.
French Favourite Found
Embed from Getty Images
This debate seems to have been relevant since the dawn of time. The Kamara versus Anthony Knockaert saga rumbles on after two starkly contrasting outings from the French flankers. One seized the day in a matter of minutes, the other was vastly hesitant and peripheral. I know who I'd prefer out on the right channel, but I understand others see things differently. Argue as you will, but AK47 surpasses his countryman by an immeasurable distance and is quite literally an absolute weapon. Kamara is evidently an effective substitute, but he undoubtedly offers so much more to the camp than Knockaert, so he deserves recognition and a starting spot.
Knockaert hardly got a sniff in the first-half, even though most of the progressive play came from his side, but we can thank Christie for that, rather than the Brighton loanee. Dipping inside, shuffling to the touchline, the 28-year-old didn't really know whether to stick or twist. Either commit your man or whip something tempting into the mixer – he did neither. Nothing boils my blood more than watching the winger abandon the byline with a series of excessive step overs and shimmies, suppressing Fulham's momentum simultaneously. Hit the penalty area or keep the ball moving, it's not that difficult at all.
Abou', however, made a huge difference from the bench against Swansea City and, typically by today's renewed standards, he did his bit to introduce late drama to the Cottage yet again. Streaming away from Preston's trailing defenders in the final seconds, the 24-year-old could have blazed over with the target approaching at full tilt, but he shrewdly played Cav' into position and, after the Portuguese attacker fainted and fooled Declan Rudd, Kamara was primed to sweep home, doubling the Whites' slender lead. Kamara is no longer irrational, illogical, insane. The fleet-footed assailant is now a creature of stealth, poise and assurance.
Marek's Marvellous Moment
Now, Marek Rodak didn't have a terrible amount to do but when he was called upon, the trusty saviour between the sticks did exacly what it says on the tin. From a matter of yards, the tall Slovakian stopper adjusted his enormous frame within the blink of an eye to deflect Patrick Bauer's destined header out of harm's way. For a big guy, he's extraordinarily sharp and supple. The victory, without his ready reflexes, was balanced on a tightrope, so we can thank the sturdy 23-year-old for preserving 3 critical points.
His distribution wasn't fantastic but who gives a toss? Lounging on his deckchair, Rodak surveyed proceedings terrifically. If there's one element any squad has to have, unconditionally, it's a firm-fisted goalkeeper and we can solemnly proclaim we've a rock in Rodak. There's sanctuary with the lanky lad within the 18-yard box and whilst Preston swarmed from set-pieces, he conducted his teammates to see out danger sufficiently.
There's not much more to write home about. Rodak, as contested previously, is just as important as Mitro' to our promotion aspirations. I'm going to wrap it up by boldly saying we've found Mark Schwarzer's successor, years in the making. We've an extremely talented 'keeper on our hands and I'm grateful for his point-sparing agility.