The Away Record Fallacy
Written by Tim Clarke on 6th February 2020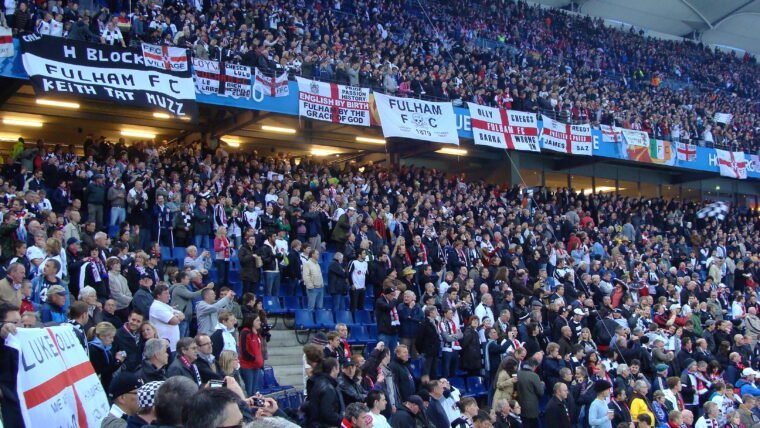 Tim Clarke sits down with Gordon Davies and Rob Wilson to discuss how players actually respond to the notion of a poor away record.
A few weeks ago, Fulham won away at Hull for the first time since 1996. It was also the first time the Whites had tasted victory at the KC since it opened in 2002.
The lead up to the game was fairly pessimistic, and on some levels, it is easy to understand why. We had previously been undone by the Tigers at the Cottage a few months earlier; we had offered up a defence as self-destructive as Hull's ownership; and Jarrod Bowen was scoring for fun. But interestingly, many fans pointed out Fulham's abysmal record away up North as a reason why we would come back empty handed.
Come with us now on a journey through time and space with Fulham favourites Rob Wilson & Gordon Davies as we unpick a footballing fallacy: The away record.
The Changing Face of English Football
The idea that a historically poor record like Fulham away at Hull would affect the players doesn't sit well with either Davies or Wilson.
"It shouldn't affect anything," says Davies. "As a player, you know where the tough tests lie, but I never used to let what had gone on in the past affect me."
Wilson agrees, although with a slight caveat; "Millwall was the only place I felt I couldn't get a result. The crowd was evil… It was scary."
Given that English football has gentrified to some respect, it is unlikely the Den in the 80s would resemble the Den today. When Fulham won 3-0 away at Millwall in the promotion season, it was hardly a war zone. Granted, it is still more rough than your average away day, but if you can handle eight-year olds mouthing "Wanker" with the accompanying gestures from the adjacent stand, you'll be fine. It also helps when KMac is scoring screamers to keep them quiet.
The Role of Sports Psychology
As well as this, modern football has understood the importance of psychological resilience in a player. As transfer costs start to outweigh the GDP of small nations, and worldwide streaming increases the amount of eyes fixed to the back of their shirts, players have got to have a certain grit or fortitude to be successful.
"The science the lads have access to now is incredible!" says Wilson. "I think this day and age is completely different with the support from staff and psychologists."
This is not to say that they are superhuman, or that they never experience crippling stress, but it does mean that clubs work very actively with sports psychologists to instil a winning mentality. It is dubious then, that a record from 20 years ago, set by people the current squad may have never even met would be able to sneak through the cracks of their mental preparation.
"Why should it affect you, if this is your first visit?" says Davies. "For instance, how many of the starting 11 at our first game of the season knew what had gone on in previous seasons against Barnsley? It shouldn't affect the mindset at all."
Embed from Getty Images
Correlation ≠ Causation
So if the players themselves don't see away history as significant, what accounts for records such as Fulham's at Hull? According to Davies, it can be a whole host of things: "Bad decisions made by officials, injury hitting the team selection, or maybe just bad luck." It is also worth noting that there had only been 5 matches at the KCOM between wins. It sounds a lot less damning than "no win since 1996", when Cairney was five, Mitro was one, and Steven Sess was just one of two glints in his father's eye (presumably, his right eye).
It probably all means a lot less to the players than it does for the fans, who remember the loss personally. But I'll get right back on the horse the moment I hear that Millwall havent won at the Cottage in 20 years! In the bag, come on you Whites!
Some additional thoughts
Whilst Davies and Wilson were fairly adamant that away record didn't affect the players, they were able to shed insight into some of the trivial superstitions which did matter.
"I had to be the last one out of the changing rooms," says Davies. "I've got no idea why, it just felt right."
"I never had any," says Wilson. "But Tony Gale used to make himself sick 10 minutes before kick off, and Roger Brown would sneak into the toilet for a quick fag* 15 before!"
*For our international readers, read 'cigarette'