Five Thoughts: Luton Town 3-3 Fulham
Written by Ben Jarman on 27th December 2019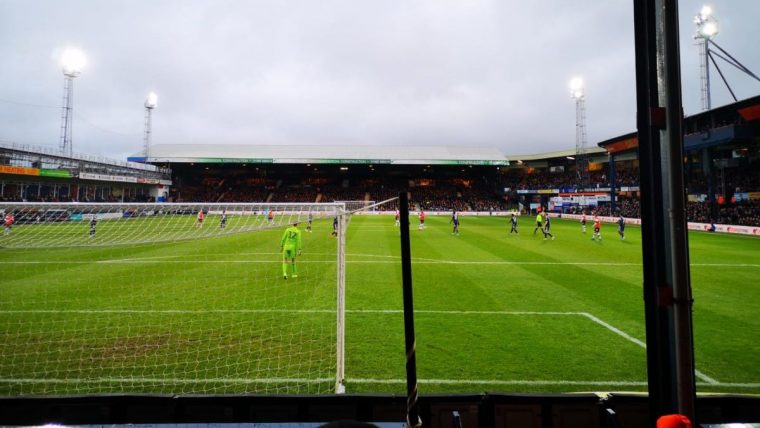 Must admit that when I set off on a chilly, wet morning with a half Christmas hangover and the glory of winning the traditional family Monopoly, I thought Kenilworth Road on Boxing Day would be a nice jaunt. Little did I know that the weather would be dreadful, Fulham would be arguably worse and the 90 minutes of scintillating festive feast of football that I had imagined would actually turn in a topsy-turvy game of elation and excruciating pain.
Firstly I'd like to say well done to the 1,000+ whom made it in and thankfully out of Luton. And to add to this you clearly are all masochists – because that was bloody horrible. The support in the away end was excellent and went that third goal went in the waves of arms and legs behind the goal was a sight to behold, genuinely class. Secondly, I'd like to say that guesting for Cameron Ramsey really has shook me; the two hour drive home was spent thinking of catchy alliterative titles, superlatives for players and how to describe Luton without the use of swear words. Cam does such a good job with these excellent articles, so I hope that I can do his wonderful writing some justice here. So here we go…
Morgue-Like Movement
Well what a difference a few days makes. The wonderful movement that burst Bielsa-ball in the triumph last week was nowhere to be seen on the pitch at Kenilworth Road. Whether the players had too much turkey on Christmas day, or maybe the smaller settings of the Bedfordshire ground left the players befuddled, the lack of fluidity was evident right from the start. Rarely did Fulham push the tempo over the game above walking pace, and when they did they looked disjointed and individualistic rather than the slick outfit on show last week.
Harrison Reed came back in to the fold last week as a welcome addition, but today the diminutive play-maker was left with very little option ahead of him. It's exceptionally difficult to break down a team that plays with a low block, as Luton did today, without any movement from your key players ahead. As much as it pains me to criticise our Captain, today Cairney was marked out of the game by Ryan Tunnicliffe. In the NFL they talk about "separation" between recievers and their respective defenders, but today there was none, as if the players were happy to be marked by their opponent.
The narrative of the story was written from the very beginning, around 5 minutes in when Alfie Mawson was robbed of the ball by Kazenga Lua-Lua. The Congolese's shot beat Rodak to send Luton away with a Christmas present of their own. Now, playing out from the back is a part of modern football, but when the midfield options are virtually non-existent then it is hard to impose that passing style. And yes, the attempts to execute that method of play today were utterly dreadful.
Dire Defensive Duties
Now I'm going to be blunt here because there is no way to sugar coat this section of the article. I'm sorry, there just isn't. A team that wants to be promoted automatically at the end of the season shouldn't be conceding 5 goals against a team that will ultimately finish just above the relegation zone at the end of the team. It really is a simple as that isn't it? Over the past few weeks, Leeds aside, this team has demonstrated a severe lack of defensive cohesion. There is no commanding centre-half, and the confidence in the full-back seems to diminish every week. Today, Fulham gifted two nicely wrapped presents to Lua-Lua and Harry Cornick. Here you go lads, you asked Santa for a goal? Well there you go, just tap it in to an open net.
The third goal was nothing short of a car crash, and reliving it through this article actually makes me feel a bit sick. A long ball from Lutons own penalty area(!!!) which Pelly Ruddock only decides to half-chase, somehow turns in to a goal. Look, I know the style is to play as much as possible, but Tim Ream should know better than to play the ball in-field in this situation and Joe Bryan should have half a look before playing it so blindly. A nice calm finish by Cornick though it must be said.
The marking and set-up when defending Luton set-pieces was absolutely dreadful. Honestly, the players looked confused as to how Luton were managing to create so much panic from crosses and corners, but what they failed to realise is that they left the three biggest Luton Town threats unmarked: Collins, Bradley and Pearson. I'm trying not to sound like a grumpy old git here, because Luton really did deserve something out of the game, but you cannot play a weird mixture of zonal and man-marking because it just won't work.
January really cannot come soon enough, fresh blood is needed.
Scott's Stubborn Showings
Against Leeds, Scott Parker proved to the fan-base that he can bend and twist to hinder his foes attempts for victory, but this week he sadly reverted to type. Now we know that Parker was an incredibly studious coach, and really is in the infancy of his managerial career, but this squad should be mixing it with Leeds and WBA if we are brutally honest. Many would argue that this squad has a better balance, wealth of talent and potential than the one that Slavisa Jokanovic took to the Premier League. Somehow though, this outfit often look too slow, short of ideas and frankly unorganised. Telegraphed and predictable are two words that would befit this playing style.
What became most apparent against Luton is the change the approach of the team, it actually reminds me massively of Fulham under Martin Jol. A one-dimensional outfit that seem to run out of ideas on the edge of the box. Many of you will remember that team that included Demspey, Johnson, Zamora and Damien Duff amongst others, really failing to create clear cut chances. That team suffered because they had very little tactical structure when moving through the thirds of the pitch and lacked imagination in the final third – it really does feel so similar to this Parker team who bumble through transitions like Barney Gumble of Simpsons fame. Parker mentioned in pre-season that he wanted the full-backs to be a little more conservative in possession, and when bombing forward, but this has negated a number of things that Fulham do well. For example, this drags wingers away from the box and on to the bye-line, but also increases the necessity of midfielders getting in to the box – something that Tom Cairney fundamentally does not do. It is clear that we need to be much more imaginative in the attacking third, especially against a low block.
Everyone will remember that Slavisa Jokanovic pulled no punches with his substitutions. Obviously he is no Duncan Ferguson (thoughts are with Moise Kean and Cenk Tosun), but Scott's unwillingness to change what is seemingly the obvious is concerning. Obviously this is not something that you have to agree with, but it was alarmingly obvious yesterday that the withdrawal of Reed was in the words of Sammy James "removing the plug and expecting the water to stay in the bath". And actually even more concerning was the unwillingness to introduce a second pivot to track the third man runs from Luton, or the additional legs needed to curtail the counters in the form of Johansen. But yes, Scott is very much at the beginning of what is promising to become a great managerial career, so hopefully he is given time to mature in to that.
Bobby's Bloody Brilliant
There really is very little doubt remaining for me with regards to the signing of the season so far; it really is Bobby Reid. For a team that scream inconsistently week-in-week-out, Bobby consistently delivers like a 5* Uber Eats driver. Don't get me wrong, I love Cavaliero because he provides opportunities even when playing badly, and can clearly operate at a Premier League level. But Bobby changes the whole dynamic of this team, and it really isn't just against Luton on both occasions. He was excellent against Derby, outstanding against Charlton and opened up the game in our favour against QPR.
The fleet footed forward really does inject a different tempo when he dons the white shirt of Fulham, his positivity with the ball makes him a constant threat and, refreshingly, supporters will rarely see him pass backwards. Jinking runs catch the eye almost every time the ball is graces by his presence and when Fulham needed him the most, he pulled them up off the canvas for one last devastating blow past Simon Sluga at Kenilworth Road to paper over a sub-par performance from his team. This goal at the end of the season could be crucial in clinching automatic promotion, or more likely, a play-off run for Fulham.
Bobby was sublime on that bumpy, narrow Kenilworth Road pitch. Riding the touchlines like a trapeze artist before cutting inside his man and unleashing rasping drives at Sluga in the home net. When he moved inside for the final fifteen minutes his movement bamboozled the Hatters centre-halves, as he slotted in between the lines like a natural playmaker dictating the channels. His opening goal was reward for excellent hard work and the willingness to outfox his opposing full-back and attack the penalty spot, something rarely seen from a player in black and white (sometimes blue, Fulham can we get rid of that kit please?!). His second, whilst looking like an easy thump in to the back of the net demonstrated the thinking on his feet mentality that Reid has, whilst simultaneously understanding that he needed to elevate the ball over the onrushing Sluga to snatch a point from the jaws of defeat.
Mitro Masking Magic
I really cannot think of any further superlative for this man. He is quite literally keeping us up the sharp end of the table, and without his goal contribution Fulham would currently sit 18th in the league. By his standards, his contribution against Luton was a little quite, bar his magical chest and pass in the build up to the first goal and his own notch. Last time we faced Luton his wonderful hat-trick was the difference between the two teams in a game that was the most comfortable 3-2 victory in recent memory.
Mitro's red-hot form coincided with the four-match winning streak that Fulham went on in those bright November months, but in actual fact his rise to prominence brushed over two shaky performances against an unlucky Swansea side and a dire Derby. Many would argue without Tom Cairney this side becomes completely different, but the simple fact is that without Aleksandar Mitrovic this season Fulham would have transformed in to Birmingham City or Middlesbrough. He really is that good. If we want to keep him playing in SW6 beyond the end of this season, then we must deliver the goods and rise again in to the Premier League.