FourFourDrew: Top "Fulhamish" Moments of the 2010s
Written by Drew Heatley on 23rd December 2019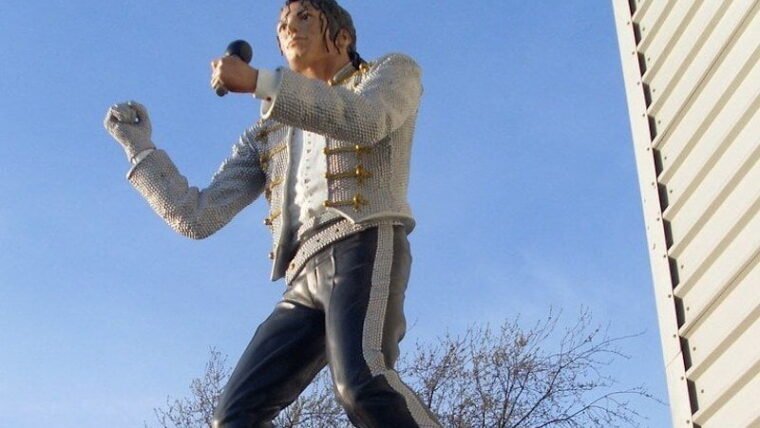 As we near the end of the decade, Drew Heatley looks at four of the more "Fulhamish" moments of the last 10 years.

When a period of time as significant as a decade comes to a close, it's only natural to look back, reflect, and rank every possible element of the epoch. This is no more evident than in football. Hell, even we've done it. But as we all debate whether Sascha Riether was a better right-back than Ryan Fredericks, or whether our semi-final victory over Hamburg is a more imporant moment than toppling Juventus or even our win at Wembley, I can't help but think back to some of the stranger moments of the last decade, the type of things that make Fulham, Fulham. So, in no particular order, does anyone remember…?
1) Al Fayed erecting the Jacko statue – and Shahid Khan taking it down
Embed from Getty Images
The MJ statue is possibly the most "banter era" event to happen at any club, ever. It was unveiled dangerously close to April Fool's Day in 2011 by Mohammed Al Fayed, who famously told our fans if they didn't like it they could "go to hell". But there it stood, hee-hee-ing away as it looked over the Thames, as Fulham put some of the Premier League's – and Europe's – biggest clubs to the sword.
Fast-forward two and a half years. There are many things a new owner can do to endear himself to the fans: dip into the transfer marker, lower ticket prices or renew star players' contracts, to name just three. Shortly after his arrival as FFC "custodian" in the summer of 2013, Shahid Khan took a different – yet no less effective – tack as he got rid of the acrylic monstrosity at the start of the 2013/14 season. We all know what happened next. The statue was relocated to the National Football Museum in Manchester – and we relocated to the Championship.  
2) Felix Magath prescribing a cheesy remedy to Brede Hangeland
Embed from Getty Images
Our cruise down the Championship Highway was far from smooth. Felix Magath was our third manager of a disastrous campaign, and he was probably the worst. This was despite his Bundesliga-winning pedigree. When Fulhamish player of the decade™ , Brede Hangeland, found himself on the treatment table, Magath – in his infinite wisdom – was convinced that rubbing a large block of cheese on his injured thigh would cure him. Reports that he also told Brede to call his mum remain unsubstantiated.
Magath confirmed he ordered the odd method of recovery, but claims reports were "distorted" – maybe he actually prescribed a wheel of brie? Hangeland, however, had the perfect last word. "I always try to see the good in people – but Magath was an awful human being."
3) Berba bossing the Harlem Shake
Embed from Getty Images
Berba was a cut above many – if not all – of his Fulham teammates when he arrived from Man United in 2012. But he could also be a cocky shit. That was no more evident than after scoring against Southampton, he pulled off his shirt to reveal the slogan "Keep calm and pass me the ball". The goal came at the end of a seven-game barren streak, and the message was a wonderfully passive-aggressive message to his fellow players.
It was also a riff on the terribly twee "Keep calm and carry on" slogan that was doing the rounds on every tea towel and lunchbox in the country, despite being 70 years old. Two months later, the Harlem Shake was a similarly popular trope, this time online. Seemingly everyone had a go at it, but few were better than Fulham's. While the players dressed in all sorts of fancy dress clobber were bopping around Motspur Park canteen, there was Dimitar at the front, standing perfectly still, with a top emblazoned with "Keep calm and do the Harlem". The cocky shit.
4) Tony Khan delivering a Stone Cold Stunner in the centre of the ring
Embed from Getty Images
When the Khans were revealed as the backers of the newly-launched All Elite Wrestling franchise at the beginning of this year, it was always going to be trouble. Fans were already concerned about Tony Khan's ability to combine his role as our Director of Football with his position as Senior Vice President, Football Technology & Analytics at the Jaguars. Combine that with the fact that (and this might be a generalisation, but indulge me) the average British football fan most definitely isn't a fan of wrestling, and you've got a powder keg of anger just waiting to explode.
If the video of TK delivering a stunner to AEW wrestler Shaun Spears this week hasn't set that keg off, it's nearing breaking point. Now, here's a disclaimer: it doesn't bother me in the slightest, as I've said before – I just can't bring myself to get annoyed about it. But I can appreciate why others do. I'm just hoping TK can uncover a "stunner" or two during the January transfer window.
What a decade it's been. From a European final to Wembley to Preston on a Tuesday night, we've seen it all. What was the point of this trip down memory lane? Well, to show that no matter what happens on the pitch, supporting this magnificent club is many things – but it's never, ever boring.
Here's to the twenties.