Five Thoughts: Fulham 2-1 Leeds United
Written by Cameron Ramsey on 22nd December 2019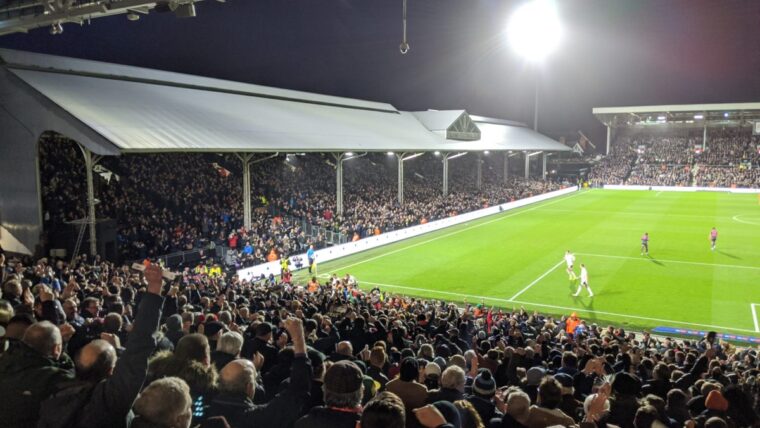 March on together. Think we'll adopt that as our own now. Coming off the back of three dismal defeats, another dreary loss was the only plausible outcome for Fulham, who had the ordeal of stunting a high-flying Leeds United at home, with Christmas just 4 days away. Stuff it all, and the Turkey while you're at it.

Before kick-off, the Whites were 12 points behind Marcelo Bielsa's Peacocks and I was preparing to jack it all in for the festive break and start afresh in the New Year. Now that gap's shrunk to 9, though, I'll push the Monopoly board aside for the moment and revel in our 2-1 victory, a white-knuckle affair that quite literally had it all. Handbags, fisticuffs, the lot. That's the seasonal spirit we all adore.
The fierce attitude on show from Scott Parker's side was emphatic. You couldn't fault our gutsy disposition as a group. All was mustard and we've finally beaten a side in the current top 6. We haven't changed the course of our season just yet as there's a ridiculous amount of ground work to be done, but those 3 points cement the foundations of something profound in the coming fortnight, a gridlocked period where hard work and willpower splits the mediocre from the elite. Which bracket do we ultimately belong?
Bursting Bielsa Ball
Embed from Getty Images
Marcelo Bielsa's Leeds have evolved under his studied supervision and are renowned for practising a ruthless, hardened strategy. Parker's system is a prototype in comparison with multiple defects rising to the surface in recent weeks and bouncing back against Saturday's treacherous visitors required a minor miracle. Our mentality had taken a severe thrashing and the lads needed a rocket up the backside if we were going to steal anything from matchday 23, but what a drastic difference a week makes. Bolting from the traps from the off, the Whites unsettled Leeds' composure and continued to disrupt and frustrate throughout, right until the very last second of the hotly-contested confrontation alongside an exposed River Thames.
The narrative was end-to-end, with both camps striving to edge ahead at every given opportunity, although United's familiarly incisive approach was mutated by the Cottagers' dedicated perseverance. Fulham strangulated Leeds and coerced them into launching long balls up the park to relieve pressure. Ivan Cavaleiro hounded Stuart Dalas, Harrison Reed patrolled the middle of the park, reintroducing a dogged bite to our midfield and as a collective, the Whites flexed a commendable solidarity and hunted as a pack. The first goal would set the tone and it was vital that Fulham landed the first blow. From the spot in the 10th minute, Fulham took the lead and from that moment on, the hosts had to rediscover a mettle that had evaporated in our last three defeats, a unity that would bundle them over the line to salvation.
Fulham's backs were shoved firmly against the wall at times but tools were not downed. Unzipped in the 22nd minute, Marek Rodak darted from his 6-yard box to smother Dalas and, in the 41st, Rodak was on hand again to thwart an unmarked Patrick Bamford, who'd peeled away from his maker to scruff the young Slovakian's gloves. Leeds probed intently and Patrick Bamford levelled proceedings 10 minutes into the second-half, although heads didn't drop and mindsets didn't diminish. Pulling together to smooth the complexion, Fulham turned the screw themselves and found reward with 20 minutes of normal time to go. A late fightback nearly paid off for the Peacocks but that desire from Fulham, that admirable persistence gift wrapped a hard-fought, courageous triumph. For 95 gruelling minutes, the Whites equalled Leeds stride for stride, cancelling out Bielsa's boys with just 35% possession. Less time on the ball than what we're used to? Just 3 shots on target? Who cares. I'd rather us fight tooth and nail every week than fade away without a whimper.
Joshua's Jingling Justice
Embed from Getty Images
Got to admit, humble pie has a satisfying bittersweet taste to it. I, like many others, have made my opinion of Joshua Onomah very known since his arrival in the summer, and it hasn't been a particularly positive one, either. Unfit for purpose, sluggish, substandard, the former Tottenham Hotspur prospect's had to endure ruinous assessments and critiques of his ability and, if I'm completely honest, he's deserved all the stick he's gotten. He hasn't been up to the required standard and he's wilted under the weight of responsibility. Named in the starting XI ahead of Stefan Johansen, Onomah's name was dragged through the mud. How, how is he higher up the pecking order than StefJo?
I was incensed when the squad was released at 2pm and I'd already written off our hopes of turning up, let alone winning with him in the set-up. Well, there's a few ways to button mouths and silence doubters and my word, it's like Onomah's body was taken over by a prime Dickson Etuhu. WD40 does wonders to creaky, lumbering legs. The 22-year-old was box-to-box, hard-hitting, constructive, and inexhaustibly transcendent, the stand out enforcer within his department. Getting in the faces of Mateusz Klich and Kalvin Phillips, Onomah imposed himself upon the challenge of overpowering Leeds' stringent midfield and did his with aplomb. I've never been convinced by his positional awareness, but the disregarded hindrance covered a vast span intelligently and was the spark we so desperately needed.
A mediator on the ball, a nuisance off it, Onomah had a revitalised spring in his step and in the 69th minute, in the right place at the right time, he slammed home the winner with a ballistic torpedo. Three points guaranteed by a strike with more spice than your favourite Nando's order. Tweeting after the game, Onomah pledged to prove sceptics wrong and I've never wanted to eat my words more. I'll slather them with with ketchup if it helps them go down easier, but one outstanding performance still won't mask over the fact he's an average squad member at best. To truly outshine Johansen, Arter (when he returns) and Reed, he has to apply himself in the same glowing manner each time he pulls on the shirt, not just for the odd occasion. He can make a lasting impression if he swats off the trash talk, maintains his focus and listens to the only person that's worth the attention. Himself.
Aleksandar Attracts Action
Embed from Getty Images
'Isolation' is another well known Joy Division classic and Aleksandar Mitrovic has unwillingly carried it with him as his own personal them tune for a few weeks now. Mitro's a presence that can hold his own but, as we all recognise so well, service has to come his way. Against Bristol City, Preston North End and Brentford, he was a lonely, neglected figure in the final third and was subsequently quarantined. No matter what came his way, the ball simply wouldn't stick. Liam Cooper and Ben White are revered as one of the Championship's hardiest centre-half partnerships, but Mitro' made festive mince meat of the both of them. Confront the indomitable Serb' at your own peril, because if you're inferior, he'll vaporise all that you are.
Was it a penalty? That's up for debate, but football is riddled with contentious decisions and we've certainly sampled the sourness of incompetent officiating this season ourselves. A spot kick was awarded and Mitro' eyeballed Kiko Casilla. Plunging to his right, the Spanish stopper flapped at the striker's stroke, diverting it onto the inside of the post. A broad sigh of relief was heard as the ball trundled into the opposite corner and Mitro' skipped off to celebrate his 17th league goal of the campaign. Not the cleanest of contacts, but it doesn't honestly matter how they go in, after all.
Pinned against two centre-backs, Mitro' welcomed hoisted clearances and intended crosses into his frame, taming the ball with outrageously deft flicks and touches, particularly under the strenuous circumstances. Men appeared mortal in his shadow and for such an assertive powerhouse, he manufactured incisive sequences with deceptively intricate expeditions with the ball under his surveillance. He bobbed and weaved like a heavyweight boxer in round 5, tormenting the opposition with grit, brawn and unrivalled intelligence. Hugging the touchline as Fulham escaped the depths of their own half, Mitro' jinked towards the target from wide and, whilst he's no winger, he caused absolute havoc. He clamoured, he provoked, he relished the prospect of monopolising his rightful territory.
Basically, Bobby's Brilliant
Emerging from the bench against Brentford, brushing off an injury setback, Bobby Decordova-Reid's impact was felt straight away.Easing the 26-year-old back into action was not an option and Parker opted to throw him back into the starting compliment against Leeds, a wholly necessary measure that proved to be pivotal as the game progressed. An elusive instigator behind Mitro', BDR knitted sequences together between the central striker and our midfield protagonists, sinking into congested pockets, as he always does, to unhinge Leeds' shape and fortitude. That kind of ingenuity has been sorely missed in his absence and the sight of him dismantling the visitors across the breadth of the final third was yuletide bliss.
Bobby combined with Mitro' systematically, making sure that the striker's relevance lasted in carefully constructed passing phases. Streaming forward, Reid troubled Luke Ayling with his undying willingness and unpredictable movement, forcing the fullback to poke the ball out of play, or risk being robbed by the adaptable instigator. He's not afraid to immerse himself in physical battles and, though he's not the biggest of blokes, he often comes out on top, purely because he's hungry to upset the flow of the game at all costs. Ayling coudn't contain him and neither could any hapless competitor that tried to suppress his enthusiasm upon his full return.
Steven Sessegnon replaced him in the 92nd minute, but the Jamaica international was fizzing with verve and energy, testament to his ethic and work-rate as a trusted component within our system. He's one of the first names I'd draft into my selection if I were in charge, because he's a flexible team player with abundant beneficial qualities. Bobby is invaluable, a magnificent individual meddler that pulls his weight for the cause, and he's not even a permanent member. That speaks volumes. A Cardiff City player, yes, but invested in the Whites cause for promotion? His animated performances suggest that he's in it for the long haul.
Alfie's Alright Atonement
Embed from Getty Images
Redemption is the undertone of this article, and Alfie Mawson, after a less than satisfactory afternoon last week, atoned for his previous calamitous errors to banish Leeds' methodical offensive sieges. Again, I haven't been Mawson's biggest fan but I'll stand by my opinion. He's erratic, uncertain and a hideous distributor, although he conducted himself suitably to muzzle Eddie NKetiah and restrain Bamford for the most part, so here's to you, Alf', you did alright out there.
Leeds slipped in behind Fulham's back four, freeing Nketiah, Jack Harrison and Ezgjan Alioski. Mawson isn't blessed with searing pace, but he was fleet footed in pursuit of the visitors' unleashed attackers, intercepting danger before it was all too late. He and Tim Ream held a rigid line as Fulham squeezed up the pitch but, if the Whites' rearguard was breached, the 25-year-old reacted swiftly to counteract United's direct game plan. Mawson's perceptive outlook reduced Leeds' chances of establishing a solid foothold – he wasn't prepared to be strung up like he was against the Bees, that's for sure.
First to loose balls, committed to headers, alive to his own personal tasks and obligations, Mawson is worthy of praise, I suppose. What we were looking for was a reasonable reply from all involved and Mawson sounded that particular bugle ardently. A few shaky touches here and there, the odd suspect pass, but the inconsistent defender did what he's paid to do and kept one of the division's most lethal, potent outfits at bay, operating in unison with his defensive colleagues, instead of being a burden to them. Must keep momentum going, otherwise the chop is destined for his neck once Michael Hector gets his chance to impress in January.