Here at Fulhamish, we love stats (well, except for Dom that is). They provide objective insight, discount our own natural internal bias, and help us understand at a deeper level what's happening with our little club in West London.


Rather than just spewing out reams of irrelevant numbers, we always like to go a bit deeper with our analysis. We like to investigate important numbers, and compare them against baselines, to help explain to you what a figure actually means.
Thanks to our friends at Wyscout, we can now take a regular look at data captured about Fulham players – so we can keep tabs on whether players are improving or regressing in certain regards. This is what we'll look to do in different areas, including this and future "Stats Watch" articles.
As a starting point for this analysis, we've created 'comparison graphs'. These graphs will show how each of our players compares to other players in the league who share their position (ie "Goalkeeper", "Defender"…)
Some points to keep in mind when reading these graphs:
Each value will be compared on a "per 90 mins played" value, against players who have a reasonable sample size
A Higher bar means they're closer to being the league's best in their position
Goalkeepers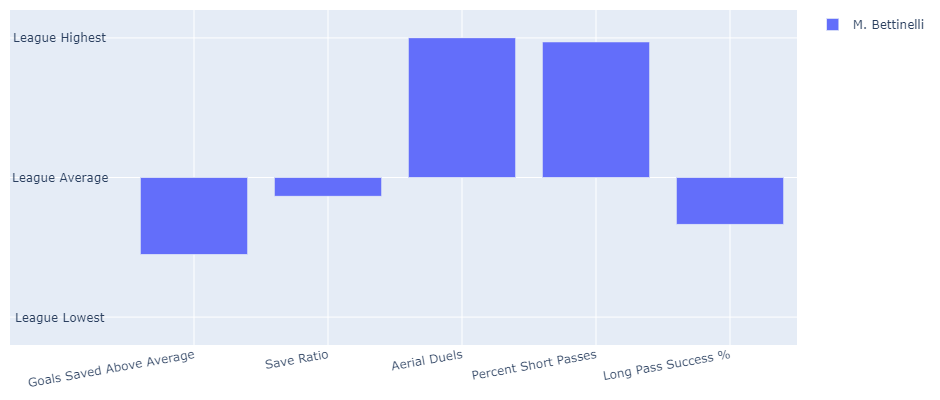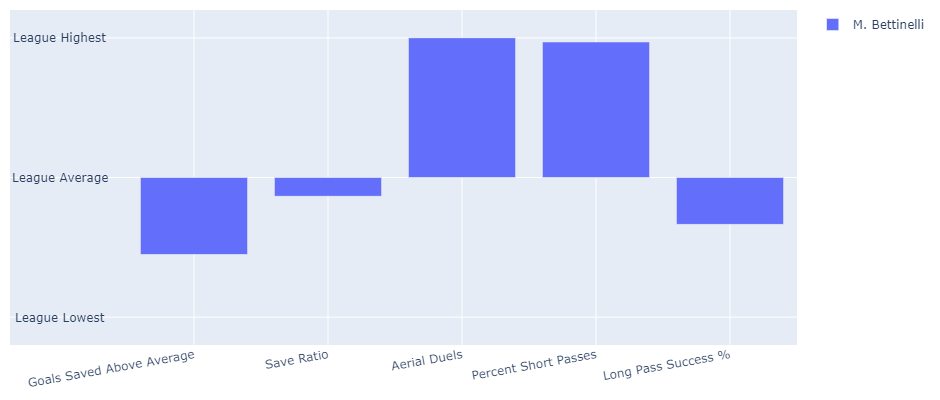 For now, we have only one player who has played in goal (we're only looking at Championship data here and not Cup games). So here are the key stats for Marcus Bettinelli.
One of the key stats here is "Goals Saved Above Average" – a rating for shot stopping. This is calculated by making an estimate as to how many goals an average keeper would concede from a series of shots, and then taking away how many the keeper actually conceded. Here, Betts's value suggests he's conceded 0.27 goals per game more than an "average" keeper would. Considering shot stopping is supposedly a strength, he's had a relatively poor start to the season.
As you'd expect, Betts does play the ball short a lot compared to other keepers (a symptom more of our style of play than anything else). However his long-ball success rate is relatively poor, suggesting that we as fans have every right to question whether Marcus is the right man to stay between the sticks.
Defenders
Fullbacks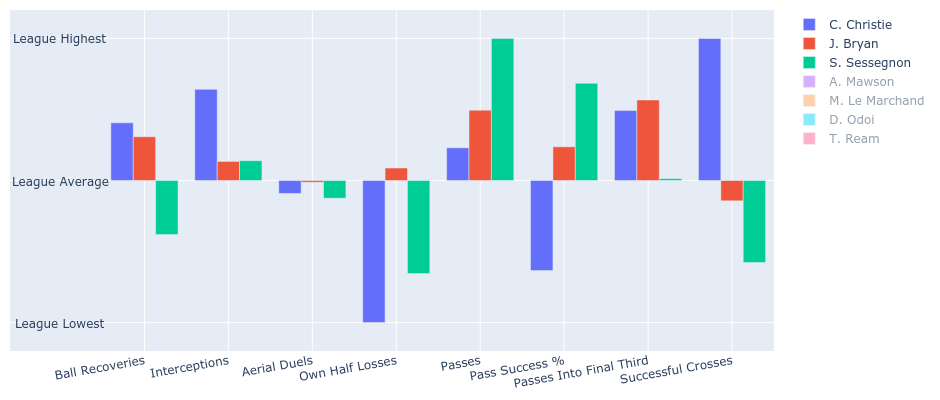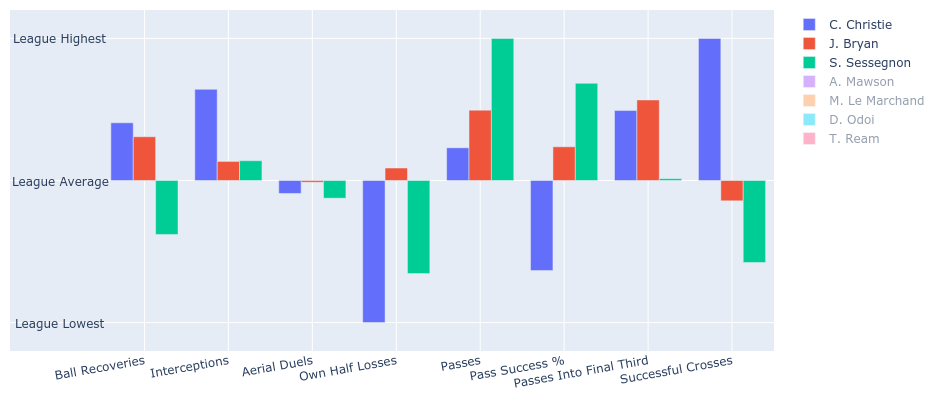 Centrebacks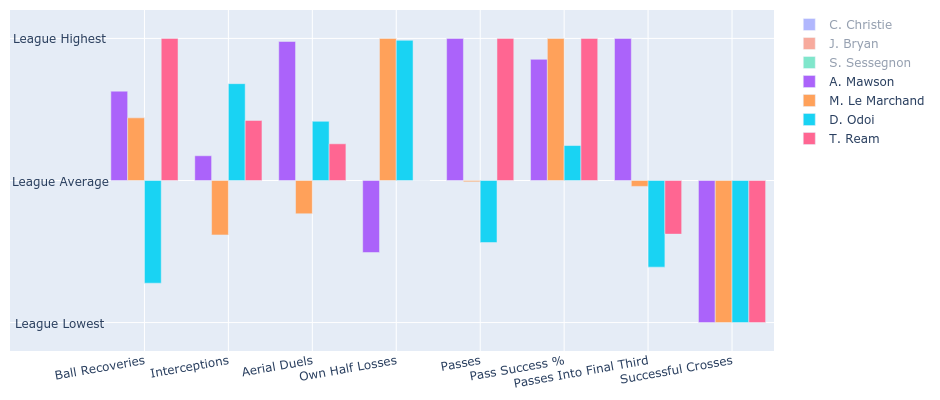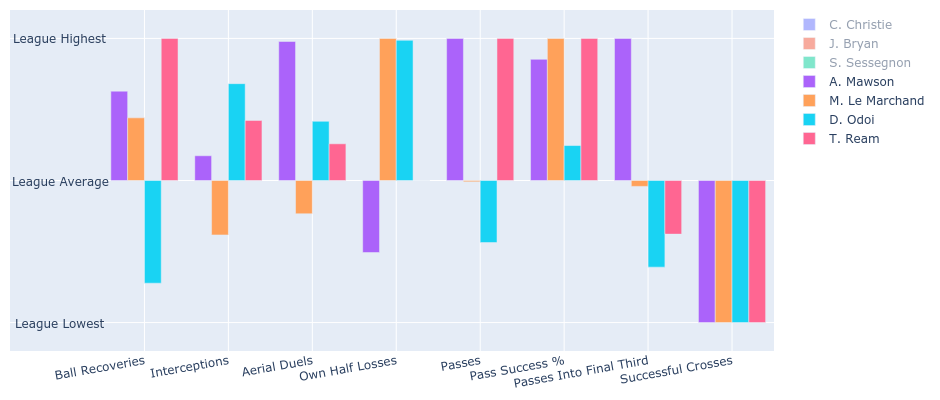 By splitting out fullbacks, and centrebacks, we can clearly see how our defenders are performing compared to the rest of the league.
In the fullback race, there are clear differences in the profiles of Bryan, Sess and Christie. Most would agree that Bryan and Sess should be the first choice pair, and their strong numbers suggest theyre right to be on the pitch (particularly Joe Bryan, who's consistent across the board). Christie's defensive output & cross count is high, however his poor pass completion and own-half losses suggest the Irishman is low on confidence – and therefore is rightfully kept on the bench for now.
In the centreback race, It's key that Scott is prioritising our passing game: Ream and Mawson average more passes per 90 than any other player in the league by a significant margin. They also have complementary skills: as a pair, Mawson offers an aerial threat, with direct passing, whereas Ream puts in more defensive effort.
It's worth keeping in mind that we're also lucky that we have two strong backup options in Odoi and MLM – with both putting up above-average numbers in almost all areas. For now it feels that Scott is playing the correct back 4, however it will be interesting to see how Michael Hector fits in!
Midfielders
Defensive Midfielders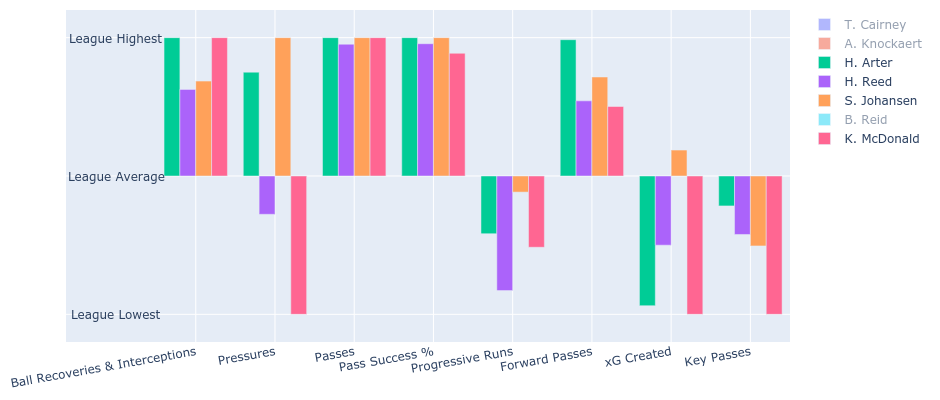 Attacking Midfielders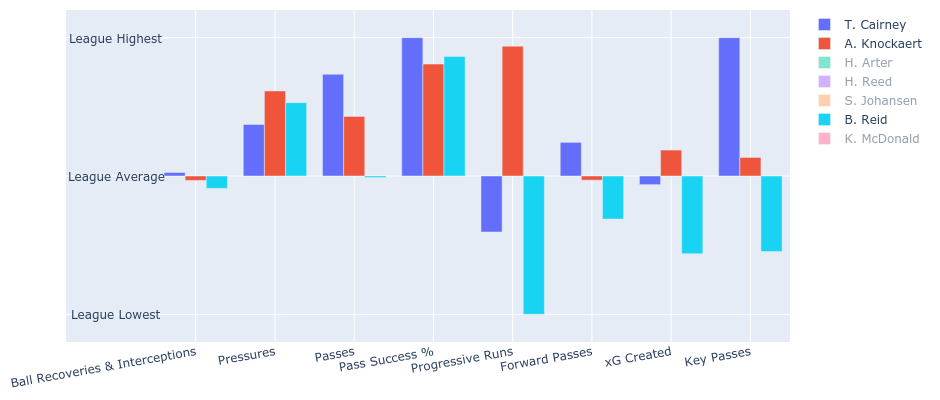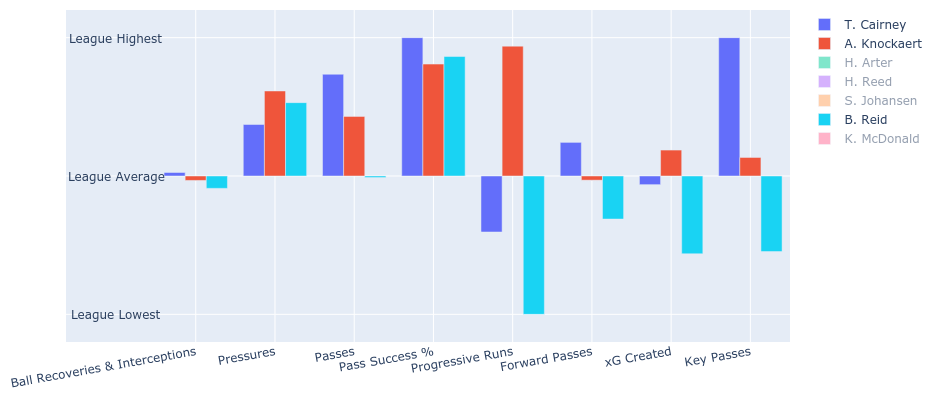 Looking at the defensive midfielders, we can see that our players tend to excel in the similar areas: passing, and defensive output; clearly something Tony's looking for in the numbers! It's also interesting is how Arter and StefJo stand out as the "shithousers" of the team: high pressure numbers and lots of forward passes. They add real energy to our plan, in a way that Reed & KMac do not.
When reviewing attacking midfielders, a couple of things stand out. Firstly, as referenced by Ben in the pod recently, it seems Bobby Reid is struggling in his attacking midfield role. Whilst his passes are accurate, he's creating very little with them and offering little direct threat on the ball.
Secondly, captain Cairney continues to be the playmaker of the team – creating plenty of chances and is fairly good at moving the ball forward. However, the low 'xG created' value suggests the chances he's creating are poor quality ones – perhaps a sign of our forwards taking too many low quality / long range strikes.
Strikers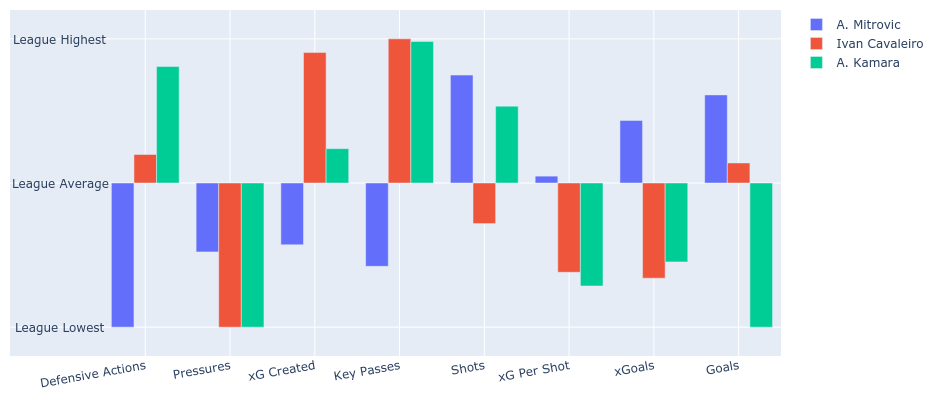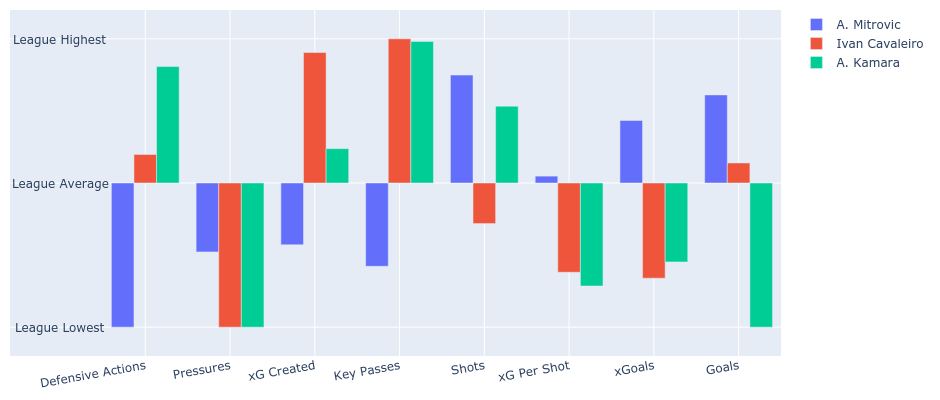 Finally, looking at our main strikers, we can see vastly different profiles of the players. For instance, Mitrovic offers very little defensively – quite surprising considering he looks so lively on the pitch. He's clearly an incredible talent in attack, but perhaps Scott needs to look at converting this energy more effectively to be more productive in defence.
When looking at the attacking wingers, Abou's numbers are surprisingly strong! The Frenchman wins the ball back a lot, and creates a fair amount of chances, however his low 'xG per shot' does suggest he's taking on shots from too far out. On the other side, Cava's creates a fair few chances but seems to offer very little else to the side.
Wrapping up
When trying to analyse data, context is always key. Raw numbers should never be blindly followed, as there will always be other things to think about.
For example, whilst Kamara may have good numbers, anyone who's watched Fulham recently will know he takes more value away from the side in many other regards. In my opinion, this is perhaps a sign of how recruitment a couple of years ago put too much weighting behind raw numbers rather than scout reports – a balance which is now perhaps better now.
However, when we combine context and data, it can tell us far more about the side than just going to games can ever give. Look out for more stats output in the coming months from Fulhamish.
COYW!!