Take the ball, pass the ball. Take the ball, pass the ball. Take the ball, pass the ball. Some of the eagle eyed among you may recognise this phrase as the title of the Barcelona documentary, focusing on the best team of modern times.


Their suffocating, exhilarating passing style became famous for re-creating the beautiful game. They won countless trophies and provided a blueprint for other teams to follow, and we see it now from Manchester City to Rochdale via Ajax and Real Betis.
We also see something similar in SW6, but a version that lacks a certain je ne sais quoi. It's a toddler da-da-da'ing away before saying their first words. It's waking up in the morning and doing that funny stretch before getting in the shower and finally feeling alive. It's a passing game that just feels a little… languid. It's one of those situations where you'd love to grab it by the scruff of the neck and tell it to get it's act together. To sharpen up.
Embed from Getty Images
Football is a risk-taking game, you don't get anywhere without trying something. That wonderful defence splitting pass you saw from your favourite player is a risk. The dazzling run at a defender, yes take a chance! But this is something we aren't seeing from this Fulham side who are blessed with players capable of producing that magic moment. One night in August, Fulham gave us the biggest tease. 84% possession, over a thousand passes, a wonderful team goal, three further beauties and a clean sheet. Since then, well you know what's happened since then. Possession averaging 70%, passes well above 600 but excruciatingly shots on target averaging 2.4, and goals creeping worryingly towards 1 per game.
The football Fulham play is beautiful, eye wateringly so. But it needs more, a small injection of risk. Average passing charts show a concerning habit of passing in to the centre of the pitch, players constantly seeking to come inside. But fundamentally, when you are suffocating a team in their final third it doesn't work. It's easy to defend against. That great Barcelona team, this City team stretch the pitch, they get wide and move opposition banks around. Cavaliero and Knockaert coming inside is too predictable and Fulham need to begin to exploit weaknesses in wide areas on a more frequent basis. Those trademark cut-backs are disappearing, over lapping runs diminishing. It's about getting beyond, creating space where there isn't any and making that assertive move.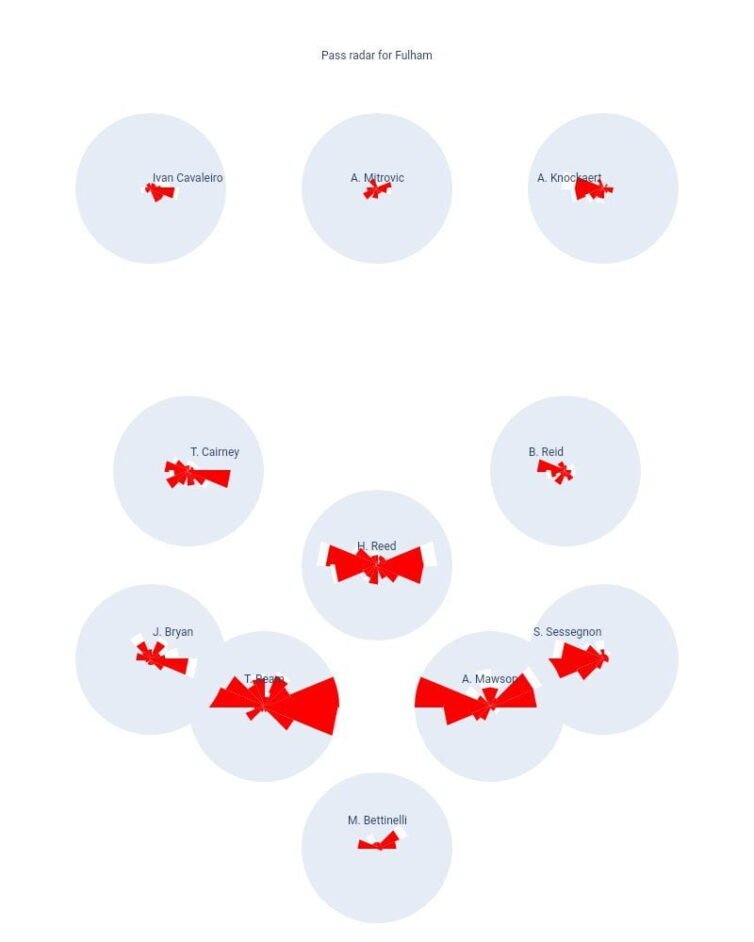 At this moment in time Fulham feel and are ultimately making one pass too many in certain situations. Being direct doesn't necessarily mean playing like a Tony Pulis side, nor does it mean playing off Mitrovic's head. It means playing through the lines quickly, spotting those runs early. More importantly it's about creating space and hurting opposition in their weakest spot. This was so expertly executed against Millwall, with full-backs having more possession than the entire opposition. We hurt them.
But since then Fulham have regressed in to a team chasing perfection but forgetting about the killer instinct. What is the use of having the most passes, final third touches, final third possession wins if the results do not reflect that? It's time for Fulham to become ruthless, to chase goals and suffocate the opposition through pressing and passing. We're not Real Madrid, we're not Barcelona… but we could be a mini-version with a few tweaks.