As a member, but not a season ticket holder, George Singer is one of those most impacted by Fulham's alienating ticket pricing strategy. Below he gives his own personal story, and outlines how you can help Fulhamish's cause.

I have the upmost respect for Fulham season ticket holders. They follow the club week in, week out, whether times are good or bad. One day, I'd love to join them, but right now I cannot afford to do this. Therefore, I'm a Fulham member, and have been for a few years now.
This not an uncommon position to be in as a fan. There are thousands of us, and we make up a significant proportion of the match day attendance. We've been there for the highs and lows, and we deserve an equal opportunity to go and watch the club we all love.
This season, high ticket prices have taken this opportunity away from us. Where once the club embraced affordable tickets, we now charge an unpalatable £60 for a Tuesday night match against Brighton. Seats which were previously occupied by fans like me are now sat on by tourists, opposition fans, or indeed just left empty. For myself and others, following Fulham has become an unsustainable hobby, and as a result our fan base is dwindling.
Quite simply, this is wrong. We need to send a message to the club that we are against this.
It's time to #StopTheGreed.
Europa for a fiver
If you will, I'd like you to briefly indulge me briefly in my own personal story about supporting Fulham. It's not unique by any means, but like many others it is one built on affordable tickets.
I'll be honest, when I was younger I was never particularly into football. Yes, I loved sport, and I spent more hours than I'd like to admit digesting every line of every Ceefax page between 300 and 400. However, I just couldn't understand why everyone was so bloody obsessed by football. This all changed for me 10 years ago – when I fell in love with a quirky little club from West London.
As a teenager, I was aching for a way to quench my thirst for sport, and an outlet for my new independence. I would go along to any sporting event I possibly could, including going with friends to a couple of Fulham games. I had great fun travelling to Putney bridge, and watching a plucky little underdog punch above their weight to finish in a European qualification spot.
Whilst some called it a poisoned chalice, this 7th place finish for me gave me a rare opportunity: cheap, midweek tickets to watch quality European football. This was something no-one else could offer, and I was keen to embrace it as much as I could.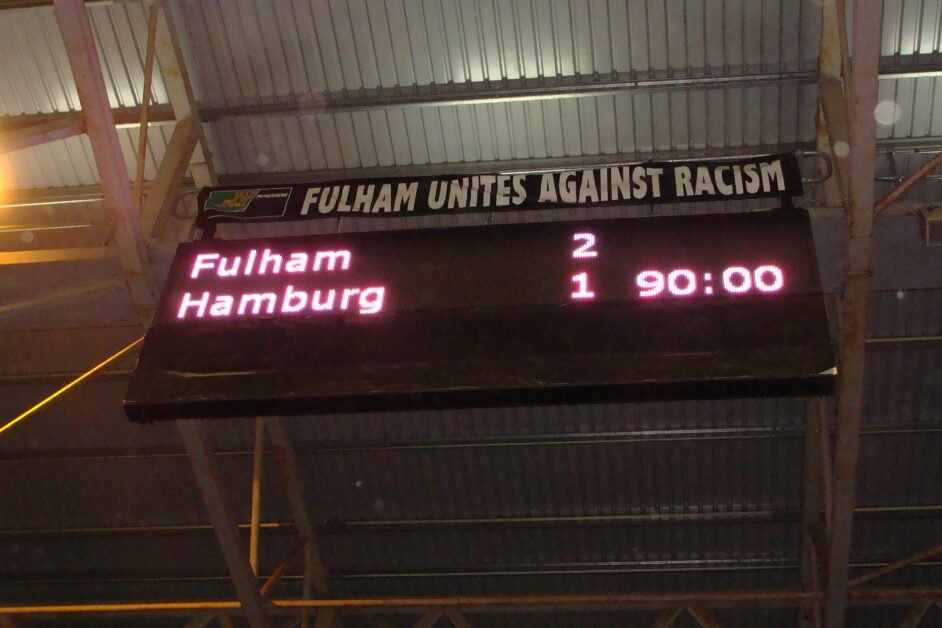 From FK Vetra to Hamburg, I lapped up every second I could, and absolutely loved it. Week in, week out, I would go watch Fulham defy the odds and watch heavier and heavier weights tumble infront of my eyes. One of these Goliaths were our semi final opponents, and hosts of the final, Hamburg.
We may have conceded an early goal, however you could physically feel the momentum building in the stands. We stood up. We believed. We scored twice, and we won. Pandemonium. Strangers embraced each other – and a community came together in a way that I'd never experienced before. These are moments that can never quite be experienced when you watch in your living room.
I simply couldn't have experienced these moments if the club hadn't provided these cheap tickets, and I'm forever thankful that they did. Whilst they may have taken a hit on matchday revenue, they had invested in my loyalty, and I'm now a fan for life.
Championship lows
After the disastrous tenure of Felix Magath, and a disheartening relegation from the Premier League, for a period it wasn't a particularly fun time to follow Fulham. We were losing most matches, and the quality of football had fallen off a cliff. In particular, I remember walking home from a match against Bristol City feeling particularly low. We'd conceded a last minute winner, and we were teetering on the edge of becoming a League One side.
However, again, thanks to reasonably priced tickets, I was able to watch these matches live. Those crap moments we had were my crap moments – in a way that couldn't have quite been replicated if I hadn't seen them in the flesh.
Bizarrely, these bad times actually served to strengthen the bond I felt had with Fulham. I'd seen my club fall to bits, and all I cared about was getting things back on track, and watching Fulham make their way back to the Premier League. In truth, these miserable moments made what was to come taste even sweeter.
Championship highs
When our unbeaten run that took us to Wembley began, even the most optimistic of fan couldn't have expected it. We were in the bottom half of the table, and were deemed to be underachieving with a strong squad. However, with each win, our stock rose higher, and more and more people wanted a part of us.
For me, here's when the ticket pricing issues started to begin. Deep in the heart of our run-in, we faced a strong Brentford side. A local derby is tasty any time of year, but especially so when a win would put us in touching reach of automatic promotion. For the first time in a long time, the golden ticket of the weekend was at Craven Cottage.
And what was the club's response to this? They hiked the prices up in an attempt to cash in. I ended up spending £40 to attend, significantly more than I had spent on a match ticket in years (normally around £25). The outcome of this pricing model? It didn't sell out, a frustrated crowd got on the player's backs, and we conceded a last minute equaliser. Yes, we got promoted anyway, but would we have crumbled in the same way if we had a full Cottage backing the boys?
I remember we spoke about it at the time, and in truth it will always be a "what if?". However, at the time we thought the club had learned their lesson. If you price fans out, bad things will happen. How wrong we were.
As we now know, this trend of cashing in when times are good has unfortunately continued into this year. We've seen the impact of this multiple times this season: local derbies not selling out, the Cottage looking half empty, and away fans poaching tickets in the home end.
Fulham's pricing strategy is stopping both the current, and the future generation, of Fulham fans coming to games.
This is a serious issue, and it needs to be resolved.
So… What can we do now?
For any of you affected by the pricing, or want to stand up for those affected, we need your help on Saturday. The Man City game is going to be the focal point of our #StopTheGreed campaign – and we need your help to make the message loud and clear.
So, our asks for you all are:
Come and grab a flyer from one of the lads before the game. We'll be very easy to find!
In the 55th minute of the game, join us in chanting "Stop The Greed" and hold the flyers up to send a clear message to the owners
Take as many pictures of the protest during the day, and share with the #StopTheGreed hashtag
Fulham fans are sometimes known as being timid and passive. Let's prove this wrong on Saturday, and come together in a way the club cannot ignore.
#StopTheGreed