After a pointless trip to Turf Moor, the Whites now find themselves staring deep into the eyes of relegation. Can we engineer a surprise victory against high flying Spurs to bring some goodwill to West London? Our man George Singer is here to give you all the info you need to know!
Another week, another loss. A couple of months ago, we saw our run of favourable festive fixtures as our chance for us to prove that we belong in the big time. And the outcome? 5 points from 5 games – which frankly isn't enough to stay up. If we are to pull off a great escape, an escape with ever decreasing likelihood, we need unexpected points. The upcoming games are tough (5 of our next 6 home games are against top 6 teams), and the first of these is against London rivals Spurs.
Recent results
August 2018 Spurs 3 – 1 Fulham
February 2017 Fulham 0 – 3 Spurs (FA Cup)
April 2014 Spurs 3 – 1 Fulham
December 2013 Fulham 1 – 2 Spurs
March 2013 Spurs 0 – 1 Fulham
Likely lineup
What's that, you want some positive news? Well, whilst there's certainly never a good time to face Spurs, this is pretty much as close as it gets. Spurs' first choice XI is full of quality, however this calibre has never permeated through to their reserves – which continues to be their downfall in their hunt for a maiden Premier League title.
So who will be missing from Spurs' roster? Harry Kane's recent injury is well know, but Son (Asian games) will also be a significant loss to the Lilywhites. This week, it's also been confirmed Sissoko joined the injury list, due to an injury the Frenchman picked up in last week's loss to Manchester United. Finally, Eric Dier and Lucas Moura are classed as doubts for the game – however you'd expect Pochettino to give them every opportunity to prove their fitness.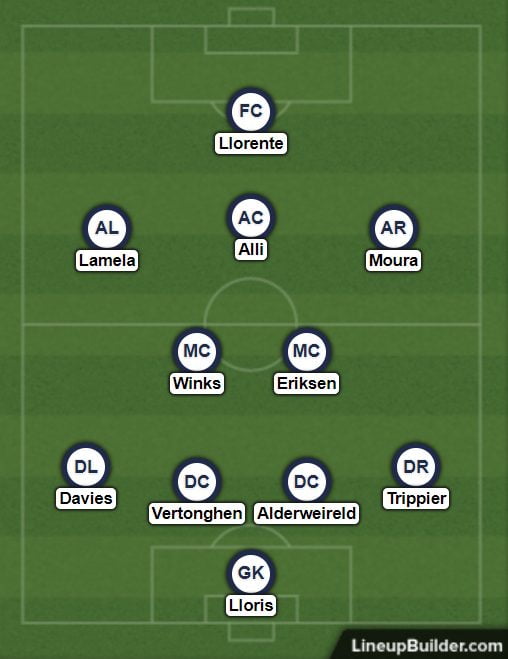 With these 3 missing the game, the above lineup therefore becomes the most likely option. Poch has recently been favouring a 4-3-1-2 formation, however with their lack of striking options I'd expect he will choose the 4-2-3-1 used in the second half against United. With Janssen playing for Spurs' reserve team, I'd expect Llorente to lead the line, who proved he still owns a pair of scoring boots by scoring a FA cup hattrick against Tranmere rovers.
One to watch
With so many players out injured during this match, the choice for the one to watch is somewhat limited. However, the main player I'm expecting to cause us issues during the game is the Great Dane Christian Eriksen.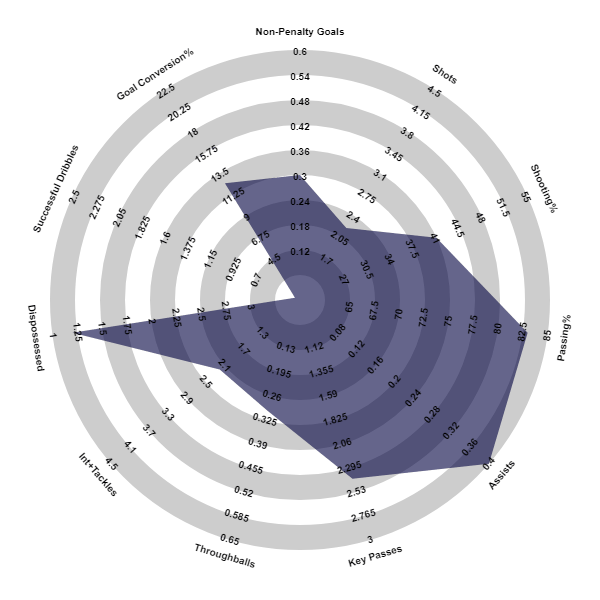 Despite never getting praise as high as some of his Premier League colleagues, Eriksen is undoubtably one of the best playmaking midfielders to grace the English game. With both pinpoint set piece deliveries, and acute open play vision, the Dane has been wreaking havoc in the midfield for years. Consistently generating double digit figures for assists, and often providing a fair proportion of Spurs' goals, very few have created as consistently over the last few years as Eriksen.
With 4 goals and an assist in his last 8 games he's in fairly good form, and will look to step up to the plate with an absence of other creativity in the Spurs squad.
Perhaps the saving grace for Fulham is that he may need to play in a withdrawn role, with so many central midfielders ruled out of the game, which could dampen his ability to play dangerous final balls to his strikeforce.
Notes for Claudio
Whilst all the papers are writing about the impact of Kane and Son missing the game, I predict that the lack of Sissoko in midfield for Spurs may cause them more issues than many suspect.
Spurs like to play with flying fullbacks, often with devastating affect. The various fullbacks have got a combined 9 assists between them, and Spurs' attack relies on them being able to get up the pitch to contribute in the final third. A crucial role that Sissoko has played is the 'false fullback' role – which helps give freedom to the wide defenders.
He slots back into defence when a fullback pushes forward to help provide extra support if the opposition break quickly. With the Frenchman not being available to play this role, Spurs' defence may be relatively exposed – something that Rashford and Martial were able to take advantage of last week.
If we want to exploit this too, we will need to win the ball high up the pitch, and station fast wingers outside of Spurs centrebacks to run onto fast through balls. I have little confidence that a midfield duo of Seri and Chambers can generate these chances, so Mitrovic would need to drop little deeper to help apply pressure to Spurs' midfield and move the ball onwards quickly. Ryan Sessegnon seems like the natural choice to occupy one of the winger/Inside Forward roles, with perhaps new signing Ryan Babel occupying the other wing.
COYW!!