After a hugely satisfying win in his first game in change, Claudio Ranieri looks to make it two in a row in a matchup against his former employers. Can we upset the odds and earn a result against the chaps down the road? Our man George Singer takes a look!
Whilst it wasn't our greatest ever performance, our gutsy win against fellow strugglers Southampton last week brought the feel-good-factor back to the Cottage for the first time in a few weeks. As teams around us start to pick up points, can we keep the momentum going and get some points up the road at Stamford Bridge? What things might the Tinkerman be looking for, as he tries to get one over his compatriot Maurizio Sarri?
Recent results
March 2014 Fulham 1 – 3 Chelsea
September 2013 Chelsea 2 – 0 Fulham
April 2013 Fulham 0 – 3 Chelsea
November 2012 Chelsea 0 – 0 Fulham
April 2012 Fulham 1 – 1 Chelsea
Likely lineup
Since taking over from Anontio Conte last Summer, Maurizio Sarri has broken away from the previous norm and implemented his preferred 4-3-3 possession based system. Chelsea have lined up this way in every game so far this year, a season which they have only been on the losing side once.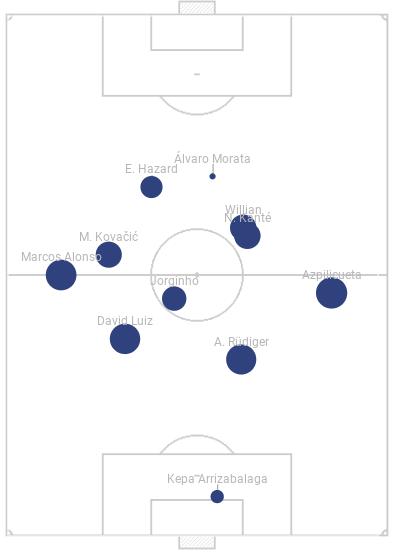 Sarri has employed a small amount of rotation when choosing which personnel fit the system, however this is normally when the side has been impacted by injury. As their second string team got a run out during the week in their Europa League group game against PAOK, it's likely that Sarri will revert back to his first string side in an attempt to keep stay in contention for the lucrative Champions League spots.
Playing in the centre of midfield, Jorginho has quickly become the focal cog of everything that Chelsea do. After signing from Napoli in the Summer (on the same day that Sarri was announced as manager), he's quickly been able to stamp his authority on the league, and tops the charts for passing midfielders in the league. In their only loss this season, Spurs' ability to cut him out of the game was one of the ways they won the tactical battle in midfield and strangled Chelsea's creativity.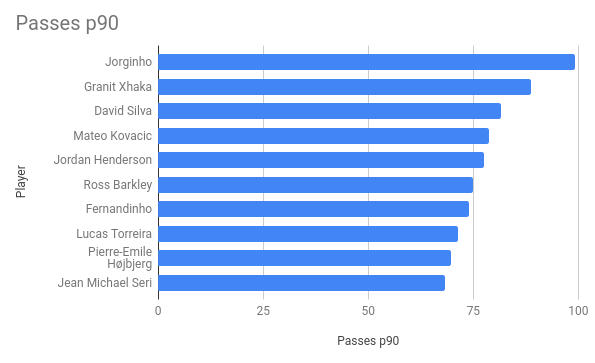 One to watch
In a team full of high quality players, including a smattering of this Summer's World Cup winners, there's one player that has continually stood out for Chelsea since he signed from Lille back in 2012. That's the Belgian Eden Hazard.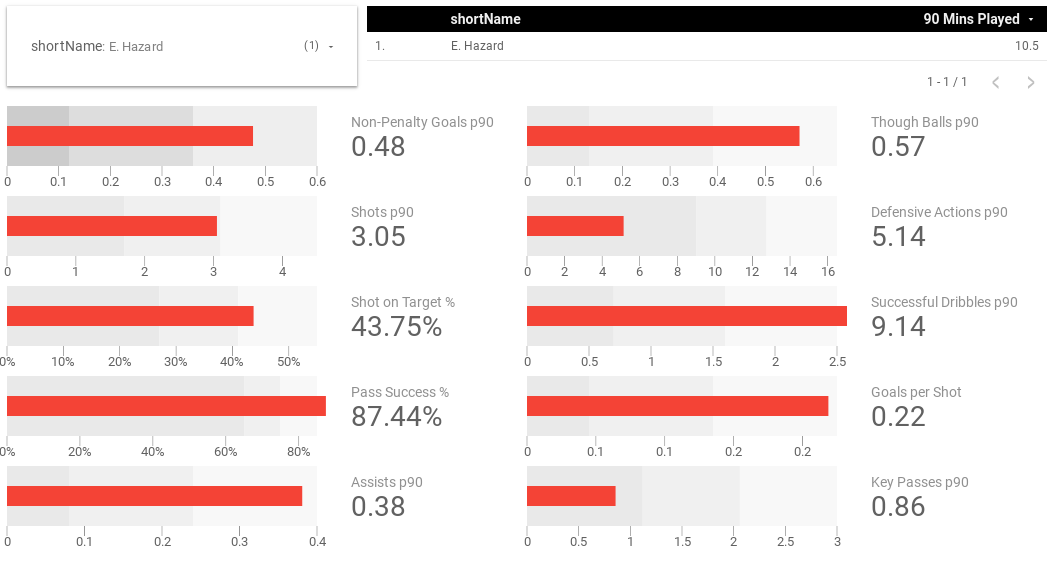 The Belgian's stats are, unsurprisingly, incredibly strong. Not only is he an excellent creator (look at those dribbles per 90!), but he's also joint third in terms of goals scored (7) this season.
In particular, the partnership he's formed with Marcus Alonso on the left side of the pitch has proved to be key. They constantly switch between who overlaps out wide, making them a total nightmare for defences to man-mark. The pair will be supported by the left sided midfielder (likely Kovacic), will drop back into a false fullback role to fill the gaps left in defence. This smart system employed by Sarri releases the shackles on Hazard, part of the reason for the Belgian's uptake in attacking output.
Notes for Claudio
As referenced earlier, man marking Jorginho in an attempt to take him out of the game will be one of the ways we can aim to get a tactical edge against the Blues. Like Spurs did last week, earlier in the season Crystal Palace employed a 4-4-1-1 to try and nullify Chelsea's attack. Andros Townsend man marked Jorginho closely to reduce his impact on the game, and a low block squeezed Chelsea's attacking players out of the game.
The second benefit this gave, was Luiz and Rudiger pushed forward from defence to try and influence the game and support in midfield. This left gaps at the back for Palace to exploit on the break, with fast attackers quickly breaking into these spaces on the counter.
With our personnel, this feels like a tactic we could definitely look to try and emulate. I'd like to see Seri and Chambers continue their midfield partnership, and their playing style would suit a low midfield block. In the number 10 role, the two options feel like TC and StefJo. Whilst Johansen's defensive shithousery could be the perfect way to take Jorginho out the game, we would definitely lack Cairney's ability to orchestrate a counter attack. Therefore, it feels like TC is probably the best option to start the game, with Johansen being a good defensive option off the bench if required.
On the flanks, the most suitable options feel like Sessegnon and Schurrle. The German has attracted a fair bit of criticism after his display against Southampton – something which frankly surprised me as I thought he played well in a more limited defensive winger role. Sess's pace, and Schurrle's eye for goal, feel like the best counter attacking combination to support Mitro up front – as we look to exploit any gaps left by Chelsea at the back.
There's no doubt about it, this is going to be a tough game for the Whites, and one in all likelihood we're probably going to lose. Our only real option is going to be to defend deep, focus on disrupting their play, and pouncing as hard and fast as possible on the break. This is perhaps where having a manager like Claudio may prove to be useful, who is experienced with making tactical tweaks to his team to nullify opposition.
COYW!!
Data provided by data.wyscout.com