After a difficult trip up to Merseyside last weekend, the Whites enjoy home comforts once again as we face Arsenal at the Cottage. Can we turn around our form and earn a result against one of the Big 6? Our man George Singer takes a look!
The honeymoon period is surely now over, as we adapt to a tough first season back in the Premier League. Whilst we impressed in patches against Everton, we again fell to a disappointing loss – conceding 3 times in a poor second half.  The pressure is slowly starting to build if we want to prevent a slow slide down the table, and a positive performance this weekend would be the perfect tonic.
Despite possessing obvious quality within their team, the aura of invincibility that once shrouded Arsenal has long gone. With the club being in transition following Wenger's departure, this is probably our best opportunity for an upset against a major side this season. What should we look out for from the Gunners, as we welcome them to the Cottage?
Recent results
January 2014 Arsenal 2 – 0 Fulham
August 2013 Fulham 1 – 3 Arsenal
April 2013 Fulham 0 – 1 Arsenal
November 2012 Arsenal 3 – 3 Fulham
January 2012 Fulham 2 – 1 Arsenal
Likely opposition lineup
We should expect Arsenal to line up in a 4-2-3-1 formation this weekend, which Emery has favoured since taking charge at the Emirates. They've stuck to a fairly stable lineup in the League, with a small amount of rotation in midfield. As Geundouzi started in the recent cup game against Brentford, it feels like Torreira has superseded the Frenchman as Xhaka's first choice midfield partner in the League.
However, they won't play 4-2-3-1 in a conventional way – and will pose a different type of challenge to Everton last week. The attacking 3 behind Lacazette all have different roles: we should expect Aubameyang to push up to act as a second striker, and Ozil will cut inside to link up with Ramsey and offer creativity in the centre of the pitch. Width will come from fullbacks pushing up, and Xhaka will drop back to act as a 3rd CB in the team. Arsenal do have the opportunity to mix this up, with Iwobi and Welbeck offering options from the bench to add pace out wide.
Leno has come into the side following Cech's hamstring injury against Watford, and has looked fairly shakey since coming into the side. Whilst he may have been brought in to be the long term replacement for Cech, the German looks comfortably second best choice between the sticks right now. In particular, he's been struggling when claiming long floated balls to strikers. A few times he's struggled to punch the ball out, and opposition midfielders have capitalised when arriving late in the box to jump on the second ball. This may be something we could look to exploit, with withdrawn strikers running late in the box to support long balls to Mitrovic.
One to watch
Arsenal should definitely be classed as one of the top sides in the league, however their underlying numbers still suggest they are a way off the top 4. From an attacking side, they have fewer shots per 90 than both Wolves and Southampton – a number they will need to boost if they realistically want to break back into Champions League football.
Arsenal have been sharing goals across the team – in fact their first 10 goals this season were scored by 10 different players. Therefore, unlike many other teams, there's perhaps not 1 stand out player that we need to focus on. If i had to choose one – the player who particularly looks like strong right now is Alexandre Lacazette.
The Frenchman joined Arsenal for £50m a year ago, however he initially struggled to justify the large price tag. In fact, it looked like his time at the club may be limited, as Wenger brought in Aubameyang as his final signing, who moved straight into the side at the expense of the Frenchman. Since replacing Arsene, Emery has clearly prioritised finding a way to combine the two speedsters together in the team, and by recent form it looks like he's back to his best.
The Frenchman has got 3 goals and 2 assists in his last 5 games, and in particular is linking up well with both Aubameyang and Ozil. He likes to station himself on the shoulder of the last centre back, and times his runs to perfection to speed past defenders and pick up through balls. Cutting off the supply to him will be really important – as on recent form the Frenchman hardly needs a second opportunity to put the ball away.
Notes for Slav
The first main point Slav really needs to look at is our defence. Statistically, we have one of the worst defensive records in the league this season – and if we are to work our way up the league we really need to sort this out. Consistency is key here – so I'd like us to play the same centre backs to counteract inevitable changes at fullback from injuries.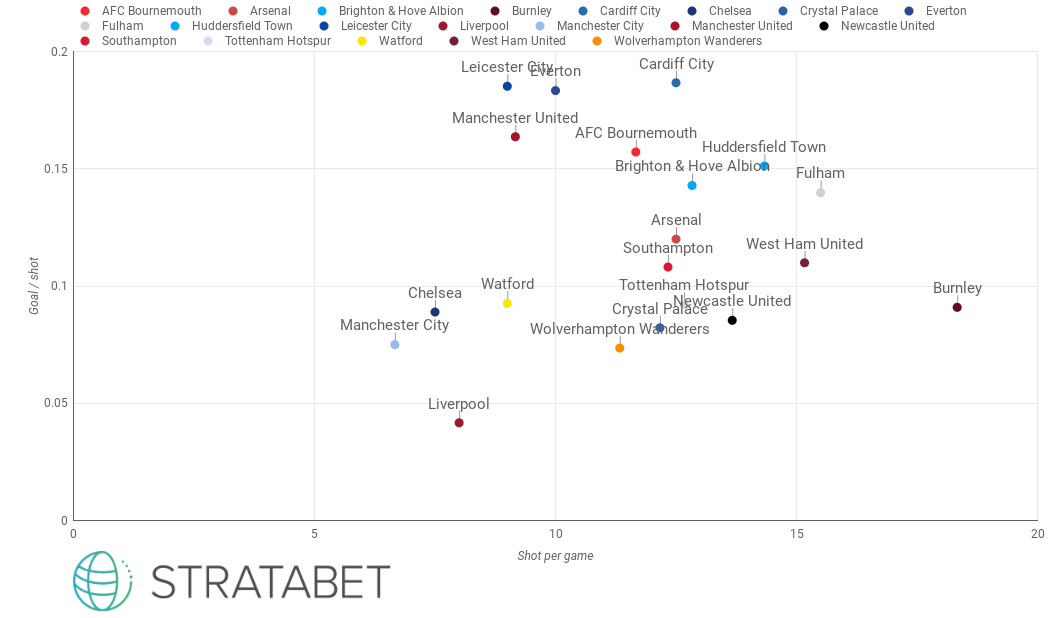 Will need to offer lots of defensive cover in midfield to oppose Arsenal's threat. I'd like to see Zambo and Seri drop back to protect our back line (the pair are the 2nd and 5th most frequent tacklers in the Fulham side). By sticking with a 4-2-3-1, a dedicated CAM can focus on pinning Xhaka back, to stop him affecting games from deep.
Finally, as mentioned earlier, we should look to pounce on spillages from Leno. Whether it's a returning Cairney, or a sharp shooter like Schurrle (who has the 6th most shots per game in the league) playing in the number 10 role, either should be looking to pounce from any spillages from long balls.
Whilst it's going to be a tough game, let's keep the faith. 3 points would rocket us up the table, and it's certainly possible we could do the business at the cottage!
COYW!!
This article was written with the aid of StrataData, which is property of Stratagem Technologies. StrataData powers the StrataBet Sports Trading Platform, in addition to StrataBet Premium Recommendations.