Following a deadline day move from France, Fulham's new midfielder made an impressive debut on Saturday against Spurs. Should fans expect to see more strong performances across the season? Resident statto George Singer takes a look!
After finalising his medical in France, the superbly named André-Frank Zambo Anguissa became the 5th and final deadline day day signing for the Whites. Considering he's hardly a household name, a hefty transfer fee raised eyebrows of journalists and fans alike. So what kind of player is he, and what can we expect to see from him?
The Basics
So let's start with the basics about Anguissa:
Age 22
Height 6ft
Position CDM
Nationality Cameroon
Apps 2017-18 21(11)
Signed from Olympique Marseille
What role does he play?
Anguissa's main role in the OM team was to provide a screen in midfield for the defence alongside the more experienced Luis Gustavo. The pair would occupy the central midfield in a 4-2-3-1 formation, and link up with more advanced creative types like Dimitri Payet and Florian Thauvin.
Where Gustavo provides experience, Anguissa provides energy. He isn't afraid to get stuck in and tackle players, and his intelligent positioning allows him to cut out opposition passes with ease. With his impressive size and power, his defensive output is high – and he wins a high proportion of the duels he goes into.
What do his numbers look like?
Since taking responsibility for recruitment, Tony Khan has enjoyed moderate success with his 'both boxes ticked' philosophy. Ie – a player must be recommended by scouting departments and data analysts before being classed as a serious transfer target.
Whilst opinions from French journalists and fans have been lukewarm about this transfer, Anguissa's numbers are seriously impressive.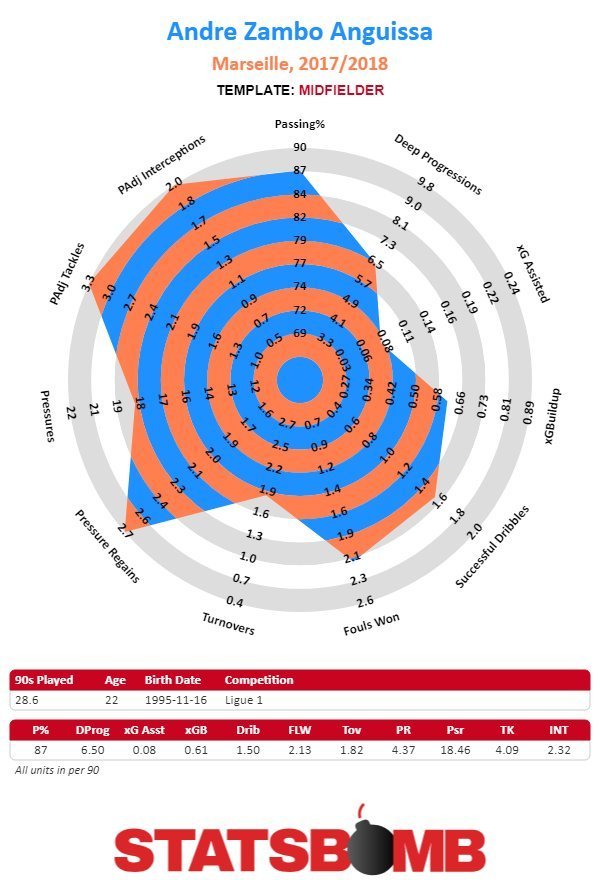 For those who haven't seen statistical radars before, they're a way of comparing a variety of data points against similar players. If a player has a lot of the radar coloured in in a certain area, they're strong in that regard.
With this in mind – you can see that the left hand side of Anguissa's radar (full of defensive traits) are coloured in. As previously mentioned, he averages a huge amount of defensive actions per 90 minutes – a sign of a busy defensive midfielder.
The top-right quadrant of his radar, ie the creative side, is quite shallow. He rarely scores or assists, suggesting he's not the kind of player you'd want in your fantasy team! However, with Seri and Cairney playing infront of him, Fulham's midfield is already blessed for creativity.
An upgrade on McDonald?
With surprising ease, Anguissa took McDonald's place in the team at the first time of asking – starting in the heart of midfield at Wembley on Saturday. So how do his numbers compare to KMac's? Is Slav justified in immediately handing his place to Anguissa?
Let's start with comparing their defensive output: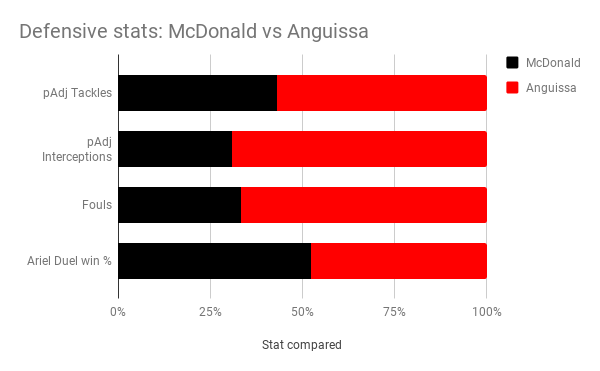 Anguissa's defensive output is significantly higher than McDonalds. He averages almost twice as many interceptions and tackles per 90 minutes, suggesting he has great speed and stamina to consistently hassle opponents. This is especially impressive considering Anguissa shares a midfield with Gustavo, who himself makes a fair amount of tackles.
The only concern I see here is the amount of fouls he gives away. Perhaps this is due to lack of experience, however Slav has proved he can fix this once – by taming the once aggressive Mitrovic.
As mentioned above, Anguissa isn't in the side to create goals. However – in a tough Premier League we're going to need players to contribute to all areas of play.
In this regard, Anguissa and McDonald are closely matched – particularly in passes made. Marseille averaged over 55% of possession last year, and made the 4th most passes in Ligue 1. Therefore, Anguissa shouldn't have too much difficulty fitting in with our attractive style of football.
The main stat that interests me is here dribbles. If you watch his YouTube highlights, you can see he's clearly comfortable on the ball, and can swiftly move his way out of tight-nit situations. Against pressing opposition midfielders, which we've never really faced before, the ability to dribble past an approaching defender will be invaluable to launching quick effective counter attacks.
Summary
I can't say I'd hear a lot about Anguissa before he was linked with us on deadline day. However, the more I review his data, and see him play, the more excited I am. Whilst he still shows some signs of immaturity (which considering he's 22 is understandable) he already looks like an improvement on McDonald – which is high praise!
It looks like he's the perfect partner to the Seri-Cairney pivot in midfield. He will provide the screen that our defence badly need, and free the shackles of our creative players to play their natural game. Only time will tell whether he can translate these numbers into performances – but certainly looks like a strong addition to the squad.
This article was written with the aid of StrataData, which is property of Stratagem Technologies. StrataData powers the StrataBet Sports Trading Platform, in addition to StrataBet Premium Recommendations.